Opposition calls for strike in Ukraine
(Agencies)
Updated: 2004-11-25 08:47
Ukraine's opposition leaders called Wednesday for a nationwide strike to shut down factories, schools and transportation after officials declared Ukraine's pro-Kremlin prime minister the winner of a presidential runoff election that many countries denounced as rigged.
The call by reformist candidate Viktor Yushchenko and his allies for an "all-Ukrainian political strike" risked provoking a crackdown by outgoing President Leonid Kuchma's government, which has said the opposition's actions in the aftermath of Sunday's bitterly disputed runoff were, in effect, preparations for a coup d'etat.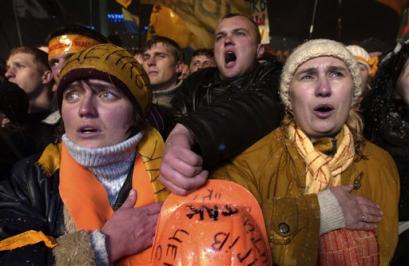 Demonstrators gathered to protest alleged fraud in the presidential elections sing the Ukrainian National anthem on the main square of the Ukrainian capital Kiev, Wednesday, Nov. 24, 2004, for a third consecutive day. The Central Election Commission on Wednesday declared Prime Minister Viktor Yanukovych the winner of Ukraine's presidential election, sharpening a crisis sparked by the opposition candidate Viktor Yushchenko's allegations that the vote was brazenly fraudulent. [AP]

A strike could also further divide the country: Prime Minister Viktor Yanukovych drew his support from the pro-Russian, heavily industrialized eastern half of the country, while Yushchenko's strength was in the west, a traditional center of Ukrainian nationalism.

To prevent the crisis from widening, Yanukovych said negotiations with Yushchenko's team would begin Thursday, the Interfax news agency reported, citing Ukrainian television. The opposition has said, however, that it would talk only about a handover of power to Yushchenko.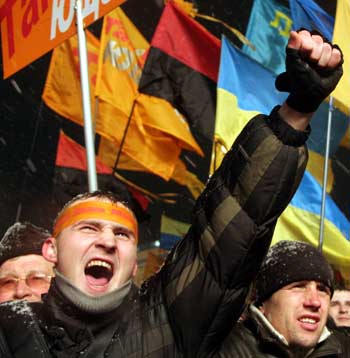 Supporters of Ukraine's opposition presidential candidate Viktor Yushchenko shout slogans as they take part in a mass rally in central Kiev, November 24, 2004. Yushchenko on Wednesday called for a national strike that would halt transport and shut factories in protest at the declaration that his Moscow-backed rival had won election as president. [Reuters]

The Central Election Commission's decision to declare Yanukovych the winner "puts Ukraine on the verge of civil conflict," Yushchenko told hundreds of thousands of his cheering supporters who massed for a fourth straight night in central Kiev's Independence Square.

After the speeches, many demonstrators headed to the presidential administration building, the site of a tense standoff with riot police Tuesday night. The police presence was heavy again, with about 40 buses disgorging well over 1,000 officers with helmets and shields who stood in phalanxes up to eight deep outside the building.

The election was denounced as fraudulent by Western observers, who cited ballot stuffing, voter intimidation and other irregularities. US Secretary of State Colin Powell said Wednesday that the United States cannot accept the result, warning "there will be consequences" in the two countries' relationship.

The commission said Yanukovych got 49.46 percent of the vote and Yushchenko 46.61 percent.

"With this decision, they want to put us on our knees," the Western-leaning Yushchenko told the crowd, which responded with chants of "Shame! Shame!" and "We will not give up."

Socialist Party leader Oleksandr Moroz said the opposition was "organizing citizens, stopping lessons at schools and universities, stopping work at enterprises, stopping transport ... and, thus, we'll force the authorities to think about what they are doing,"

Yuliya Tymoshenko, Yushchenko's key ally, said his followers would "surround all government buildings, block railways, airports and highways."

"We have a strict intention to seize power in our hands at these sites," she said, vowing a "consistent struggle that will lead to the destruction of this regime."

She also said that the opposition would go to Ukraine's Supreme Court on Thursday to protest the alleged election fraud, and urged supporters to remain on the square and not let down their guard.

Interfax quoted Yanukovych as saying that in negotiations with Yushchenko's team, "we will be looking for common language. Ukraine is our common land, and we should have a chance to live together as well as possible."

The prime minister's staff declined to comment on the report.

Kuchma, the outgoing president, said Yushchenko supporters were trying to carry out "a coup d'etat." He called "on all political forces to negotiate immediately" and on the international community to "refrain from interference in Ukraine's affairs."

Kuchma called the election "an examination of the maturity and democracy of all the Ukrainian people."

"We will pass this exam," he said.

The election commission announcement came after a flurry of statements on the possibility of negotiations to find a compromise, which Kuchma had proposed earlier.

Mykola Tomenko, a lawmaker and Yushchenko ally, told Yushchenko supporters earlier Wednesday that the opposition would negotiate "only about the peaceful handing over of power to Yushchenko by Kuchma."

Yushchenko claimed victory Tuesday over Yanukovych in the presidential run-off and, in a sign he would not back off, took a symbolic oath of office.

The election has led to an increasingly tense tug-of-war between the West and Moscow, which considers Ukraine part of its sphere of influence and a buffer between Russia and eastward-expanding NATO.

Russian President Vladimir Putin has already congratulated Yanukovych on his victory, and the Kremlin-controlled Russian parliament denounced the Ukrainian opposition for its "illegal actions."

Powell, by contrast, challenged Ukrainian leaders "to decide whether they are on the side of democracy or not."

"If the Ukrainian government does not act immediately and responsibly, there will be consequences for our relationship, for Ukraine's hopes for a Euro-Atlantic integration and for individuals responsible for perpetrating fraud," Powell said.

He was not explicit. However, the United States often revokes the U.S. visas of officials involved in perpetrating fraudulent elections in foreign countries. Another option would be to refuse Ukrainian entry into Euro-Atlantic organizations such as NATO.

Deputy Prime Minister Anne McLellan of Canada said her government did not accept that the announced results "reflect the true democratic will of the Ukrainian people."

European Commission President Jose Manuel Barroso warned of "consequences" for the European Union's political and trade relations with Ukraine if its government does not allow a "serious, objective review" of the election. At risk might be around $1.31 billion the bloc has given or committed to Ukraine since 1991 in development and economic aid and possible visa bans.

Lech Walesa, the founder of Poland's Solidarity movement, will travel to Ukraine to act as a mediator in the standoff over the disputed presidential elections there, his son told The Associated Press.

In addition, the Netherlands planned to send a special envoy, Niek Biegman, to Ukraine as part of its role as current holder of the European Union's rotating presidency.

Opposition supporters have taken over blocks of Kiev's main street, setting up a giant tent camp. Yanukovych supporters also became increasingly visible in Kiev, setting up hundreds of tents of their own on a nearby wooded slope. But many of their camps had been dismantled by Wednesday night.

Mykola, a middle-aged miner from Kriviy Rih in eastern Ukraine who wouldn't give his last name, said he came to the capital to support Yanukovych and prevent "usurping power."

Kiev's city council and the administrations of four other sizable cities ¡ª Lviv, Ternopil, Vinnytsia and Ivano-Frankivsk ¡ª have refused to recognize a Yanukovych victory.

Meanwhile, 14 journalists on Ukrainian state television's main news program announced a strike Wednesday. "We can conquer our fears because there is a stronger feeling ¡ª shame," the journalists wrote in a statement, editor Olga Savrey said.

Ukrainian singer Ruslana, who won this year's Eurovision contest, announced she was going on hunger strike and urged European governments to try influence the situation in Ukraine by peaceful means.




Today's Top News
Top World News

China to audit senior military officers




China, Cuba to stick to independent road




Donations of China to help Iraqi election




Crash raises safety concerns




US rejects Ukrainian election results




US$46,000 offered to nab Beijing drug dealers