Brazil gets UN approval for uranium enrichment
(Agencies)
Updated: 2004-11-25 08:47
Brazil said on Wednesday it has won approval from the U.N. nuclear watchdog to start enriching uranium at its Resende plant after months of disagreement over international inspections of the installation.
Science and Technology Minister Eduardo Campos said the plant would be started up before the end of the year, which would put Brazil closer to its aim of fully mastering the technology to produce nuclear power for peaceful use.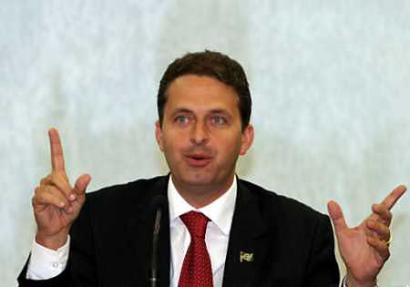 Brazilian Science and Technology Minister Eduardo Campos attends a press conference in Brasilia, November 24, 2004. Brazil's uranium enrichment plant in Resende will start working before the end of the year after getting a go-ahead from the United Nations nuclear watchdog, Campos said on Wednesday. [Reuters]

Campos said an agreement had been reached with the Vienna-based International Atomic Energy Agency based on the agency's verification of the plant's design -- one element of the process to approve it for uranium enrichment.

But IAEA spokeswoman Melissa Fleming said: "We are still in the process of completing our assessment of the inspection approach for the Resende plant."

A European diplomat close to IAEA said "a deal appears to be very close," and may be concluded in a week.

The main sticking point in the negotiations between Brazil and the agency has been about a system to inspect the plant. Brazil has insisted it would not give IAEA inspectors full visual access to the plants' centrifuges, to its technological know-how.

Campos said, however, that a group of technicians from the agency had visited the Resende uranium enrichment plant Nov. 16-18 to verify its design.

"The visit was considered completely successful by both sides," he said. "It means that from the point of view of international safeguards, the plant can start working ... with UF6 uranium gas that will be enriched."

Odair Dias Goncalves, president of Brazil's National Nuclear Energy Commission, said an agreement on the design of the plant was the "basis" for a deal on inspections.

Washington has pressured Brazil to give IAEA inspectors full access to the Resende installation, out of concern that Brazil's reluctance might embolden countries like Iran to close off their atomic programs to international inspections.

Brazil has staunchly defended its right to produce nuclear energy, saying it has no ambitions to make nuclear weapons, which are banned under its 1988 constitution.

"Brazil seeks, since it has uranium, a plant and the knowledge, self-sufficiency not to use up millions of dollars every year," Campos said.

The Resende plant will be started up for a test phase by the end of the year, which should last six to eight months, Campos said. After that it will go into full operation.

Brazil has the world's sixth largest reserves of uranium and currently ships it abroad to be enriched, so it can be used at its two nuclear energy plants near Rio de Janeiro.

Brazil wants to be able to enrich enough of its own uranium to supply its two nuclear reactors by 2010, Campos said. The country is considering whether to construct a third plant.




Today's Top News
Top World News

China to audit senior military officers




China, Cuba to stick to independent road




Ukraine commission declares PM the winner




Donations of China to help Iraqi election




Crash raises safety concerns




US$46,000 offered to nab Beijing drug dealers