Marriage and the 'me' generation
(Xinhua)
Updated: 2004-11-25 08:42
Li Qiming, 25, is not anxious to marry his girlfriend although they have been together for three years.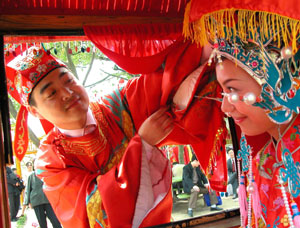 A young couple in Nanjing, capital of East China's Jiangsu Province, celebrate their wedding in the traditional Chinese way. [newsphoto]

"I began work just one year ago. As our experiences in both life and society are so little, we think it will be very unwise to get married too early," Li said.

"Twenty-eight may be a better age," he said.

Like Li, many young people are choosing late marriages, although getting married at 24 was deemed normal in the past.

Having worked in a telecommunication company for four years, Xu Chen has had a stable career and enjoys considerable savings. Despite this, he still thinks getting married requires more time.

"Maybe when I have savings of 300,000 yuan (US$36,300), my wedding day will come," said Xu.

In today's China, getting married at the age of 24 or earlier seems odd for most young people.

The young generation brought up in single-child families tend to be precocious in sex while quite cautious in marriage, said Yuan Xin, associate professor in psychology of Nankai University of North China's Tianjin municipality.

"Young people brought up in only-child families tend to be more self-centreed, with less concern for others and with poor ability to take care of themselves and others, which contradicts to the traditional family mode based on mutual respect and care," noted Yuan.

The high value they place on freedom makes the young generation regard marriage as a shackle to some extent, Yuan said. More importantly, with the growth of China's economy, the cost of establishing a family has been rising, contributing to delayed marriages, he said.

A survey made in Tianjin shows the average cost for a couple to get married is about 191,100 yuan (US$23,100), some 50 times of that in 1978. The money mainly goes toward purchasing an apartment, household appliances and furniture and the wedding itself.

While some young people choose a late marriage, others still get married at an early age.

Wang Yang, a junior student with the Tianjin Teachers' University, held her wedding in a four-star hotel in downtown Tianjin during the week-long May Day holiday. Over 20 classmates and most of her friends and relatives were invited to attend.

At the age of 23, the girl is one of the few full-time students in China ever to host such a wedding

Until last year, college students getting married would be ordered to leave school according to the code for college students issued by the Ministry of Education in the 1990s.

But the New Regulation on Marriage Registration, issued by the State Council and taking effect from October 1, 2003 removes the ban on students still on campus.

By law, a man over 22 and a woman over 20 are able to marry legally if only providing their ID cards and residence files and signing a statement that they are single and not relatives.

"I didn't mean to draw anyone's attention," said Wang to the nearly 20 media who reported her unusual wedding. "I just felt a student has the right to celebrate the most exciting occasion in her life like anyone else."

The removal of the ban on students getting married on campus is of more symbolic significance than practical meaning, of more value in law than in the real needs, said Wang Jie, a researcher with the Tianjin Academy of Social Sciences.

"Freedom of marriage is a crucial part of human rights. Wang Yang's decision to get married is her own choice, which is legal, rational and reasonable," said Wang.

To the new generation brought up in single-child families, marriage is just a choice of lifestyle. But except for love and happiness in marriage, what they get in marriage also includes troubles most of them have not conceived of.

Having been married for over one year, Zhang, who wants to remain anonymous, and her husband, both from single-child families, still see daily cooking a real headache.

Working in China Unicom in Tianjin, Zhang said although marriage made her shake off the fetters of parents, it also brought her many duties such as housework.

Housework has become a factor affecting the harmony in families made up of young people from single-child families.

A survey of 100 new couples from single-child families in Tianjin shows that 20 per cent of them hire workers to do housework. Eighty per cent eat free meals at their parents' homes instead of making dinner themselves, and 30 per cent have their laundry done at their parents' home. Half have had conflicts because of housework.

Moreover, couples from single-child families are troubled by such problems as fostering kids and supporting elderly people.

Those couples, either busy with their work, or lack of experience in baby care, often choose to consign their kids to social educational institutions. And to support four parents of both sides has become a big burden for them, which also leads to loneliness and less care of the old people.

"The traditional Chinese value system, which takes family as the core, is changing. Without the fetters of traditional ethical codes and blood relationship from big families, those new families are more like some loose unions, easy to form and easy to break," said Pan Yunkang, director of the Institution of Sociology of the Tianjin Academy of Social Sciences.

In traditional China, the family, as the simplest and most essential form of marriage, was given top emphasis. While the quality of the marriage, that is whether the couple were happy or not, tended to be neglected.

Now more importance is being given to the real content of marriage rather than to its outer form by a new generation brought up in single-child families. They boast more freedom in saying "no" to unhappy marriages.

China has seen a soaring divorce rate in recent years. In Tianjin more than 6,000 couples registered to divorce in 2002, with over 10 per cent having been married for less than one year.

"More attention being paid to the quality of marriage signifies a progress in China's family concept," Pan said.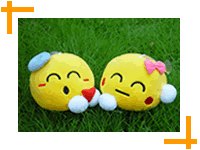 However, the debasement of the solemnness of marriage and more tolerance towards cohabitation and non-marital relationships of the young generation have also brought more uncertainty and instability in families, which tend to result in some kind of nihilism in life and love, he said.
| | |
| --- | --- |
| | |
| Rebel Dutch photographer to stimulate debate | |

| | |
| --- | --- |
| | |
| '2046' makers deny "Oscars" snub | |

| | |
| --- | --- |
| | |
| Styled street scheduled to connect royal gardens | |
Today's Top News
Top Life News

US$46,000 offered to nab Beijing drug dealers




China to audit senior military officers




Air crash raises safety concerns




China, Cuba to stick to independent road




US rejects Ukrainian election results




Empty cabs targeted to relieve traffic woes