Ukraine commission declares PM the winner
(Agencies)
Updated: 2004-11-25 01:00
Ukraine's political crisis appeared to ease on Wednesday when both presidential candidates in a disputed election offered ways out of their bitter feud that has taken the country to the brink of violent conflict.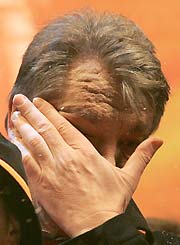 Ukraine's opposition leader and pro-Western presidential candidate Viktor Yushchenko prepares to deliver his speech during a rally in central Kiev, November 24, 2004. [Reuters]

Liberal contender Viktor Yushchenko, who brought tens of thousands of supporters onto the streets after alleging he had been robbed of victory last Sunday by mass cheating, said he was now ready to take part in a new "honest" poll.

Moscow-backed Prime Minister Viktor Yanukovich was, as expected, formally declared the winner by electoral authorities.

But earlier, he hinted that he too was open to compromise saying he was not interested in official results that handed him a "fictitious victory."

The signs of a compromise emerged as the United States, the European Union and the U.S.-led NATO military alliance all urged authorities to review the conduct of last Sunday's run-off which most western powers have said was fraudulently conducted.

Even Russian President Vladimir Putin, who quickly congratulated Yanukovich when it was clear he was winning, looked ready to see an end to the crisis in its ex-Soviet ally.

The Kremlin said that Putin and German Chancellor Gerhard Schroeder agreed, in a telephone conversation, that Ukraine should solve its crisis through legal means.

Though compromise was in the air, the central electoral commission went ahead with a rowdy session at which it declared that Yanukovich had won 49.46 per cent of the vote to 46.61 percent for Yushchenko.

Yushchenko's comments provided outgoing President Leonid Kuchma with a way to defuse the crisis that has convulsed the state of 47 million since early on Monday.

"We are ready to have a repeat of the second round vote provided we have an honest Central Election Commission," Yushchenko told tens of thousands of supporters massed in Kiev's main square.

ROBBED OF VICTORY

Yushchenko, a former prime minister who narrowly won the first round and was put well ahead of Yanukovich in an exit poll, says he was robbed of victory by large-scale cheating.

His allegations sparked mass unrest in Kiev and other Yushchenko strongholds in western Ukraine, bringing tens of thousands out onto the streets, paralyzing normal life.

Yushchenko supporters roamed Kiev for a third day, marching past buildings housing the presidency, government and parliament and chanting: "Yushchenko! Yushchenko!"

The United States and the European Union have all condemned the election as a fraudulent exercise.

There was no immediate reaction from Kuchma.

But, within seconds of Yushchenko's offer, Yanukovich said in a statement: "I need no fictitious victory, a result which could lead to violence and victims. No position of authority, no matter how important, is worth a single human life."

Late on Tuesday, Kuchma called for talks with all parties to solve the election row, but dismissed the opposition protests as a "political farce."

He has not been seen since the eve of the poll and Yushchenko supporters have made much of his public absence.

Yushchenko stressed that any new election would have to be run under tighter electoral rules, particularly regarding absentee ballots, seen as an area open to most abuse.

Repeating his warning of civil conflict, he told his cheering supporters: "This was not provoked by you or by the opposition. It was done by the authorities.

"But to find a resolution of the conflict does not mean accepting falsified elections. We will never agree to that."

EU foreign policy chief Javier Solana also warned that Ukraine was at a crossroads and could slide into violence.

The two rivals stand for different images for the future of Ukraine, where the average worker earns just $60 a month.

Yanukovich sees future prosperity in closer ties with Russia. Yushchenko favors gradual integration with western Europe but recognizes Russia as a strategic partner.

The crisis has raised tension between the United States and Russia, battling for influence over the ex-Soviet state.

Nationalist western Ukraine, like Kiev, has taken a strong pro-Yushchenko line. But the mood of near-revolution seen in Kiev was markedly different from that in Russian-speaking regions that heavily back Yanukovich.

In Donetsk, a big coal-mining center, slogans were pinned to fences denouncing Yushchenko as a traitor. Protests supporting Yanukovich were being held in pits and factories. Miners were trying to get to Kiev to counter opposition rallies.





Today's Top News
Top World News

China to audit senior military officers




China, Cuba to stick to independent road




Ukraine commission declares PM the winner




Donations of China to help Iraqi election




Crash raises safety concerns




US$46,000 offered to nab Beijing drug dealers