Chirac arrives in Libya for first ever visit
(Agencies)
Updated: 2004-11-25 00:23
French President Jacques Chirac arrived in Libya in the first ever visit by a French head of state, confirming maverick leader Moamer Kadhafi's gradual return to international respectability.


For France the trip is also the chance to stake a claim for lucrative business contracts which should follow Kadhafi's promise to liberalise the oil-rich country's heavily controlled economy.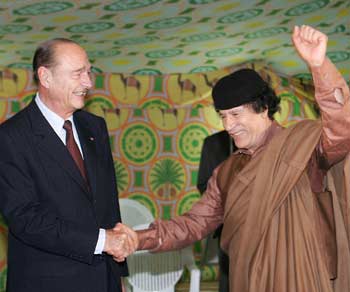 Libyan leader Muammar Gaddafi (R) clenches his fist as he shakes hands with French President Jacques Chirac (L) November 24, 2004 at Bab Azizia palace in Tripoli. Chirac started a two-day visit in Libya on Wednesday. [Reuters]

French flags were draped in the streets of Tripoli to welcome Chirac, who is accompanied by three ministers and a delegation of business leaders.

Talks with Kadhafi will focus on Iraq, Africa, terrorism and economic cooperation, Chirac's spokesman Jerome Bonnafont said in Paris ahead of the trip.

The fate of five Bulgarians sentenced to death for causing an outbreak of AIDS will also be raised.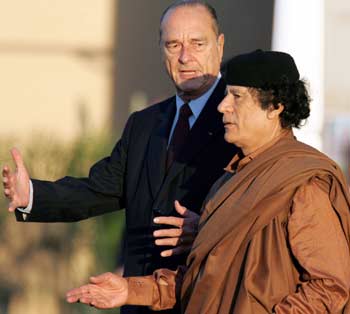 Libyan leader Muammar Gaddafi (R) listens to French President Jacques Chirac (C) during his arrival ceremony in Tripoli November 24, 2004. Chirac started a two-day visit to Libya on Wednesday. [Reuters]

But talks on France's role in Africa may be tense, after Kadhafi said Wednesday that he had "never understood the reasons for France's military presence in Africa", adding that the recent French intervention in Ivory Coast was a mistake.

The comments came in an interview with Le Figaro newspaper in which Kadhafi said France and Libya should work together to bring progress to Africa.

"President Chirac has taken some very positive positions on Palestine and the Iraq war. And as France feels its presence in Africa is a kind of obligation and as Libya is an important African country ... our two countries can combine their efforts to help Africa," he said.

In the early 1980s French and Libyan forces clashed in the civil war in Libya's neighbour Chad.

Following his arrival, Chirac was expected to go straight to Bab Azizia palace, where he will be received by Kadhafi.

The visit follows meetings this year between Kadhafi and other European leaders including British Prime Minister Tony Blair German Chancellor Gerhard Schroeder Italian Prime Minister Silvio Berlusconi, all likewise bent on encouraging Libya's rehabilitation and pitching for economic favours.

Kadhafi, who came to power in a 1969 coup, has undergone a spectacular diplomatic reversal since last year. This came about after he agreed to stop developing weapons of mass destruction, denounced terrorism and acknowledged responsibility for the Lockerbie and UTA plane bombings in the 1980s.

The United States and the European Union have since dropped most sanctions slapped on Libya after the attacks. Last month Brussels removed an arms embargo.

In January relations with France were rekindled after a foundation run by Kadhafi's son, Saif al-Islam, agreed to pay 170 million dollars (130 million euros) in compensation to the families of victims of the 1989 UTA attack over North Africa, in which 170 people died.

Since then French Foreign Trade Minister Francois Loos and Foreign Minister Michel Barnier have both visited Tripoli, while Libyan Prime Minister Shukri Ghanem has been in Paris. Loos, Barnier and Transport Minister Gilles de Robien are accompanying Chirac.

Chirac will spend Wednesday night in Tripoli before flying to Ouagadougou in Burkina Faso for the biennial summit of French-speaking nations.

French businesses are keen to get access to contracts in the Libyan oil industry, as well as in aviation, banking, electricity, sanitation and tourism.

On Monday, the two countries ironed out one of the last hurdles to increased investment, with an agreement for the payment of more than 40 million euros in arrears owed by Libyan companies to France's export credit guarantee agency Coface.

Loos and his Libyan counterpart, Mohammed Ali al-Huwej, also signed a double-taxation protocol in Paris.

France is Libya's fifth-largest supplier, with exports of 272 million euros in 2003, most linked to major public works contracts. French imports from Libya were worth 756 million euros in 2003 and consisted almost entirely of oil.







Today's Top News
Top World News

China to audit senior military officers




China, Cuba to stick to independent road




Donations of China to help Iraqi election




Crash raises safety concerns




US rejects Ukrainian election results




US$46,000 offered to nab Beijing drug dealers