Foreign media scramble for China's pay TV
(Agencies)
Updated: 2004-11-24 15:17
Many of the world's biggest cable TV networks, including HBO and Nickelodeon, are taking advantage of newly relaxed laws governing media investment to set up de facto channels in China.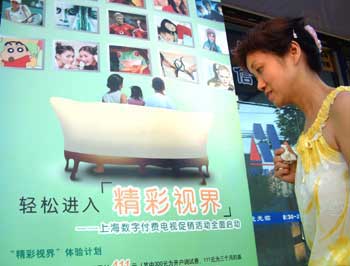 A woman reads an advertisement of pay TV channels in Shanghai in this undated file photo. A CCTV and Beijing Broadcasting Institute survey shows that 75% would pay to view such channels. [newsphoto]

Nearly all the new ventures are tie-ups where a foreign player supplies program-developing expertise or actual programs for use on a specific channel being developed for digital TV by a Chinese media company.

Most of the partnerships are seizing on new rules that go into effect next week allowing foreign firms to own up to 49 percent of joint ventures engaged in program production. Such ventures were previously off-limits to foreigners.

The foreign networks have effectively found a back-door into China's potentially lucrative TV market by taking advantage of those new rules, along with Beijing's desire to quickly develop the nation's digital TV infrastructure, observers say.

Until now, only four foreign media firms have been allowed to operate TV channels in China's tightly controlled media market, and all four were limited to the affluent southern province of Guangdong for widespread broadcasts.

The new wave of channels will be limited to distribution over a handful of national digital platforms being rolled out by some of the country's biggest media firms, most notably the top two, China Central Television (CCTV) and Shanghai Media Group (SMG).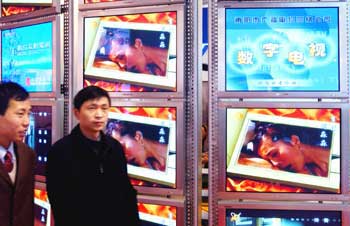 Two visitors walk past a TV wall broadcasting digital TV programs at the China Intrnational Broadcasting and Information Network Exhibition on March 24, 2004. [newsphoto]

"As far as I know, just about everybody is talking to SMG or CCTV as well as some others like that," said Ward Platt, Asia managing director for the National Geographic Channel, which has formed a China-targeted channel, World Geographic, with CCTV.

"It's not really unique that we're doing it," he said. "We moved a little faster than some people."

Viacom Inc.'s Nickelodeon got the show rolling as early as March, when it announced a deal to supply 90 minutes of daily programing for a children's channel being set up by CCTV.

Since then, Time Warner Inc.'s HBO and National Geographic have entered into similar tie-ups. Sony Corp., owner of the Animax TV channel, is also in tie-up talks for a new cartoon channel being developed by Hunan Broadcasting Group, China's fourth biggest media firm.

CHANNEL BUILDING

Discovery Communications, which operates the Discovery channels, has an existing relationship with Shanghai Media Group and has "a long-standing goal" of providing its product to China viewers on a full-time basis, a spokeswoman said.

"We continue to work with a variety of parties toward achieving this goal," she said in a written statement, declining to be more specific.

ESPN Star Sports, a joint venture between the Walt Disney Co.'s ESPN and News Corp.'s Star Group, is also believed to be in discussions for a similar tie-up.

All of the players are seeking entry or expansion in a media market that is still highly fragmented but has the potential to become one of the world's largest. Print and TV ad revenue totaled an estimated $18.7 billion last year, and is expected to grow at double-digit rates for the foreseeable future.

China previously gave highly limited broadcast rights to a small group of foreign-owned channels, including ones backed by News Corp., Time Warner and Viacom, in an effort to control their influence while domestic players developed.

But now the government is relaxing its grip in an effort to meet ambitious goals it has set for developing the domestic digital TV industry, observers say.

China now boasts about 100 million cable TV subscribers, the vast majority with older analog service. But with the recent roll-out of newer digital distribution systems, Beijing has set a target of 30 million users within the next few years.

To do that, observers say, it will need compelling programing like the kind that foreign media firms make.

Many of the new channels are still works in progress, but the recently launched World Geographic offers a glimpse into the kinds of offerings likely to emerge.

World Geographic began trial broadcasts in August, said Platt, whose National Geographic Channel is a joint venture between National Geographic, News Corp. and General Electric's NBC unit.

The channel willingly gave up the better known National Geographic moniker as required by Chinese wary of letting foreign brands get wide recognition so early in the game, Platt said.

"About 60 to 70 percent of the channel is National Geographic content," he said. "We're in talks with them to do a formal long-term partnership. As to whether it's a partnership or some other mechanism has yet to be determined."




Today's Top News
Top China News

Spokeswoman: EU's arms embargo a 'political' issue




Chinese space official to visit NASA chief




Hu: Iraqi election is the way out of woes




Foreign media scramble for China's pay TV




Salaries to grow slow in big cities




Kuchma calls for talks on Ukraine's crisis