Conservatives outraged as Hollywood talks about sex
(Agencies)
Updated: 2004-11-24 15:02
American conservative groups are outraged over a new film starring Liam Neeson about controversial sex researcher Alfred Kinsey whom they accuse of being a closet pornographer.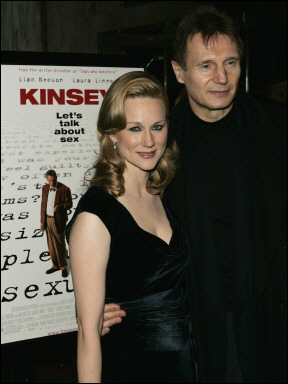 Liam Neeson (R) and Laura Linney attend the opening of the film 'Kinsey' in New York. American conservative groups are outraged over the film directed by Bill Condon about controversial sex researcher Alfred Kinsey whom they accuse of being a closet pornographer. [AFP]

The release of "Kinsey" 50 years after the publication of "Sexual Behaviour in the Human Male" and "Sexual Behaviour in the Human Female" has cast a new spotlight on America's sexual revolution, while the film has earned critical praise despite the controversy.

Conservative Christians and family groups have picketed cinemas in New York, Los Angeles and other cities since the film, directed by Bill Condon, came out at the start of November.

They say the film ignores evidence that Kinsey interviewed paedophiles and concluded that children can be sexual at a very early age.

Brandi Swindell, national director of Generation Life, a youth group that opposes abortion, is typical of the outspoken opposition.

"Kinsey's legacy is not one of sexual enlightenment, as this movie would lead you to believe, rather Alfred Kinsey is responsible in part for my generation being forced to deal face-to-face with the devastating consequences of deadly sexually transmitted diseases, pornography and abortion," she said.

She said there had been a "cover-up that continues, even in this movie, that a two-month-old, a five-month-old, even toddlers were sexually molested in the name of science under Kinsey's supervision. "Excerpts from Kinsey's work made me sick to my stomach."

Generation Life took the lead in organising "peaceful" protests in New York and Los Angeles.

Concerned Women for America, which claims to be the biggest US women's group, has also campaigned against "Kinsey".

"The film paints Kinsey as a flawed but sincere cultural hero," said Robert Knight, director of CWA's Culture and Family Institute. "It ignores the massive fraud, Kinsey's sado-masochistic practices, and barely touches on his use of data on children in sex experiments."

"I don't think it's an exaggeration to say that Kinsey was the godfather of the homosexual activist movement, the campaign to mainstream pornography, and even the campaign to strike down abortion laws," said Knight, who made a 1995 documentary about Kinsey's research on child sexuality.

He said Kinsey should be compared to the Nazi scientist Josef Mengele.

Despite the scathing attacks, British actor Neeson said he had no hesitation accepting the role.

"He saw a gap in our human knowledge that he wanted to fill," Neeson told the New York Times in an interview.

"He was a task master, uncomfortable with people, but I don't find him nasty," he added.

James H. Jones told in a biography of Kinsey how some of the sado-masochist "experiments" that Kinsey dabbled in put a major strain on his marriage to Clara McMillen, who is played in the movie by Laura Linney.

And Neeson has admitted that the role is not an easy one.

"He did go beyond the pale. He experimented with that realm between pain and pleasure. He used it as a springboard to empathize with these people he was encountering. He so wanted to understand them," said the actor.

"Kinsey" threatens to become as controversial in the United States as Michael Moore's "Fahrenheit 9/11" or Mel Gibson's "Passion of Christ" -- both of which were box office phenomenon.

And the demonstrators know that by protesting they risk drawing attention to "Kinsey".

Fox Searchlight Pictures, which produced "Kinsey" has spoken out against the protests.

"In an effort to censor our filmmaker, Bill Condon, and his creative vision, a group of organizations called for protests of 'Kinsey' as it opens in theaters across the country. We will not stand by and allow this to happen," Fox said in a statement.

"In 1948, when Kinseys work was first published, forces tried to censor the conversation of sex in America through a campaign of misinformation," said Fox.

"Today, in an effort to turn back the hands of time, the mission to repress sex and culture continues."

Fox added: "The film provides an important reminder of how far we've come and how far we still have to go in defining our human rights. We believe that people can discuss sex in a mature and thoughtful way. Therefore, we invite audiences to see this film and deliberate these issues honestly."




| | |
| --- | --- |
| | |
| Rebel Dutch photographer to stimulate debate | |

| | |
| --- | --- |
| | |
| '2046' makers deny "Oscars" snub | |

| | |
| --- | --- |
| | |
| Styled street scheduled to connect royal gardens | |
Today's Top News
Top Life News

US$46,000 offered to nab Beijing drug dealers




China to audit senior military officers




Air crash raises safety concerns




China, Cuba to stick to independent road




US rejects Ukrainian election results




Empty cabs targeted to relieve traffic woes