Abbas vows no retreat from Arafat refugee demand
(Agencies)
Updated: 2004-11-24 14:53

Palestinian presidential favorite Mahmoud Abbas vowed on Tuesday never to give up the late Yasser Arafat's bedrock demand that Israel recognize a "right of return" of Palestinian refugees.

The issue was a key factor in the collapse of peace talks in 2000. US President Bush last April publicly embraced Israeli Prime Minister Ariel Sharon's position that refugees be allowed into any new Palestinian state but not into Israel.

"We promise that we will not rest until the right of return of our people is achieved and the tragedy of our diaspora ends," Abbas told a session of parliament held to mourn Arafat, who died of an undisclosed illness in France on Nov. 11.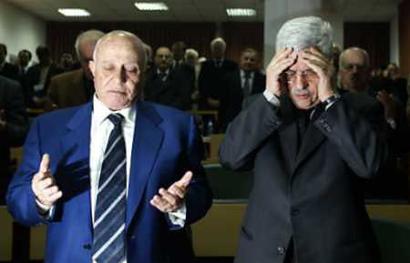 Palestinian Prime Minister Ahmed Qurie (L) and Palestine Liberation Organization chief Mahmoud Abbas pray at the beginning of a Palestinian parliament session in the West Bank city of Ramallah November 23, 2004. The dominant Palestinian political faction Fatah on Monday named Mahmoud Abbas as its candidate to succeed the late Yasser Arafat in a presidential election scheduled for January 9, 2005, officials said. [Reuters]

"We will stick to Palestinian steadfastness in support of the dream you (Arafat) lived for and you promised to your people," said Abbas in an apparent effort to build credibility among hard-liners and the weighty refugee constituency.

Abbas, 69, as a boy was among hundreds of thousands of Palestinians who left or were forced out by Israel's 1948 creation.

International hopes of a revival of peacemaking have risen with the death of former guerrilla leader Arafat, the moderate Abbas's candidacy to succeed him in a Jan. 9 election and hints of an easing in Israel's military occupation to permit voting.

A day after talks in the area with Israeli and Palestinian leaders, Secretary of State Colin Powell told CNN he was confident they could "move more aggressively" down a peace "road map" if "they have good cooperation and a good election."

Such progress, Powell said, was predicated on "no increase in terrorism," a reference to suicide bombings by Palestinian militants that have stalled the road map charting reciprocal steps toward the creation of a Palestinian state in 2005.

Following up on Powell's visit, Russian Foreign Minister Sergei Lavrov held talks in Jerusalem with Sharon and later met Abbas in the West Bank city of Ramallah, where he laid a wreath at Arafat's grave.

"Israel wants to move forward in the (peace) process but an essential condition is quiet and a (Palestinian) war on terrorism," Sharon's office quoted from a verbal message it said he asked Lavrov to convey to the Palestinian leadership.

In Beirut, Farouk Kaddoumi, a senior hard-liner who co-founded Fatah with Arafat in 1959 and has replaced him as its secretary-general, said Palestinians could not realize their aspirations unless they kept fighting Israel.

"We cannot achieve goals except through continued resistance by all routes and means," said Kaddoumi in remarks at an Arafat memorial rite in Beirut likely to please militant groups.

British Foreign Secretary Jack Straw was due in on Wednesday for talks with Israeli and Palestinian leaders likely to focus on the presidential vote and Sharon's unilateral plan to remove Jewish settlements from Gaza and part of the West Bank.

Abbas, a former prime minister, has the respect of Israel and the United States for his calls to end an uprising launched in the Israeli-occupied West Bank and Gaza four years ago in favor of renewing talks on Palestinian statehood there.

The Central Committee of the dominant national faction Fatah nominated Abbas on Monday as its candidate to replace Arafat as Palestinian Authority president. Fatah's larger Revolutionary Council is expected to approve the choice later this week.

But Abbas lacks broad domestic appeal and may be hard pressed to unite faction-ridden Fatah behind peacemaking. Members of Fatah's "young guard" convened on Tuesday to discuss the possibility of fielding their own presidential candidate.




Today's Top News
Top World News
Spokeswoman: EU's arms embargo a 'political' issue