Chinese space official to visit NASA chief
(Agencies)
Updated: 2004-11-24 14:42
The head of China's space agency will visit NASA Administrator Sean O'Keefe next week, a move one U.S. expert said could mean increased cooperation between the two countries.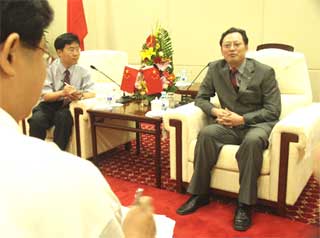 Sun Laiyan (right), administrator of China National Space Administration (CNSA), is interviewed by the reporters from Korean Broadcasting System (KBS) in this July 1, 2004 file photo. [cnsa.gov.cn]
The December 2 meeting with Chinese National Space Agency Administrator Sun Laiyan had been under discussion for months, O'Keefe said on Tuesday.
"It's not a major milestone by any means, it's more of an evolutionary thing," O'Keefe said of the meeting, which a NASA official called a courtesy visit.
He stressed international cooperation was part of President Bush's vision for space exploration, which includes human missions to the moon and eventually to Mars.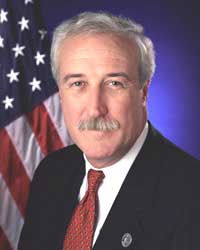 NASA Administrator Honorable Sean O'Keefe. [NASA.gov]

"It is not a specific agenda, more an opportunity to exchange views and get more familiar with what our respective (space) agencies are doing," O'Keefe said.

The meeting comes barely two weeks after Chinese representatives joined a NASA workshop in Washington on international space cooperation, and just over a year after China's first successful human space flight, which concluded on Oct. 16, 2003.

China has never worked directly with the U.S. space program and is not among the nations working on the International Space Station. But there are strong signals the Chinese want to cooperate with NASA.

'SMALL STEPS FORWARD'

The Chinese Shenzhou spacecraft has a built-in docking rink that would allow it to park at the $95 billion station. China's launch complex in Inner Mongolia is on the same parallel as NASA's Kennedy Space Center, which would let the Chinese share an orbit with the space station.

Joan Johnson-Freese, who chairs the National Security Decision Making Department at the U.S. Naval War College, said the Chinese meeting with O'Keefe, coupled with China's participation in the NASA workshop, was good news.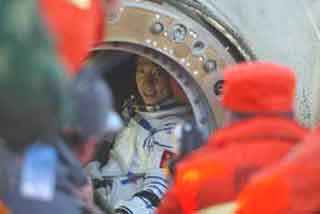 Yang Liwei, China's first astronaut into the space, is to walk out of the "Shenzhou" V spaccraft in this October 16, 2003 file photo after the spacecraft landed safely in Inner Mongolia Autonomous Region. [newsphoto]

"NASA could not make these moves on their own," Johnson-Freese, an expert on international space cooperation, said in a telephone interview. "It's an acknowledgment from higher up that ignoring the Chinese and their capabilities in space is not conducive of anything good in the United States.

"We would be much better off working with the Chinese than having the Chinese work with everybody but us," she said.

China has long wanted to participate in the space station, Johnson-Freese said, but NASA declined its contributions.

"The United States has always used cooperation in areas like space science ... to build bridges with countries," she said. "I think this will be small steps forward."




Today's Top News
Top China News

Spokeswoman: EU's arms embargo a 'political' issue




Chinese space official to visit NASA chief




Hu: Iraqi election is the way out of woes




Anti-cancer vaccine enters clinical research




Salaries to grow slow in big cities




Kuchma calls for talks on Ukraine's crisis