Black boxes of crashed plane found in lake
(Xinhua)
Updated: 2004-11-24 13:53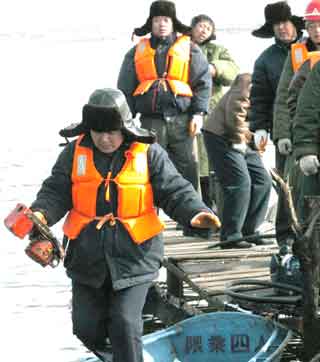 Black boxes of the passenger plane crashed Sunday in Baotou, Inner Mongolia, were found in the lake November 24, 2004. The black boxes, a pilot cabin voice recorder and flight data recorder, could help determine the cause of the crash that killed 55 people, including two on the ground. [Xinhua]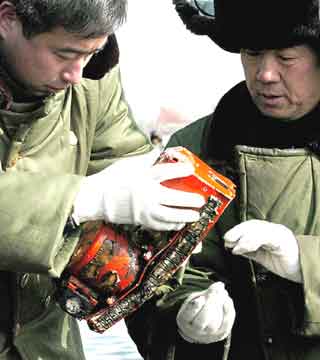 Two rescue workers check one of the two black boxes of the passenger plane that crashed Sunday in Baotou, Inner Mongolia. 55 people were killed in the accident. [Xinhua]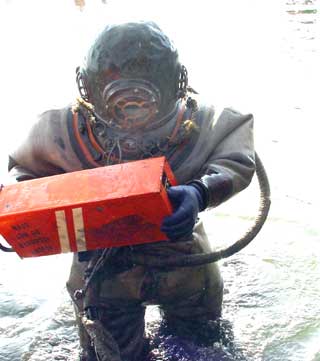 A frogman carries the flight data recorder out of lake in Baotou November 24, 2004. Black boxes of the passenger plane crashed Sunday in Baotou, Inner Mongolia, were found and retrieved. The black boxes, a pilot cabin voice recorder and flight data recorder, could help determine the cause of the crash that killed 55 people, including two on the ground. [Xinhua]
The two black boxes of the crashed CRJ-200 plane were found Wednesday in Baotou City of Inner Mongolia Autonomous Region.
The second black box, or the flight data recorder, was found at 12:49 a.m. Wednesday. The first of the two black boxes, the cabin voice recorder (CVR), which was found at 11:40 a.m. Wednesday had received some damages and need to be taken to Beijing for further study, said experts at the site of the air crash.
A 50-seat short-haul jet CRJ-200, with 47 passengers and six crew members aboard, left Baotou in Inner Mongolia Autonomous Region for east China metropolis Shanghai at 8:21 a.m. Sunday, but crashed into the lake of Nanhai Park shortly after it took off.
All of the people aboard were killed.

Crash victims rising to 55

Fifty-five people died in last Sunday's plane crash in Baotou, one more than was originally announced, Chinese investigators said Wednesday.
In addition to 53 people on board the plane, two people on the ground were killed by fragments from the wreck, said Xu Li, deputy director of the general office of the China Administration of Civil Aviation, at a press conference held Wednesday in Baotou, a city in north China's Inner Mongolia.
Earlier reports said that just one person on the ground had been killed. The newly identified victim was a woman, Gong Xilian,who was doing morning exercises when the plane crashed in city's Nanhai Park.
A 50-seat branch-line CRJ-200 jet, with 47 passengers and six crew members on aboard, crashed into a lake in Nanhai Park shortly after it took off Sunday morning.