Beijing promotes condom use to fight HIV/AIDS
(Agencies)
Updated: 2004-11-24 13:13
China has begun promoting the use of condoms in the runup to World AIDS Day, allowing advertisements and condom dispensers to be prominently displayed in the Chinese capital at least.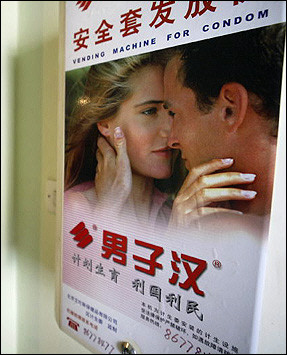 A condom machine mounted on the wall of a Beijing grocery store. The once-conservative city of Beijing plans to set up 1,000 condom vending machines in a bid to curb the spread of AIDS. [AFP]

The effort is aimed at fighting a 40 percent annual increase in HIV/AIDS.

Previously considered improper, the ads cover billboards in the capital's subway stations and at a popular nightlife haunt, Sanlitun Bar Street.

More than 40 AIDS billboards, including those that promote the use of condoms and caution against risky sexual behavior, have been set up along both sides of Bar Street before World AIDS Day on December 1.

Last month the city also erected two condom vending machines on both ends of Sanlitun street, in addition to five free condom dispensers in bars.

Another 100 more would be added by the end of the year, Xinhua news agency cited officials as saying.

AIDS activists said the move seemed to be a new initiative.

"I've never seen condom machines or AIDS-prevention billboards in Sanlitun," said Beijing-based activist Hu Jia.

Until recently, the country was too embarrassed to talk about condom use and the government was criticized for not facing up to its HIV/AIDS problem.

China's first condom advertisement -- appearing on 80 buses in southern Guangzhou city in 1998 -- only survived for 33 days before being pulled off, according to Xinhua.

A TV commercial run by the country's largest TV network CCTV in 1999 and promoting condom use aired for just one day before being canceled.

In October this year six ministries jointly issued a report calling for more AIDS prevention ads to be displayed in public places, including shopping and recreation areas, bus and railway stations, ports and airports.

"China's State Administration for Industry and Commerce bans family planning products from being advertised," an official at China's center for disease control and prevention told AFP.

"The ban still exists but condom ads that are aimed at preventing HIV/AIDS are allowed, with most of them focused around this period."

Beijing this year has 80 AIDS-prevention posters in subway stations and nearly 600 advertisements in subway trains, as well as the 40 billboards.

Some 83 ads will soon be put up in airports around the country, Xinhua said.

However a free needle exchange program launched in Beijing has not seen a single patron since it began last month, with Beijing health officials saying drug addicts might fear being detained by police, Xinhua said in a separate report.

The center for disease control said addicts' would not be caught and their privacy would be protected. But distrust of the police runs high, especially because drug users are often locked up or forced to join labor camps.

Next week Beijing will start another AIDS prevention program -- offering methadone treatment to drug users -- which experts believe will be more effective.

Such programs are still relatively new to China as the government has been reluctant to give the impression it was condoning drug use.

Experts have warned that unless China acts quickly to slow the rapid spread of AIDS, it will expand from relatively isolated groups to the general population, mainly through sexual promiscuity.




| | |
| --- | --- |
| | |
| Rebel Dutch photographer to stimulate debate | |

| | |
| --- | --- |
| | |
| '2046' makers deny "Oscars" snub | |

| | |
| --- | --- |
| | |
| Styled street scheduled to connect royal gardens | |
Today's Top News
Top Life News

US$46,000 offered to nab Beijing drug dealers




China to audit senior military officers




Air crash raises safety concerns




China, Cuba to stick to independent road




US rejects Ukrainian election results




Empty cabs targeted to relieve traffic woes