India, Pakistan agree to press on with peace bid
(Agencies)
Updated: 2004-11-24 08:56
India and Pakistan agreed on Tuesday to press on with a frayed peace process as Pakistani Prime Minister Shaukat Aziz began talks with leaders in New Delhi during a rare visit across the border.
"Both sides felt the composite dialogue should continue to move forward," Indian foreign ministry spokesman Navtej Sarna told reporters after the first round of talks between Aziz and Indian Foreign Minister Natwar Singh.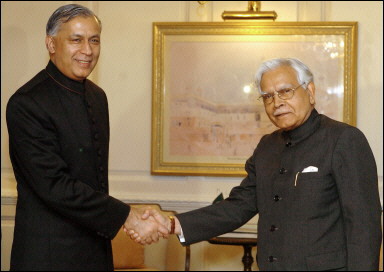 India and Pakistan committed themselves to continue dialogue on Kashmir during a meeting between Pakistan Premier Shaukat Aziz (L) and Indian Foreign Minister Natwar Singh described as 'very friendly'. [AFP]

Aziz arrived in New Delhi in his capacity as the head of a South Asian grouping, but analysts said the faltering peace process and discord over Kashmir were likely to dominate the first visit by a Pakistani premier in 13 years.

The Pakistani leader smiled and shook hands with Singh after he landed at Delhi airport, but made no comments.

He later met former Indian prime minister Atal Behari Vajpayee, whose offer of friendship to Pakistan in 2003 began the normalization of ties between the nuclear-armed rivals.

Sarna said the talks between Aziz and Natwar Singh were "friendly, positive and forward-looking." But he gave no details ahead of Aziz's meeting with his counterpart, Manmohan Singh, due on Wednesday.

The two sides are also expected to discuss a long-running plan to build a pipeline to bring gas from Iran to energy-hungry India that will traverse through Pakistan.

Shortly before Aziz arrived, separatist militants ambushed an Indian security patrol in southern Kashmir, killing a soldier and wounding another. The rebels also attacked a police post in northern Kashmir on Monday night, killing a policeman.

India has long blamed Pakistan for the guerrilla violence in Kashmir, a charge denied by Islamabad. A large portion of the Himalayan region is divided between the neighbors, while China controls a remote northeastern area.

The problem is how to resolve claims by both over the region, with India saying it is part of its territory while Pakistan seeks a compromise.

NO BREAKTHROUGH EXPECTED

The dispute is the source of half a century of hostility between the neighbors and the cause of two of their three wars.

The talks will take place less than a week after Manmohan Singh ruled out any redrawing of India's borders or a further division of Kashmir, pouring cold water over a set of proposals by Pakistani President Pervez Musharraf.

Musharraf suggested that Kashmir be demilitarized and India and Pakistan agree on a compromise over its status, which could be independence, joint control or some form of U.N. control.

"The peace process is currently at a low," said Kalim Bahadur, a New Delhi-based South Asian affairs expert. "One should not expect too much from the dialogue right now except that they will keep it going."

Hours before Aziz's arrival, the ruling party in Indian Kashmir urged both sides to focus on a proposal to start bus services linking the Indian and Pakistani parts of Kashmir.

"This will be the biggest confidence-building measure," said a spokesman of the People's Democratic Party.

The plan to start the bus service between Srinagar, the summer capital of Indian Kashmir, and Muzaffarabad in Pakistan-ruled Kashmir has made little headway because of a row over what travel documents Kashmiris need to carry.

Aziz said on Monday that a reduction of Indian troops in Kashmir had helped reduce tension but added he did not expect this to lead to a major breakthrough in his talks in New Delhi.

New Delhi announced this month it would cut troops in an attempt to boost peace prospects in the heavily militarized Himalayan region.

Aziz will also meet leaders of Kashmir's main political separatist alliance, the All Parties Hurriyat Conference, who have been urging New Delhi to allow them to travel to Pakistan to meet separatist politicians and militants based there.




Today's Top News
Top World News

FM: EU's arms embargo a 'political' issue




Hu: Iraqi election is the way out of woes




Sino-Cuban ties foster peace




Anti-cancer vaccine enters clinical research




Cold hinders search for black boxes




Kuchma calls for talks on Ukraine's crisis