Kuchma calls for talks on Ukraine's crisis
(Agencies)
Updated: 2004-11-24 07:47
Ukraine President Leonid Kuchma called for negotiations among all sides in Ukraine's spiraling political crisis Tuesday, hours after the opposition leader declared himself the winner of a disputed presidential election to the approval of tens of thousands of street protesters.
A top opposition figure accepted the outgoing president's proposal, the Interfax news agency reported.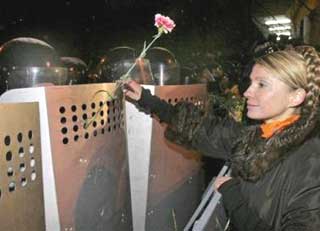 Opposition leader Viktor Yushchenko's top ally Yulia Timoshenko places carnations into shields as riot police guard the Ukrainian presidential administration building in Kiev, Tuesday, Nov. 23, 2004. Several thousand opposition leader Viktor Yushchenko supporters marched to the presidential administration building, skirting some heavy trucks that blocked the street and standing in front of riot police who guarded the building. Yushchenko declared himself the winner of a disputed presidential election and took a symbolic oath of office Tuesday as tens of thousands of his supporters stood their ground in the tense, freezing streets of Kiev for a third straight day. [AP]

"We now have decided to give the possibility to Kuchma to form proposals for talks," Yuliya Tymoshenko said, according to Interfax. It was not immediately clear when the talks might take place.

The startling development in the three-day standoff came as the Bush administration urged the Ukrainian government not to certify results of Sunday's runoff election results that showed Prime Minister Viktor Yanukovych, backed by Kuchma, defeating the Western-leaning Viktor Yushchenko.

"The United States is deeply concerned by extensive and credible indications of fraud committed in the Ukrainian presidential election," White House spokeswoman Claire Buchan said.

But Russian President Vladimir Putin, who supported Yanukovych in the campaign, criticized Western assessments of the vote as flawed, stressing that the results were not yet official. On a state visit to Portugal, he called for calm and respect for the law in this former Soviet republic.

Kuchma's statement was read on state television as tens of thousands of Yushchenko's supporters stood their ground in the tense, freezing streets of Kiev for a third straight day. They have vowed to stay until officials nullify the results of an election they say was rigged.

In his statement, Kuchma referred to the demonstrations as "political farce ... (which is) extremely dangerous and may lead to unforeseeable consequences."

Although the harsh description seemed to indicate that Kuchma was disinclined to take the opposition's position seriously, he nonetheless called for all the country's political factions to enter into talks.

"We should peacefully and with consideration discuss the complicated situation and propose to society real steps for getting out of the crisis," the statement said.

"I am convinced today that this is the only route in the search for a balanced position on not allowing Ukraine to split into pieces," he added.

The election commission's announcement that Yanukovych was ahead of Yushchenko has galvanized anger among many of Ukraine's 48 million people. Official results, with more than 99.48 percent of precincts counted, showed Yanukovych leading with 49.39 percent to his challenger's 46.71 percent. But several exit polls had found Yushchenko to be the winner.

In Washington, four diplomats at Ukraine's embassy signed declaration accusing their government of subverting the will of the people by favoring Yanukovych.

"We cannot quietly look away as Ukraine's future is buried along with the future of our children," read the statement, signed by counselor Oleksandr V. Shcherba, Second Secretary Yuriy B. Parkhomenko, counselor Oleksandr V. Potiekhin and counselor Volodymyr M. Chumak.

Russia, meanwhile, lashed out at the United States for what it called "unprecedented interference" in domestic affairs after U.S. officials allegedly took Moscow to task for recognizing Yanukovych's victory.

During the day, Yushchenko supporters followed their candidate to a special session of parliament, waving orange flags and chanting "Criminals go away!" As night fell, more than 10,000 marched to the presidential administration building, skirting some heavy trucks that blocked the street and facing off with hundreds of police in full riot gear who were guarding the site.

The demonstrations have been peaceful so far, but fears are running high they could deteriorate into violence ! either out of the protesters' frustration or attacks by foes.

After dusk, more than a dozen busloads of Yanukovych supporters were seen parked on the fringes of downtown Kiev in the falling snow, and rumors persisted that provocateurs would try to infiltrate the rallies, disguising themselves by wearing orange armbands ! Yushchenko's campaign color.

Yushchenko and his backers accuse authorities in the Central Election Commission of rigging the balloting in favor of the Kremlin-backed Yanukovych. Western observers criticized the election as widely flawed by multiple voting and apparently inflated turnout figures in Yanukovych's stronghold eastern districts.

"Ukraine is on the threshold of a civil conflict," Yushchenko told an emergency session of parliament. "We have two choices: Either the answer will be given by the parliament, or the streets will give an answer."

The parliament session did not muster a quorum ! many of Yanukovych's backers were absent ! and concluded without taking action on a measure to nullify the vote. But immediately afterward, Yushchenko went to the podium and took an oath of office, his right hand on the constitution and his left on a Bible. Pro-Yushchenko lawmakers, who had urged him to take the oath, shouted, "Bravo, Mr. President!"

The irregular procedure was not legally binding, parliament speaker Volodymyr Lytvyn said. But its symbolic weight was considerable ! a declaration that Yushchenko doesn't intend to back off.

In televised comments, Yanukovych called for national unity, saying: "I categorically will not accept the actions of certain politicians who are now calling people to the barricades. This small group of radicals has taken upon itself the goal of splitting Ukraine."

Pro-government political factions late Tuesday called on all sides to negotiate, the Interfax news agency reported, but Yushchenko's backers have dismissed the idea of compromise.

Yuliya Tymoshenko, one of Yushchenko's most fiery allies, urged lawmakers "not to go into any negotiations," saying they should "announce a new government, a new president, a new Ukraine."

A half-dozen large cities already have declared they recognize Yushchenko as president, and Kiev's city council has called on the national parliament to declare the vote invalid.

Tens of thousands of demonstrators were outside the parliament building as the emergency session took place. Several hundred pushed through metal barriers surrounding the building, but backed off at the urging of pro-Yushchenko lawmakers, and much of the crowd later went back to the central Independence Square area, the nerve center of the demonstrations.

Police estimated the total number of demonstrators at 40,000 but independent estimates ranged well above 100,000 and as high as 200,000.

The protest has grown exponentially since its beginning Sunday night as a post-election rally and "parallel vote count."

The demonstrators have erected hundreds of backpacker-type tents ! most of the same make ! in neat rows along Khreshchatik Boulevard, the main downtown thoroughfare, placing them on wooden pallets with thick plastic-foam slabs as insulation against the cold and snow.

Obvious police presence at the demonstration has been extremely low.

Earlier, Yushchenko and his allies released a statement appealing "to the parliaments and nations of the world to bolster the will of the Ukrainian people, to support their aspiration to return to democracy."

The opposition will conduct "a campaign of civil disobedience" and "a nonviolent struggle for recognition of the true results of the election."





Today's Top News
Top World News

Hu: Iraqi election is the way out of woes




Sino-Cuban ties foster peace




Arms embargo a 'political' issue -FM




Cold hinders search for black boxes




Anti-cancer vaccine enters clinical research




Wal-Mart concedes China can make unions