Ukraine opposition leader claims victory
(Agencies)
Updated: 2004-11-24 00:30
Opposition leader Viktor Yushchenko defiantly claimed Ukraine's presidency Tuesday, taking a symbolic oath of office in parliament, as about 200,000 of his orange-clad supporters massed outside in the frigid streets of Kiev demanding the disputed election be overturned.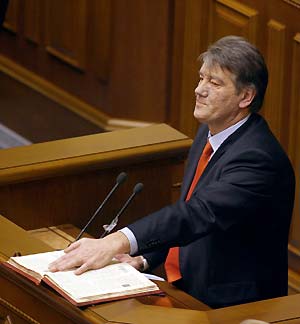 Ukraine's opposition presidential candidate Viktor Yushchenko takes an oath with his hand on a bible at the parliament hall in Kiev, November 23, 2004. Ukraine's presidential election plunged into chaos on Tuesday with the losing candidate reading the oath of office in parliament while outside some 200,000 supporters demanded the government admit it had cheated. [Reuters]

Yushchenko warned of "civil conflict" if he is not recognized as the country's new leader, accusing the government of rigging Sunday's run-off in favor of pro-Kremlin Prime Minister Viktor Yanukovych.


On the parliament floor, after a special session, Yushchenko approached the podium and swore an oath on a 300-year-old Bible as lawmakers who backed him shouted, "Bravo, Mr. President!"


Outside, throngs of his supporters massed behind metal barriers, holding a giant orange ribbon over their heads. They chanted "Criminals, go away!" and "Yushchenko!" Some waved signs reading, "Today or Never." Earlier, Yushchenko led the crowds in a march on the building, turning Kiev's narrow, brick streets into a sea of orange ¡ª the color of his campaign.


A huge crowd jammed Independence Square for a second straight night. Snow fell as Yushchenko's supporters waved flags and signs and chanted his name.


Four trucks with sand, which presumably could be deployed as barricades, were parked near the main square. Several other trucks loaded with sand and concrete rubble were parked about 400 yards from the square, as were two buses full of men, one of whom described them as "volunteers to protect the constitution and prevent a coup d'etat.


Ukrainian media reported that people from Donetsk, an industrial city in eastern Ukraine that supported Yanukovych, were being bused in to the capital.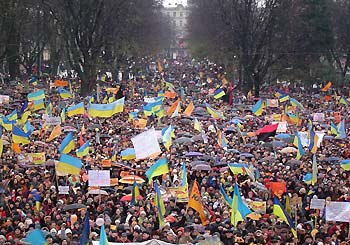 A 100,000 crowd of supporters of opposition presidential candidate Viktor Yushchenko wave national flags in central Lviv, the nationalist heartland of western Ukraine, November 23, 2004. Up to 200,000 protesters rallied outside an emergency session of Ukraine's parliament on Tuesday demanding authorities admit they cheated in a presidential poll, which showed the country's Moscow-backed prime minister had won. [Reuters]

"Ukraine is on the threshold of a civil conflict," the Western-leaning Yushchenko earlier told lawmakers in the chamber before his oath. "We have two choices: Either the answer will be given by the parliament, or the streets will give an answer."

The legislators had gathered for the emergency session to consider his request to annul the election results with a vote of no-confidence in the Central Election Commission, but it ended without taking any action. Only 191 lawmakers turned up, and support from at least 226 members of the 450-seat parliament was needed for a motion to succeed. Many pro-Yanukovych legislators simply stayed away.

The parliament vote would have been nonbinding anyway because it was not initiated by the president, who supports Yushchenko's opponent.

Many of the legislators who did show up sported orange scarves or ribbons and urged him to take the oath of office. Yushchenko's supporters filled the gallery, chanting his name.

"All political forces should negotiate and solve the situation without blood," said Volodymyr Litvyn, speaker of parliament, appealing for calm.

"The activities of politicians and the government ... have divided society and brought people into to the streets," Litvyn said. "Today there is a danger of activities moving beyond control."

Opposition leader and Yushchenko ally Yulia Tymoshenko, wearing an orange ribbon around her neck, called on lawmakers "not to go to into any negotiations" with the government. Instead, Tymoshenko said, they should "announce a new government, a new president, a new Ukraine."

The election commission's announcement Monday that Yanukovych was ahead of Yushchenko has galvanized anger among many of the former Soviet republic's 48 million people. Official results, with more than 99.48 percent of precincts counted, showed Yanukovych leading with 49.39 percent to his challenger's 46.71 percent.

But Western observers said the election was seriously flawed, and exit polls had put Yushchenko clearly ahead.

Russian President Vladimir Putin denounced criticism of the Ukrainian election by the Organization for Security and Cooperation in Europe, saying the group's conclusion is "inadmissible" because there are no official results.
"They should be more careful and responsible," Putin said of the OSCE, which monitored the balloting along with other Western groups.
"We cannot recognize or protest results that are not yet official," Putin, who strongly praised Yanukovych during the campaign and congratulated him afterward, told a news conference during a visit to Lisbon, Portugal. "Ukraine is a state of law. It doesn't need to be lectured."
OSCE observers said extensive indications of voting fraud were found in Ukraine's presidential election Sunday, including people apparently voting multiple times and voters being forced to turn over their absentee ballots to state employers.
Yushchenko supporters have set up tents awash with orange on Kiev's main avenue and in Independence Square, pledging to stay despite freezing temperatures until he is declared president. People continued to arrive in minibuses and on foot.
Yushchenko and his allies had released a statement appealing "to the parliaments and nations of the world to bolster the will of the Ukrainian people, to support their aspiration to return to democracy."
The opposition will conduct "a campaign of civil disobedience" and "a nonviolent struggle for recognition of the true results of the election," the statement said.
"We appeal to the parliaments and nations of the world to bolster the will of the Ukrainian people, to support their aspiration to return to democracy," a statement from Yushchenko's campaign office said.
Mykola Tomenko, a lawmaker and Yushchenko ally, said some police had joined the opposition, although the claim was impossible to independently verify. One police officer, wearing an orange ribbon in his uniform, ordered a group of police outside a government building to retreat inside, defusing tension between them and Yushchenko supporters.
Kiev's city council and the administrations of four other sizable cities ¡ª Lviv, Ternopil, Vinnytsia and Ivano-Frankivsk ¡ª have refused to recognize the official results and they back Yushchenko.
The European Union called for an urgent review of the results, and Sen. Richard Lugar, chairman of the Senate's Foreign Relations Committee, spoke of "a concerted and forceful program of election-day fraud and abuse."
In televised comments, Yanukovych called for national unity, saying: "I categorically will not accept the actions of certain politicians who are now calling people to the barricades. This small group of radicals has taken upon itself the goal of splitting Ukraine."
Today's Top News
Top World News

FM: EU's arms embargo a 'political' issue




Hu: Iraqi election is the way out of woes




Sino-Cuban ties foster peace




Anti-cancer vaccine enters clinical research




Cold hinders search for black boxes




Kuchma calls for talks on Ukraine's crisis