Spokeswoman: EU's arms embargo a 'political' issue
By Wu Chong (China Daily)
Updated: 2004-11-23 01:00
China said Tuesday that removing the European Union's ban on arms sales to China does not necessarily mean China will increase imports of weapons from the EU.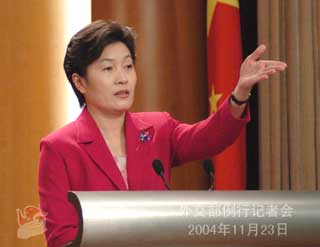 Chinese Foreign Ministry Spokeswoman Zhang Qiqyue takes a question at a news briefing in Beijing November 23, 2004. She urged the EU to lift arms sale ban on China. [fmprc.gov.cn]

With a clear stand that EU should remove the arms embargo soon, a spokeswoman for China's Foreign Affairs Ministry said, "we hope the EU can make more contributions to the overall development of Sino-EU relations rather than placing some obstacles." At Tuesday's regular press briefing, Zhang Qiyue said lifting the 15-year-old embargo is a matter of "political principle," and China hopes the EU can make the right decision as soon as possible.

Dutch Foreign Minister Bernard Bot hinted on Monday that the EU may be ready to move in that direction during an EU-China summit to be held in The Hague on December 8, while the Netherlands holds the EU's rotating presidency.

Beijing-based observers remained cautiously optimistic.

"It would be difficult for the 25-nation bloc to reach a decision on the issue by next March," said Gu Junli, an expert with the Chinese Academy of Social Sciences (CASS), although he envisaged that EU may have found a compromise proposal to solve the problem.

"They might revise some provisions, add more restrictions or even lay out a new code of conduct on arms sales," Gu said.

The EU is divided over whether to end its arms export ban to China, which was imposed after 1989. Though France and Germany are in strong favour of lifting the ban, a couple of other EU members still oppose the proposal.

Gu also criticized some countries' tie-up of the embargo with so-called human rights issues. "It is nonsense. These years have witnessed China actively involved in frequent dialogues with other countries on human rights," said Gu.

"The EU should value the strategic partnership with China and make the right decision soon to ensure a more stable development of bilateral relations," the expert said.

Viet Nam

Also at Tuesday's briefing, in response to Viet Nam's criticism of China's oil exploration in the South China Sea, Zhang said China cannot accept an accusation without proof.

She said Kantan III, one of China's oil drilling platform, is located in China's territorial waters in the mouth of the Beibu Gulf.

Therefore, it is conducting a legal oil exploration, she noted.

"The Chinese side followed international practice to make an announcement of navigation in advance through the sea affairs authority to guarantee the safety of passing ships."

Zhang said China is willing to exchange views with Viet Nam on this regard.

Viet Nam said China should cancel its oil drilling plan in the South China Sea, by claiming it would infringe on its sovereignty.

Progress in Iran

Zhang said Iran's decision to suspend its nuclear programme would create favourable conditions for the United Nations International Atomic Energy Agency (IAEA) to solve the nuclear issue.

The IAEA board of governors passed a resolution in September demanding Iran stop all enrichment programmes before November 25.

Iran announced on November 15 that his country would stop all uranium enrichment-related activities.

Shrine Visits

China and Japan's historical problems are the obstacles that they both have to face, said Zhang. The most inflammatory issue in Sino-Japanese relations is Japanese leaders' unflagging visits to Yasukuni Shrine.

With 14 Class-A World War II criminals enshrined, along with other Japanese war dead since the mid-19th century, Yasakuni Shrine has become a symbol for Chinese as well as Asian people.

This topic has been included in the conversation between Chinese President Hu Jintao and Japanese Prime Minister Junichiro Koizumi, which took place after the conclusion of the 12th Economic Leaders' Meeting of the Asia-Pacific Economic Cooperation forum.

During the meeting, Hu urged Japanese Prime Minister to properly treat its wartime history with an eye to the future, and called for a halt to visits by Japanese leaders to the shrine.

When asked about the impact of Sino-Japanese leaders meeting on November 21, Zhang said that the meeting tells the importance Chinese leaders have put on the Sino-Japanese relations.

For more than 32 years, China has witnessed the noticeable development between it and Japan, said Zhang. The fruits should be treasured and both countries should exert more positive efforts to the relations.




Today's Top News
Top China News

Spokeswoman: EU's arms embargo a 'political' issue




Hu: Iraqi election is the way out of woes




Sino-Cuban ties foster peace




Anti-cancer vaccine enters clinical research




Cold hinders search for black boxes




Kuchma calls for talks on Ukraine's crisis