Cold hinders search for black boxes
By Cao Desheng (China Daily)
Updated: 2004-11-23 21:39
Rescue operations ended Tuesday at the site of a plane crash in North China.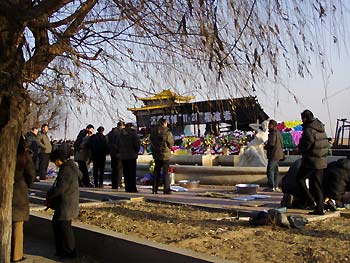 Relatives of crash victims mourn for the dead in a lamenting ceremony near the Nanhai Lake in Baotou on Tuesday. [newsphoto]

The Sunday crash killed 54 people, including one man on the ground.

However, efforts to locate the flight data recorders, or black boxes, are ongoing but progressing slowly due to the cold weather.

Some 300 relatives of the victims were taken to the scene to see their loved ones.

However, many were prevented from doing that as most bodies suffered extensive damage when the plane fell, said Liu Huanxin, director of the funeral parlor of Baotou in North China's Inner Mongolia Autonomous Region, where the plane crashed.

Liu is heading a team to handle the bodies of the victims.

"We are finding it very difficult since most of the bodies are incomplete," Liu said.

The relatives of one passenger travelling with an Indonesian passport also arrived yesterday.

Wang Xianzheng, leader of the investigative group for the air crash and also director of the State Administration for Production Safety, assured relatives of the victims that they would be dealt with fairly.

"But it may take some time for rescue workers to identify the remains of those killed in the tragedy," Wang said.

A 50-seat regional jet CRJ-200 carrying 47 passengers and six crew members fell to the ground on Sunday morning shortly after it took off from Baotou.

The small aircraft, supplied by Canadian-based Bombardier Aerospace and owned by China Eastern Airlines, was bound for Shanghai.

Everybody on board was killed as was one man on the ground.

Following the accident, shares of Bombardier company on the Toronto stock market slipped 20 cents to 2.50 Canadian dollars (US$2) on Monday, Xinhua News Agency reported.

A Bombardier spokesperson said about 900 CRJ-200s are in service, and the 50-seat aircraft have flown a total of 9 million flight hours since 1992.

An accident response team consisting of three experts from Bombardier and two Canadian officials from the Transportation Safety Board will arrive at the accident site today, Jeff Chen, Bombardier's spokesman in China, said.




Today's Top News
Top China News

Sino-Cuban ties foster world peace




Iraqi election is the way out of woes -Hu




Sabotage not cause of airliner crash




Shanghai GM to recall Buicks on defect




China batch-produces SARS reagent




Three UN hostages in Afghanistan freed