Estimated 200,000 protest Ukraine election
(Agencies)
Updated: 2004-11-23 20:15
About 200,000 demonstrators flooded the center of the Ukrainian capital Tuesday to protest alleged fraud in the presidential election, and the opposition leader claimed victory and accused authorities of rigging the election.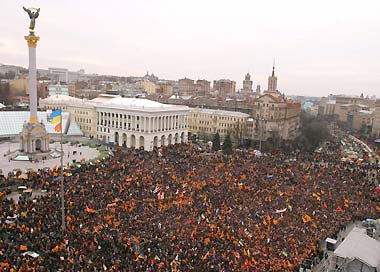 Thousands of demonstrators gather to protest alleged fraud in the presidential elections on the main square of the Ukrainian capital Kiev, Tuesday, Nov. 23, 2004. The opposition called an emergency parliament session Tuesday to demand the annulment of official results already rejected by several municipal governments. [AP]


The Ukrainian Election Commission's announcement that Kremlin-backed Prime Minister Viktor Yanukovych was ahead of Western-leaning candidate Viktor Yushchenko with nearly all the votes counted dismayed ¡ª and angered ¡ª many of the former Soviet republic's 48 million people.


Yushchenko on Tuesday claimed victory and asked for international recognition. He accused authorities of rigging Sunday's vote and announced a campaign of civil disobedience.


"We appeal to the parliaments and nations of the world to bolster the will of the Ukrainian people, to support their aspiration to return to democracy," a statement from Yuschenko's campaign office said.


He called on his thousands of supporters camped at the central Independence Square to walk to the parliament building ahead of an emergency session called to consider annulling the official results and a no-confidence vote in the election commission.


While such a parliamentary decision would carry huge political significance, it would not be binding. According to the Ukrainian constitution, a no-confidence vote must be initiated by the president in order for it to be binding. Outgoing President Leonid Kuchma has staunchly backed Yanukovych.







Today's Top News
Top World News

Hu urges Japan to face history, not war shrine




Sabotage not cause of airliner crash




Shanghai GM to recall Buicks on defect




China batch-produces SARS reagent




Three UN hostages in Afghanistan freed




China's oil imports rise to hit record high