Prime suspect in fake milk powder scandal detained
(Agencies/xinhua)
Updated: 2004-11-23 15:52
A routine ID check has led to the detention of a prime suspect in a Chinese scandal over the sale of fake milk powder that led to the deaths of at least 13 babies, state media said Tuesday.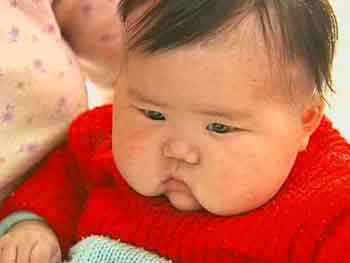 A baby suffered from "big head" disease which was caused directly by the sub-standard milk powder. [newsphoto]

The suspect, identified by his surname Qian and described as a top supplier of the sub-standard milk powder, was apprehended at Beijing's Western Railway Station earlier this month, the Beijing Times reported.

A police officer on a routine patrol at the station noticed that Qian avoided eye contact and tried to disappear in the crowd when he approached, according to the paper.

When he asked him to provide his ID, the officer realized that he was facing one of the top suspects on the most-wanted list issued in the wake of the milk powder case.

Qian has now been handed over to police in southeastern Fujian province, where he previously worked as a businessman, the paper said.

State media said earlier this month that legal authorities had identified 97 officials facing punishment over the scandal.

It centered around Fuyang city in the eastern province of Anhui where 13 babies died after their unknowing parents fed them substandard milk powder purchased in rural markets, which had almost no nutritional value.

Hundreds of others suffered what local residents called "big head" disease, a medical complication stemming from malnutrition.

The case was not isolated to Anhui. An investigative team has found low-quality milk powder producers across 11 provinces as well as in Beijing and Shanghai.




Today's Top News
Top China News

Hu urges Japan to face history, not war shrine




Sabotage not cause of airliner crash




China batch-produces SARS reagent




Three UN hostages in Afghanistan freed




China's oil imports rise to hit record high




EU to send China positive signal on arms ban