McDonald's CEO resigns to fight cancer
(Agencies)
Updated: 2004-11-23 12:53
McDonald's Corp. CEO Charlie Bell, who was diagnosed with colorectal cancer in May, resigned Monday to focus on his battle with the disease, forcing the company to make a sudden leadership switch for the second time in seven months.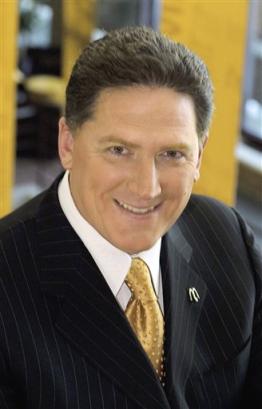 Charlie Bell, president and chief operating officer of McDoanld's Corp., is seen in this undated company handout photo. Bell, who was diagnosed with colorectal cancer in May, resigned Monday, Nov. 22, 2004. [AP]

The fast food giant named vice chairman Jim Skinner as its new CEO, and the board elected Mike Roberts, CEO of McDonald's USA, to the position of president and chief operating officer.

"Charlie is a remarkable leader and well loved by the McDonald's family, and we fully understand and respect his decision," McDonald's chairman Andrew J. McKenna said in a statement.

Bell will continue to serve as a member of the company's board of directors, company spokesman Walt Riker said.

Bell, 44, was diagnosed with cancer soon after succeeding Jim Cantalupo in April, when Cantalupo died of an apparent heart attack. Bell has missed significant time at work because of the cancer and earlier this month skipped a gathering of worldwide McDonald's managers in his native Sydney, Australia.

Bell had returned to the hospital in September for further cancer therapy, and the Oak Brook, Ill.-based company has largely declined to comment on the severity of his condition or treatments.

Bell rose through the ranks at McDonald's, starting at a Sydney restaurant when he was 15 in 1975, becoming the youngest store manager in Australia by the age of 19.

Under Cantalupo and Bell, McDonald's has staged a rebound in sales the past two years as the company slowed the pace of new store openings, added popular new salads and breakfast items to its menus and shed noncore parts of its business.

One analyst said the change in leadership likely would have no major impact on the company's stock because current McDonald's executives are replacing Bell and the company has been doing well.

"Because this was an internal promotion, I think it's basically status quo," said Jerry McVety, president of McVety & Associates in Farmington Hills, Mich. "I don't see any real philosophical changes."

The executives succeeding Bell bring years of experience with McDonald's to their new jobs.

Skinner began has career with McDonald's in 1971 as a restaurant manager trainee in the Chicago suburb of Carpentersville and Roberts started in 1977 as a regional purchasing manager.

Skinner also is a former head of McDonald's European business. In July, as part of a management shake-up designed to support Bell, he was given oversight of McDonald's operations in Asia, the Middle East, Africa and Latin America.

"In Jim Skinner, McDonald's has an outstanding leader who will continue the strategic focus established by Jim Cantalupo and Charlie Bell," McKenna's statement said.

Last month, McDonald's reported a 42 percent jump in third-quarter profits as its turnaround continued at full speed well into a second year. Since ending a protracted stretch of sluggish results in the crowded fast-food industry, McDonald's has had six consecutive quarterly increases in same-store sales ¡ª restaurants open 13 months or more ¡ª among its 13,000-plus U.S. outlets. The third-quarter rise was a healthy 8.5 percent.

Before his promotion Monday, Roberts had been in charge of the company's U.S. restaurants.

"In his new role, Mike will bring his energy and experienced leadership to McDonald's restaurant operations throughout the world," McKenna's statement said.

The company posted net earnings for the July-September quarter of $778 million, or 61 cents a share, up from $547 million, or 43 cents a share, a year earlier. Revenues were up 9 percent to $4.9 billion from $4.5 billion a year earlier.

McKenna's statement said Bell asked him to thank everyone for their support.

"Your support and empathy are sources of inspiration and courage to Charlie, and to all of us at McDonald's," it said.

Riker said the company would have no additional comment Monday night.




| | |
| --- | --- |
| | |
| Bodypainting a sensual art | |

| | |
| --- | --- |
| | |
| Magic animal world | |

| | |
| --- | --- |
| | |
| Style Awards China 2004 opens | |
Today's Top News
Top Life News

Hu urges Japan to face history, not war shrine




Sabotage not cause of airliner crash




China batch-produces SARS reagent




Three UN hostages in Afghanistan freed




China's oil imports rise to hit record high




EU to send China positive signal on arms ban