Three UN hostages in Afghanistan freed
(Agencies)
Updated: 2004-11-23 12:17
Three U.N. workers kidnapped in Afghanistan have been released unharmed after more than three weeks in captivity, Afghan officials said Tuesday.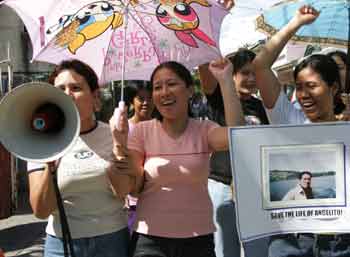 Filipino neighbors of Filipino U.N. diplomat Angelito Nayan celebrate in Las Pinas city, south of Manila November 23, 2004 after learning that Nayan had been freed from his kidnappers in Afghanistan. Three foreign U.N. workers held hostage in Afghanistan were freed unharmed on Tuesday, almost four weeks after they were abducted at gunpoint on the streets of the capital Kabul, the United Nations said. [Reuters]

The hostages were released late Monday and are in good condition, three Afghan officials told The Associated Press on condition of anonymity.

Armed men seized Philippine diplomat Angelito Nayan, British-Irish citizen Annetta Flanigan and Shqipe Hebibi of Kosovo in Kabul on Oct. 28, the first such abduction in the Afghan capital since the Taliban fell three years ago.

Afghan officials earlier said they believed a criminal gang carried out the abductions, and that negotiations centered on a ransom demand.

News of the release came hours after U.S. and Afghan forces raided two houses in downtown Kabul on Monday and detained 10 people in connection with the abductions.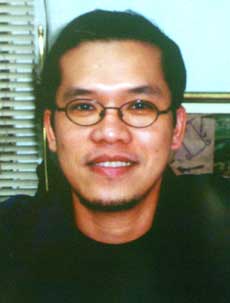 Filipino hostage Angelito Nayan, a junior diplomat seconded to the United Nation's Joint Electoral Management Body, is shown in this undated handout file photo released October 29, 2004. Three foreign U.N. workers held in Afghanistan since Oct. 28 were freed on November 23, 2004, government officials said. Annetta Flanigan from Northern Ireland, Kosovan Shqipe Hebibi and Filipino diplomat Angelito Nayan were abducted in Kabul last month after helping run a presidential election won by U.S.-backed incumbent Hamid Karzai. [Reuters]

Most of the detainees were released after being questioned, an Afghan intelligence official said.

Afghan officials believe a criminal gang carried out the abductions, and that negotiations have centered on a ransom demand. But it remains unclear if the kidnappers are working for a Taliban-linked group that has claimed responsibility and demanded that Afghan and U.S. authorities free jailed comrades.

The leader of the group, which calls itself Jaish-al Muslimeen, or Army of Muslims, told AP it had no links to anyone detained in Kabul on Monday.

Akbar Agha also said in a telephone call Monday that the militants were "very close to an understanding" with government negotiators to exchange the hostages for 24 rebels in Afghan jails.

His claims could not be verified.

American officials worry a deal could encourage more abductions just as the military claims it is getting the better of Afghan insurgents using more conventional tactics.

In Monday's raids, security forces began the assault in the west of the city at about 4 a.m., using rockets to blast a hole in a wall surrounding the two-story home of a doctor working for the United Nations, witnesses said.

The doctor, Munir Mosamem, and his 17-year-old son were detained, Mosamem's wife, Zakia, told The Associated Press. The forces searched the house and confiscated three mobile phones and part of a computer, she said.

U.N. spokesman Manoel de Almeida e Silva said the doctor worked at a clinic for the world body in the city, but had no details on why the man was targeted.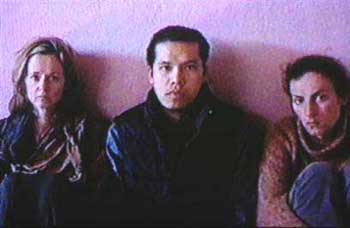 Annetta Flanigan of Northern Ireland, left, Filipino diplomat Angelito Nayan, center, and Shqipe Habibi of Kosovo, right, seen in this video released by militant, Sunday, Oct.31, 2004. Militants released a video Sunday showing three frightened foreign U.N. hostages pleading for their release, and threatened to kill them unless United Nations' and British troops leave Afghanistan and Muslim prisoners are freed from U.S. jails. [AP]

Another eight men were detained in a derelict house next door, where several impoverished families of recently returned refugees were living, witnesses said.

The intelligence official said those eight were quickly released, but that the doctor and his son remained in American custody.





Today's Top News
Top World News

Hu urges Japan to face history, not war shrine




Sabotage not cause of airliner crash




China batch-produces SARS reagent




Three UN hostages in Afghanistan freed




China's oil imports rise to hit record high




EU to send China positive signal on arms ban