Iraqi PM confident about Iraq elections
(Agencies)
Updated: 2004-11-23 09:06
Iraq's interim prime minister said Monday he's confident only a small number of people will boycott the Jan. 30 elections despite anger among many Sunni Muslims over the Fallujah offensive and a deadly U.S.-Iraqi raid on a Baghdad mosque.
"The forces of darkness and terrorism will not benefit from this democratic experience and will fight it," Ayad Allawi told said. "But we are determined that this experiment succeeds."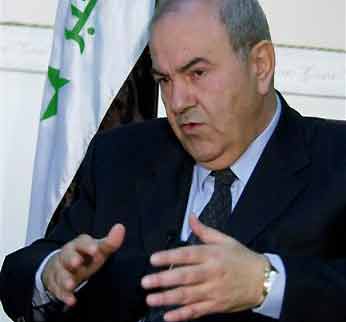 Iraq's interim Prime Minister Ayad Allawi gestures during an interview with the Associated Press in Baghdad Monday, Nov. 22 2004. Iraq's neighbors have not done enough to help Iraq tackle its security problems, said Allawi. [AP]

Allawi spoke as violence raged in the capital and other cities, and the U.S. Embassy said a bomb was discovered Monday on a commercial flight inside Iraq. Gunmen in the north assassinated a prominent election opponent, and five decapitated bodies were discovered south of the capital.

Despite the violence, the Iraqi government Sunday set Jan. 30 as the date for parliamentary elections, the first since the collapse of Saddam Hussein. Officials said the balloting would be held even in areas still plagued by insurgency and despite calls by militant Sunni clerics for a boycott.

However, Allawi, a secular Shiite hand-picked by the Americans last June, said he believed that only "a very small minority" would abstain during the election "for one reason or another."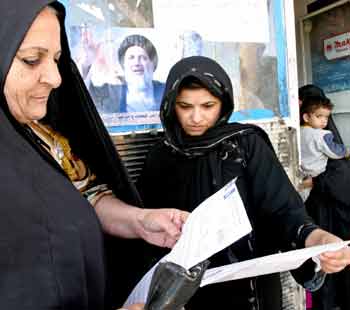 Iraqi women read the registration forms of the coming Iraqi elections in the capital Baghdad, November 22, 2004. Iraq's interim government voiced confidence on Monday that an election it has scheduled for Jan. 30 will go ahead despite violence and intimidation in some areas and a threat of a boycott by the once dominant Sunni minority. [Reuters]

"Their reason will be political, and not sectarian, and they will not be more than 5, 6 or 7 percent," Allawi said in his office in the U.S.-guarded Green Zone. "They are the eventual losers."

Allawi is expected to run for a seat in the assembly, which would then choose the government.

The United States is anxious that the election go ahead as planned, hoping that an elected government widely accepted by the Iraqi people will take the steam out of the insurgency still raging in Sunni areas of central, western and northern Iraq as well as the capital.

As the election approaches, U.S. commanders in Iraq probably will expand their troops by several thousand. Army units slated to depart are also being held back until after the election. There now are about 138,000 U.S. troops in Iraq.

U.S. officials are concerned that a boycott could deprive the new government of legitimacy in the eyes of the Sunni Arabs, who make up an estimated 20 percent of the nearly 26 million population. The majority Shiites, believed to form 60 percent of the population, strongly support elections.

Spearheading the boycott call is the Association of Muslim Scholars, an influential Sunni clerical group with suspected links to insurgent groups. The association called for a boycott to protest this month's U.S.-led assault on the insurgent stronghold of Fallujah and the continued U.S. military presence five months after the restoration of Iraqi sovereignty.

Allegations by Fallujah residents that U.S. troops defaced mosques and the large-scale devastation of the city have further stoked the anger of Sunnis, who were further enraged Friday when Iraqi forces backed by U.S. troops raided Baghdad's Abu Hanifa mosque, Iraq's most revered Sunni site.

Witnesses said three worshippers were shot dead and at least 40 others were detained in the raid. In a gesture to the Sunnis, Allawi has ordered an investigation.

On Monday, an Iraqi Red Crescent convoy carried blankets, water and first-aid kits into Fallujah, the first time an independent organization has been able to visit the city since U.S.-led forces invaded two weeks ago.

Allawi was defiant in his defense of the Fallujah operation, describing it as an unqualified success.

"We went to Fallujah and we broke their back," he said. "We found enough weapons there to destroy an entire country."

He said that because of the success in Fallujah, "those who will try to obstruct democracy and election are finished. ... They don't have a safe haven anymore."

Allawi also criticized the Sunni association, accusing some of its members of inciting violence.

"Those who call for violence will be dealt with by force. The judicial system also will deal with those who allow themselves to stoke hatreds," he warned. "I hope that those who call themselves the Association of Muslim Scholars rise to the standards set by Islam as a religion of love and tolerance."

In the northern city of Mosul, a prominent member of the association, Sheik Faidh Mohamed Amin al-Faidhi, was shot and killed Monday by gunmen at his home. He was the brother of the association's national spokesman, and his killing was likely to anger Sunnis in the city, where insurgents launched an uprising earlier in the month in support of the militants in Fallujah.

Near Mosul, U.S. forces Monday uncovered a weapons stockpile that included anti-aircraft guns and surface-to-air missiles and a building filled with explosive materials, the U.S. military said. The haul included one anti-aircraft gun, 15,000 anti-aircraft rounds, 4,600 hand grenades, 144 grenade launchers, 25 surface-to-air missiles, 21 mortar rounds, 10 rockets and artillery rounds.

Elsewhere, Iraqi security forces recovered 12 bodies, including five decapitated ones, from an area south of Baghdad, police said Monday. One was identified as a member of the Iraqi National Guard.

The bodies were found during a raid Sunday in Latifiyah, about 20 miles south of Baghdad, said Lt. Adnan Abdullah. The area has a mixed Sunni and Shiite population and has been described as the "triangle of death" because of the large number of fatal attacks against Shiites and foreigners there.

A U.S. soldier died Monday of wounds suffered in an attack in Baghdad the night before. The Pentagon also announced that three Marines wounded in Fallujah have died, raising the U.S. death toll in the offensive to at least 54. At least 1,228 members of the U.S. military have died since the beginning of the Iraq war in March 2003.

Insurgents ambushed a U.S. convoy in western Baghdad on Monday, but there were no reports of casualties.

The U.S. Embassy gave no details on the bomb that was found on the flight inside Iraq, but said authorities were installing additional screening measures at Baghdad International Airport.

During the interview, Allawi also complained that some of Iraq's neighbors have not done enough to help stabilize his country.

"Certainly, some brothers and leaders in some neighboring nations did not do enough," he said. "They should have tried to help us at a time when we needed help," he said.

However, Allawi added that he looked forward to "positive and balanced ties with all our neighbors without exception."

"And we expect these nations and their leaders to do the same," he said.

Allawi's remarks came as an international conference on Iraq convened Monday at the Egyptian resort of Sharm El-Sheik, where delegates expressed support for his government and the January vote. The conference, which brings together 20 nations including the United States and Iraq's neighbors, is designed to muster support for Iraq's government.




Today's Top News
Top World News

Hu urges Japan to face history, not war shrine




Sabotage not cause of airliner crash




China's mobile phone users reach 320 million




APEC leaders agree to advance economies




Jet crashes before picking up elder Bush




Falun Gong hijacks HK satellite