Jet crashes before picking up elder Bush
(Agencies)
Updated: 2004-11-23 08:08
A private jet that was en route to Houston to pick up former US President Bush clipped a light pole and crashed Monday as it approached Hobby Airport in thick fog, killing all three people aboard.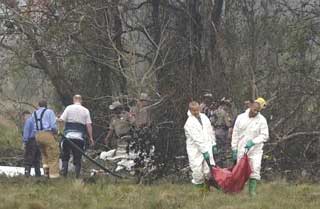 The remains of one of three people killed are removed from the site of a private jet crash as officials look through the debris Monday, Nov. 22, 2004, near Houston's Hobby Airport. The plane clipped a light pole and crashed a minute away from landing in a thick fog, killing all three crewmen. The plane was supposed to fly former President Bush to Equador from Houston. Bush has now canceled his trip. [AP]

The Gulfstream G-1159A jet, coming into Houston, went down about 6:15 a.m. in an undeveloped area 1 1/2 miles south of the airport, officials said. The former president had been scheduled to travel to Ecuador for a conference.

"I was deeply saddened to learn of the plane crash this morning," Bush said through spokesman Tom Frechette. "I'd flown with this group before and know them well. I join in sending heartfelt condolences to each and every member of their families."

The names of the three crew members were not immediately released.

Bush, who lives in Houston, was going to give a lecture for the Guayaquil, Ecuador, Chamber of Commerce, Frechette said, adding, "It's very sad." He said he was to have accompanied Bush, as was a Secret Service agent.

Earlier, Jack Williams, a district chief with the Houston Fire Department, confirmed three people had died.

The jet, en route from Love Field in Dallas, was approaching the runway when it clipped the light pole, losing part of a wing, authorities said. Wreckage extended about 100 yards from there, Williams said.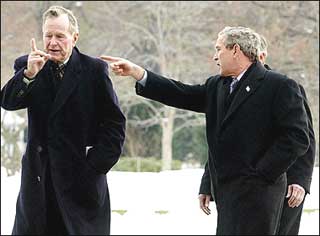 US President George W. Bush (R) points along with his father. former US President George H. W. Bush (L) after arriving back to the White House in 2002. A private jet that crashed in foggy conditions near Houston's Hobby Airport, killing all on board, was on its way to pick up former president George H.W. Bush. [AFP/file]

The crash site is a field near the Beltway 8 tollway. No one on the ground was injured, but one car was hit with debris while another was hit with jet fuel, Williams said.

Roger Smith, a spokesman for the Houston Airport System, said the pilot didn't indicate any problem, and the landing was routine until communications abruptly stopped. Dense fog blanketed most of the area.

Robert Randall, operations manager with the plane's owner, Jet Place Inc. of Tulsa, Okla., said it had two male pilots and a female flight attendant aboard. The company has a fleet of 18 jets and employs about 150 people, he said.

Flight operations at Hobby Airport were not affected by the crash, officials said, but a portion of the heavily traveled tollway was closed.

Eduardo Maruri, president of the Guayaquil Chamber of Commerce, said that Bush suspended his visit until next month.




Today's Top News
Top World News

Hu urges Japan to face history, not war shrine




Sabotage not cause of airliner crash




China's mobile phone users reach 320 million




APEC leaders agree to advance economies




Falun Gong hijacks HK satellite




Cold front from Siberia brings chilly days