Death toll from Hebei mine fire rises to 57
By Wang Ying (China Daily)
Updated: 2004-11-22 22:03
The death toll from a fire in several interconnected iron mines in Hebei Province has risen to 57, rescue officials said.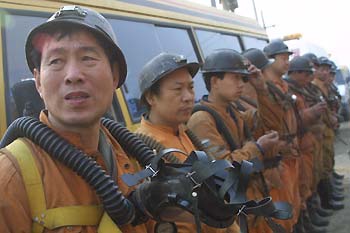 Rescuers are ready for an underground operation to search for the survivors at the iron mine November 21, 2004. [newsphoto]

The bodies of 49 miners killed in the fire, most of whom succumbed to suffocation, were moved out of the mine in the North China province's city of Shahe to the ground by Monday morning. The location of eight other dead miners has also been identified and they will be transported to the surface soon, said Zhang Fumin, an official with the city government.

A total of 46 miners have been rescued alive but three others are still missing.

"The search for the missing miners is still going on," Zhang told China Daily Monday in a telephone interview. "However, the hope of finding any survivors is very slim."

Five iron mines caught fire on Saturday morning in Zhangzhuang Village of Shahe, a city in southern Hebei 420 kilometres from Beijing and 137 kilometres from Shijiazhuang, capital of the province.

It is estimated that 106 miners were working at the five mines when the fire broke out.

The fire was still not totally out and smoke continued to come out of the mines, Zhang said.

The preliminary investigation has shown that the fire started in the ignition of an electronic cable in one mine. The flames quickly spread to four other connected iron mines.

Many wood pillars were installed in the tunnels of the mines and fuelled the fire which broke out in the tunnel 130 metres below the surface, Zhang said.

Some of the mines are very deep. They have several layers that can go down as far as 900 metres, Zhang said.

More than 180 rescuers in 16 teams are searching for trapped miners using smog-expelling machines and nitrogen infusing machines.

Premier Wen Jiabao has urged the local government and related departments to save the lives of the miners at any cost.

Rescue teams have been sent from nearby Shanxi and Henan provinces and dozen of ventilation experts have rushed to the spot. Nearby army units have also provided help.

The survivors were rushed to nearby hospitals for medical treatment, local officials said.

Miners killed in the disaster include some local residents and workers from other provinces including Guizhou and Sichuan provinces in Southwest China, Shaanxi Province in Northwest China and Hubei Province in Central China.




Today's Top News
Top China News

Hu urges Japan to face history, not war shrine




Sabotage not cause of airliner crash




China's mobile phone users reach 320 million




APEC leaders agree to advance economies




Falun Gong hijacks HK satellite




Cold front from Siberia brings chilly days