Nephew: Arafat records inconclusive
(Agencies)
Updated: 2004-11-22 21:42
Yasser Arafat's nephew said on Monday that medical records released by France showed no trace of known poisons in the late Palestinian leader but the cause of death remained a mystery.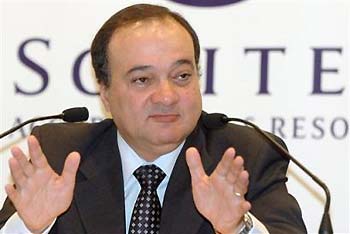 Yasser Arafat's nephew Nasser al-Kidwa, also the Palestinian observer to the United Nations, addresses reporters during a press conference in Paris, Monday, Nov. 22, 2004. Yasser Arafat's weighty medical records give no clear diagnosis for the cause of his death, but also show that toxicology tests did not find any known poisons, al-Kidwa said Monday. Palestinian leader Yasser Arafat died on Nov. 11, 2004 in a Paris-area military hospital after two weeks of treatment. [AP]

Nasser al-Kidwa, Palestinian envoy to the United Nations, said the 558-page medical report gave "no clear diagnosis" of what caused his uncle's death in a French military hospital on Nov. 11 and he refused to rule out foul play.


The question of what killed Arafat at age 75 is likely to keep the rumor mill churning and to fuel conspiracy theories for years to come. Strict privacy laws prevent French doctors from releasing details.


"Toxicology tests were made, and no poison known to the doctors was found," al-Kidwa said, basing his comments at a news conference on the medical dossier released to him by the French military.


"Because of the lack of clear diagnosis, a question mark remains there (about why Arafat died). Personally I believe it will remain there for some time to come," he added.


Arafat, penned into West Bank headquarters by Israeli forces for 2-1/2 years, died of multiple organ failure. Al-Kidwa would not rule out the possibility Arafat had been poisoned by a toxin unknown to his doctors.


Asked if he could assure Palestinians Arafat was not killed by poison, al-Kidwa said: "No I cannot assure you. This possibility could not be excluded."


By contrast, when Arafat was in hospital in Paris before his death, Palestinian Foreign Minister Nabil Shaath told reporters that although the doctors' diagnosis had been inconclusive, "it rules out poisoning totally."


NO PROOF


Al-Kidwa said Palestinian officials accepted the conclusions of French doctors and trusted the French authorities.


"We don't have proof that suggests there was poisoning. We don't have proof that there wasn't, in a definitive way," al-Kidwa said.


"In all cases, I believe that the Israeli authority is largely responsible for what happened, at least because of the confinement of the late president to (his headquarters) in very bad conditions for three years."


Israel says Arafat -- who suffered for years from tremors symptomatic of Parkinson's disease -- had access to doctors, food, running water and electricity in his West Bank compound.


Despite a Palestinian clamor for an official statement, French doctors refused to publish Arafat's medical records, citing strict privacy laws that mean they can only be released to the next of kin.


Al-Kidwa was given the report by the French Defense Ministry in Paris. He qualified for a copy of the file as a member of the family.


He said he planned to hand the report to the Palestinian Authority, which has been frustrated by refusals from France and Arafat's widow Suha to hand over the medical records.


A senior Palestinian official said al-Kidwa planned to pass on the medical report to the Palestinian leadership, who would then refer it to Palestinian, Jordanian, Egyptian and Tunisian doctors.

Details of the report would remain confidential but the Palestinian public would be informed of the main points of the findings, the Palestinian official said.

Arafat's aides had quoted doctors as saying he had weight loss and a low count of platelets, which help the blood to clot. They later said he had gone into a coma, suffered a brain hemorrhage and lost the use of his vital organs one by one.





Today's Top News
Top World News

APEC leaders want to revive world trade talks




Sabotage not cause of airliner crash




President Hu: We support battling terrorism




Death toll from Hebei mine fire rises to 57




Cold front from Siberia brings chilly days




Falun Gong hijacks HK satellite