Powell wins Israeli vow to ensure Palestinian vote
(Agencies)
Updated: 2004-11-22 20:38
Reviving a long-dormant U.S. peacemaking role, Secretary of State Colin Powell won an Israeli pledge on Monday to allow Palestinians freedom of movement to enable them to hold an election for Yasser Arafat's successor.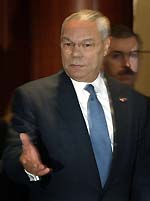 U.S. Secretary of State Colin Powell gestures after a meeting with Palestinian officials in the West Bank town of Jericho November 22, 2004. Reviving a long-dormant U.S. peacemaking role, Secretary of State Colin Powell won an Israeli pledge on Monday to allow Palestinians freedom of movement to enable them to hold an election for Yasser Arafat's successor. [Reuters]

Powell, on his first visit to the region in 18 months, voiced confidence Israel would help facilitate the vote, but Israeli leaders made no public commitment to pull back troops from West Bank cities as the Palestinians have demanded.

No breakthroughs were expected in talks with Israeli and Palestinian leaders as Powell, who announced his resignation last week, is now seen by both sides as a lame duck with little clout in future U.S. policy.

Despite that, Powell's mission was intended to give substance to President Bush's pledge for a new push for peace while Palestinians prepare to elect a successor to Arafat, who died on Nov. 11. Washington had shunned Arafat as an "obstacle to peace."

"This is a moment of opportunity as we look forward to the Palestinian elections that will be held on the ninth of January," Powell said before talks with Israeli Prime Minister Ariel Sharon in Jerusalem.

"We will do everything that we can, working together, to see that these elections are held in a peaceful way and give the Palestinian people new opportunity to move forward," he said.

While urging Israel to give the Palestinians breathing room to hold their first presidential election since 1996, he called on the new Palestinian leadership "to speak out clearly against terrorism...and stop all violence."

Powell later met the interim Palestinian leadership in the West Bank town of Jericho.

PRESSURE ON BOTH SIDES

Following talks with Powell, Israeli Foreign Minister Silvan Shalom said Israel would do "everything in its power" to enable Palestinian elections to take place.

"It includes, of course, freedom of movement," he told reporters. "We'll do everything we can in order to remove any obstacles that they might face in their preparations to have their elections."

But Shalom's pledge was short on specifics and he insisted any easing would be carried out "in a way that won't harm Israel's security."

Israel says its army blockade of the West Bank, a network of roadblocks and checkpoints, is to stop Palestinian suicide bombers from entering the Jewish state.

U.S. officials had suggested before Powell's one-day visit that he would lean on Israel to pull back forces from West Bank cities and Palestinian officials to restrain militant groups.

The Bush administration has been criticized for making only sporadic attempts to bring Israel and the Palestinians together during the past four years of violence.

Palestinian Prime Minister Ahmed Qurie said he would urge Powell to help bring about an Israeli army redeployment away from West Bank urban areas one month before the vote.

"If elections are held under occupation, people will say the candidate rode in on top of an Israeli tank," Qurie said, reflecting the fear of pro-negotiation moderates being branded stooges of Israel by militant factions.

An Israeli official said the government would consider such a redeployment if it received a formal request.

Bush has vowed to capitalize on what he calls new opportunities for peace after Arafat's death at a Paris hospital. Washington and Israel had tried to isolate Arafat, saying he incited violence, an accusation he always denied.

Diplomats hope a moderate will replace Arafat but whoever wins may struggle to gain authority over militants who vow to keep fighting Israel.

On the Palestinian side, Powell met Qurie and Palestine Liberation Organization chief Mahmoud Abbas, tipped as the frontrunner to succeed Arafat.

Powell said he would probe how much sway the group of veteran moderates who have provisionally replaced Arafat could exert on a younger militant generation to suspend attacks.

Sharon has held out the prospect of talks with Palestinian leaders if they end what he terms anti-Israeli incitement as a first stage, and then crack down on militant groups.





Today's Top News
Top World News

APEC leaders want to revive world trade talks




Airliner crash kills 54 near Baotou




President Hu: We support battling terrorism




Death toll in Hebei mine fire rises to 57




G20 calls for Asia forex flexibility




Plan outlined to deal with flu outbreak