Liberal sees cheating in Ukraine poll
(Agencies)
Updated: 2004-11-22 11:12
The liberal challenger in Ukraine's presidential election early on Monday alleged authorities were falsifying the result and he called on his supporters to stage peaceful street demonstrations.
Viktor Yushchenko said there had been blatant cheating in Sunday's run-off vote in two specific areas of eastern Ukraine, where his opponent, Prime Minister Viktor Yanukovich, is particularly strong.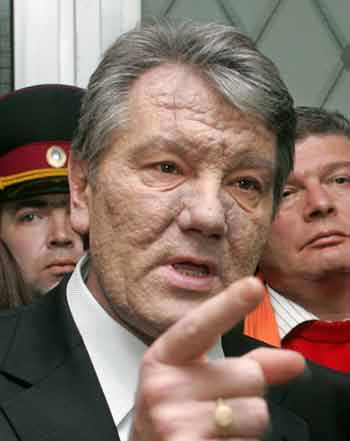 Ukraine's opposition presidential candidate liberal Viktor Yushchenko gestures as he answers journalists' questions during a news conference at the Central Election Commission in Kiev, November 21, 2004. The liberal candidate in Ukraine's presidential election said on Monday, after polls had closed, that authorities were falsifying the results and he called on his supporters to stage peaceful street demonstrations. [Reuters]

"I believe in my victory, but we are saying that today the authorities have launched total falsification (of results)," he said.

He called on his supporters to turn out in the center of the capital Kiev from 9 a.m. (0700 gmt) to protest.

Yushchenko's comments increased the tension ahead of a formal announcement of preliminary results by the central election commission at the end of the count, possibly later on Monday.

Outgoing President Leonid Kuchma, who endorses Yanukovich, urged people on the eve of the poll to disregard calls for unrest from the Yushchenko camp.

The poll could decide whether Ukraine tilts toward the West, following the example of three new European Union members on its borders, or toward Russia, its old imperial master.

Yushchenko, a former prime minister, advocates a gradual integration of the country into European institutions. Yanukovich, who favors greater state control in the economy and wants closer ties with Russia, has been publicly backed by Kremlin chief Vladimir Putin.

Late on Sunday night, an exit poll put Yushchenko in the lead by 54 to 43 per cent, triggering celebrations by his supporters in Kiev, one of his main power bases.

But, with the official count under way, campaign workers for Yanukovich dismissed the exit poll as meaningless and said they trusted only figures that would be issued by election authorities.

Official results based on 25 percent of the count, announced after midnight, put Yanukovich in the lead by a little less than six percentage points. But early returns tend to come mainly from his strongholds in eastern Ukraine.

Yushchenko, who says he was cheated out of an outright win in the first round, threatened on Friday to bring thousands out on to the streets if he was robbed of the presidency this time.

Central Election Commission chief Serhiy Kivalov said that, unlike the first round when Ukraine had to wait 10 days for the outcome, a preliminary result could be known by Monday morning.

Thirteen years after gaining independence, the ex-Soviet state, while potentially an industrial and agricultural powerhouse, remains outside the European mainstream and many of its 47 million people get by on a monthly salary of $60 or less.

News of the exit poll that gave Yushchenko victory brought thousands out on to Independence Square, many clad in the bright orange campaign colors of the challenger, waving flags, swaying and singing along with pop groups shown on giant screens.

"The results of the exit poll show a clear victory for our candidate. We need to defend this victory," Yushchenko's campaign chief, Oleksander Zinchenko, told them.

"The people have shown they can beat the criminals in power," said Petro Poroshenko, another Yushchenko lieutenant.

Serhiy Tyhypko, Yanukovich's campaign manager, told ICTV television: "The final word will be with the Central Election Commission. We will abide by those results, whatever they are."

Yanukovich himself made no public statement.

Incomplete figures put turnout at about 78 percent of the 37 million voters -- even higher than the Oct. 31 first round and testament to the politically charged nature of the election.

Much hangs in the balance for Russia, too. Putin's backing for Yanukovich shows Moscow's desire to keep influence in its former empire after last year's election of a pro-Western leader in Georgia.




Today's Top News
Top World News

Airliner crash kills 54 near Baotou, Inner Mongolia




President Hu: We support battling terrorism




APEC leaders want to revive world trade talks




G20 calls for Asia forex flexibility




Bush tries to mend ties with Latin America




Referendum will lead HK nowhere -- official