APEC leaders want to revive world trade talks
(Agencies)
Updated: 2004-11-22 09:33
Asia-Pacific leaders promised on Sunday to try to revive world trade talks and fight terrorism after a summit marred at the end by disputes over the security of President Bush.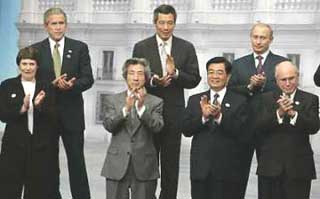 APEC leaders applaud at the end of the reading of the declaration the annual APEC summit in Santiago on November 21, 2004. The leaders are (front row, L-R) New Zealand Prime Minister Helen Clark, Japan's Prime Minister Junichiro Koizumi, Chinese President Hu Jintao, and Australian Prime Minister John Howard, (back row (L-R) U.S. President George W. Bush, Singapore Prime Minister Lee Hsien Loong and Russian President Vladimir Putin. [Reuters]

The leaders of 21 Pacific Rim economies from China to Canada, gathered in Chile, said they would try to push forward with ambitious free trade talks that began in Doha in 2001 but broke down two years later in a dispute over farm subsidies.

Summit security squabbles between the United States and the Chilean hosts left a bad taste at the end of a meeting in which the greatest excitement was generated by an aggressive drive by China to boost trade links with commodity-rich Pacific states.

Bush looked to the event to improve ties with Latin America after his first term was consumed by the aftermath of the Sept. 11 attacks and Iraq war. In a meeting on the sidelines, Bush promised Mexico's Vicente Fox to pursue a U.S. temporary guest worker program that has met congressional opposition.

The two joined the other 19 leaders to pose for pictures with brightly colored ponchos draped over their suits. An appearance in local costume is an APEC tradition.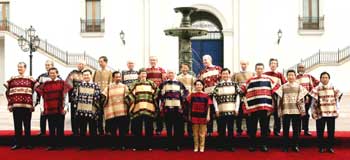 APEC leaders, wearing traditional Chilean ponchos, have their official photograph taken at La Moneda Sunday, November 21, 2004 in Santiago, Chile. [Xinhua]

"We welcomed the new momentum acquired by the Doha Development Agenda negotiations," the APEC leaders said in a final communique. "We pledged to provide leadership to continuing this momentum."

The final declaration also called for "substantially greater market access and fewer distortions" in agriculture, which is heavily subsidized in industrial nations such as those of the European Union, Japan and the United States.

Leaders also promised to consider standardizing bilateral free-trade pacts proliferating across the world's most economically dynamic region. They pledged cooperation to fight terrorism and corruption.

BUSH WADES INTO SCUFFLE

But the summit was not trouble-free, as Bush was forced to wade into scuffling Chilean security officers who tried to prevent one of his bodyguards from entering a dinner on Saturday -- an apparent dispute over a limit on the number of people attending.

Local media also said the Chilean government scaled down another banquet because it objected to U.S. Secret Service plans to screen guests with metal detectors.

A White House spokesman said the event had been changed to an official working dinner. Invitations to more than 200 local businessmen and other dignitaries were rescinded.

The sagging dollar and U.S. trade and budget deficits, together with the issues of North Korea and AIDS, were discussed during the summit.

But the biggest interest among business leaders was generated by China.

Seeking to lock in supplies for its booming economy, China last week launched trade talks with the world's largest copper exporter, Chile, and discussed big deals with agriculture powerhouses Brazil and Argentina.

Bush said he welcomed China's increasing trade with a region that has long looked principally to the United States or Europe.

"I think it's helpful for there to be universal prosperity. China represents great opportunities for Chile and the United States, and we look forward to working with China," Bush told a joint news conference with host President Ricardo Lagos.

Referring to a question about the war in Iraq, which Chile opposed in the United Nations Security Council and was unpopular in Latin America, Bush said: "President Lagos didn't agree with my decision and I respect that. He's still my friend."

He said whether people agree with him or not, they should agree the world is better off without Saddam Hussein in power and it is important to succeed in Iraq and develop democracy there.

Next year's APEC summit will be held in South Korea, which wants the group to achieve free trade among members by 2020, Foreign Minister Ban Ki-moon told Reuters.

"When we hold this APEC leaders meeting in 2005, Korea will place more emphasis so that APEC can give much bigger and stronger impetus" to key World Trade Organization talks to be held in Hong Kong in December 2005, Ban said.





Today's Top News
Top World News

Hu urges Japan to face history, not war shrine




Sabotage not cause of airliner crash




China's mobile phone users reach 320 million




APEC leaders agree to advance economies




Falun Gong hijacks HK satellite




Cold front from Siberia brings chilly days