Powell wants Mideast foes to smooth way to election
(Agencies)
Updated: 2004-11-22 09:11
US Secretary of State Colin Powell on Monday will invest U.S. prestige in a new Middle East peace drive, pressing Israeli and Palestinian leaders alike for steps to help Palestinians elect a new president.
Lending weight to his post-reelection pledge to revive a U.S. push for peace, US President Bush has sent his top diplomat on his first trip to the region in 18 months.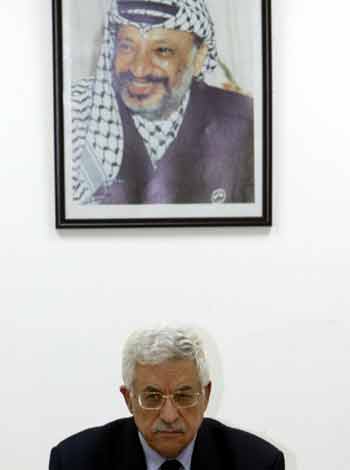 Palestinian Authority secretary-general Mahmud Abbas attends a Fatah Central Committee meeting at the headquarters of the late Yasser Arafat in the West Bank city of Ramallah, November 21, 2004. U.S. Secretary of State Colin Powell said he would press both Israeli and Palestinian leaders for steps to enable Palestinians to elect a successor to Yasser Arafat, as he arrived in Israel. [Reuters]

U.S. officials suggested before Powell's one-day visit that he would lean on Israel to pull back forces from West Bank cities and Palestinian officials to restrain militant groups to restore free movement and calm for the slated Jan. 9 election.

But in remarks en route to the region likely to disappoint the Palestinians, Powell said the two sides should work to create a Palestinian state in the occupied West Bank and Gaza as soon as possible but without a deadline.

Palestinians cite a tattered U.S.-backed peace plan in their demand for adherence to a 2005 target, but Powell dismissed that deadline as a date "we had hoped for in 2002."

Powell will leave office early next year. His resignation last week has somewhat sapped the strength of his message to the two sides as they will look to see if his nominated successor, Condoleezza Rice, shares his views, political analysts say.

"He is not really in the line of authority right now and so there will be some uncertainty," Stephen Cohen, president of the U.S.-based Institute for Middle East Peace and Development, said. "But still the fact that he is there is a sign that the U.S. is seriously concerned about everything that's going on."

Bush has vowed to capitalize on what he calls new opportunities for peace after the death of Palestinian President Yasser Arafat, spurned by Washington and Israel as a peace partner because they believed he incited violence. Arafat always denied the accusation.

But no talks based on Bush's "road map" can happen before a new Palestinian president is elected. Diplomats hope a moderate will replace Arafat but whoever wins may struggle to gain authority over militants who vow to keep fighting Israel.

"This is a moment of opportunity ... The big step ahead of us now is to assist the Palestinian people getting ready for the election," an upbeat Powell told reporters aboard his plane.

"In my conversations with both sides, I'll be encouraging them to do everything they can to make sure this election comes off and that the maximum number of Palestinians get the opportunity to participate.

"Perhaps the things that we do or they do will encourage a degree of cooperation that can spread into other areas."

Palestinian Prime Minister Ahmed Qurie said he would urge Powell to help bring about an Israeli army redeployment away from West Bank urban areas one month before the election.

"If elections are held under occupation, people will say the candidate rode in on top of an Israeli tank," Qurie said, reflecting the fear of pro-negotiation moderates being branded stooges of Israel by militant factions.

"If there is a formal request (for redeployment) we will deal with it," a senior Israeli official said. "It would be brought to the cabinet which would consult security services."

Powell, who was to meet Israeli Prime Minister Ariel Sharon and Foreign Minister Silvan Shalom in Jerusalem, said he had the clear impression Israel wanted to be helpful.

He was expected later in the day to see Palestine Liberation Organization chief Mahmoud Abbas, tipped as the frontrunner to succeed Arafat, Qurie and perhaps acting President Rawhi Fattouh in the West Bank town of Jericho.

Powell said he would probe how much sway the group of veteran moderates who have provisionally replaced the autocratic Arafat could exert on a younger militant generation to suspend attacks on Israelis in a four-year-old revolt.

Sharon has held out the prospect of talks with Palestinian leaders if they end what he terms anti-Israeli incitement as a first stage, and then crack down on militant groups.




Today's Top News
Top World News

Airliner crash kills 54 near Baotou, Inner Mongolia




President Hu: We support battling terrorism




APEC leaders want to revive world trade talks




G20 calls for Asia forex flexibility




Bush tries to mend ties with Latin America




Referendum will lead HK nowhere -- official