President Hu: We support battling terrorism
By Zhao Huanxin (China Daily)
Updated: 2004-11-22 08:01
SANTIAGO: China supports the international community's fight against terrorism, and backs expanded co-operation in the Asia-Pacific region for control of infectious diseases.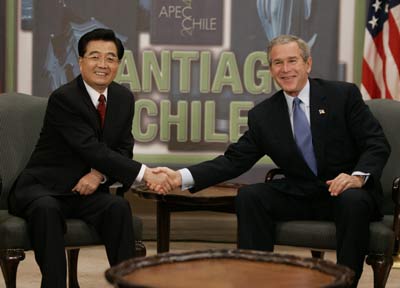 Chinese President Hu Jintao (L) shakes hands with US President George W. Bush in a bilateral meeting in Santiago, November 20, 2004. Bush is in Santiago for the annual Asia-Pacific Econominc Cooperation (APEC) leaders meeting. [Reuters]

The remarks were made by President Hu Jintao at the 12th Economic Leaders' Meeting of the Asian-Pacific Economic Cooperation (APEC) forum, which opened at the "Espacio Riesco" Convention Centre on Saturday in the Chilean capital.

As the Asia-Pacific region has been haunted by terrorist attacks, it is timely and imperative for APEC to address issues related to human security matters, Hu said in his presentation to the first session of the gathering.

Following the September 11 attacks, the international community has intensified collaboration in their fight against terrorism, Hu said.

International co-operation has proven the most effective means in this regard, since actions by a single country usually pale in the face of transnational terrorist organizations and their activities, according to Hu.

China supports the international community making collective moves against all kinds of terrorism, Hu said, guided by the United Nations Charter and complying with international law.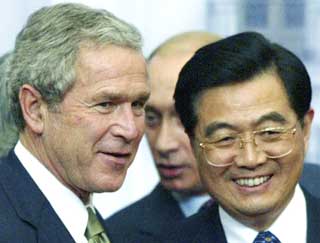 Chinese President Hu Jintao (R) and his US counterpart George W. Bush (L) chat while standing in front of Russian President Vladimir Putin after the closing ceremony of the annual meeting of the Asia Pacific Economic Cooperation (APEC) in Santiago November 21, 2004. [Reuters]

Hu hailed APEC's efforts in recent years to reinforce its members' anti-terrorism capabilities and safeguarding security.

In particular, the regional body's advocacy for trade safety suits the needs of the businesses in trade and investment, and falls into the category of international anti-terrorism co-operation, he said.

"We support APEC in deepening anti-terrorism co-operation and facilitating the safe and free flow of people and property in the Asia-Pacific region," he said.

Talking about medical progress, particularly with respect to infectious diseases, Hu said problems can hinder economic and social development if not properly resolved.

He cited the deplorable losses brought about by the outbreak of SARS (severe acute respiratory syndrome) and bird flu in over the past two and half years.

Even worse, AIDS, which is prevalent in the Asian-Pacific region, is inflicting tremendous impact on the social development of APEC members, as well as their economies.

China supports APEC strengthening co-operation among its members in prevention and control of diseases through increasing information and exchanging expertise to help members improve public health and hygiene systems.

At Friday's APEC CEO summit, Hu called on visionary political leaders and responsible business people to work together to achieve sustainable growth through collaboration.

He said China, as a large developing country with a strong sense of responsibility, is ready to contribute its share to advance sustainable development.

A more prosperous China is destined to offer additional business opportunities to the rest of the world, he said.

China now represents an export market of more than US$500 billion a year, and is committed to continued opening up and more active participation in economic globalization.

Founded in 1989, APEC is the premier forum for facilitating economic growth, co-operation, and trade and investment in the Asia-Pacific region. The Economic Leaders' Meeting is the top annual gathering of the organization.

Under the theme of "One Community, Our Future," top leaders from 21 APEC member economies this year discussed APEC's role in promoting multilateral trade and the institutionalization of free-trade agreements during the two-day Economic Leaders' Meeting.

The meeting was followed by a conference of the APEC Business Advisory Council Saturday afternoon, when senior business executives told APEC leaders they believe a rapid and successful conclusion to Doha Development Agenda negotiations is the top priority for the regional economy.




Today's Top News
Top China News

Airliner crash kills 54 near Baotou, Inner Mongolia




President Hu: We support battling terrorism




APEC leaders want to revive world trade talks




G20 calls for Asia forex flexibility




Bush tries to mend ties with Latin America




Referendum will lead HK nowhere -- official