Hu: Economy to grow about 9% in 2004
(Agencies)
Updated: 2004-11-21 09:02
Chinese President Hu Jintao said the booming economy in China would grow by "around 9.0 percent" this year as controls implemented to slow overheated sectors of the economy took effect.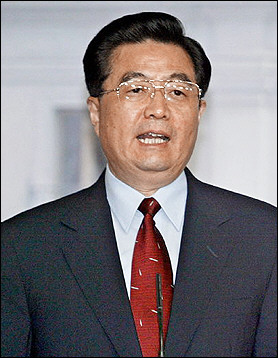 Chinese President Hu Jintao, seen here in Santiago, said the booming economy in China would grow by 'around 9.0 percent' this year as controls implemented to slow overheated sectors of the economy took effect. [AFP]

"We expect economic growth for this year to be around 9.0 percent," Hu told a business leaders' conference held on the sidelines of the Asia-Pacific Economic Cooperation (APEC) forum summit in the Chilean capital Santiago.

China's economy had maintained an average yearly growth rate of around 9.4 percent since 1978 and the Chinese government would continue to make efforts to sustain fast, healthy growth in the years to come, he said.

"A more prosperous China is destined to offer more business opportunities to the rest of the world," Hu said.

"China now represents an export market of over 500 billion dollars a year and is committed to continued opening up and active participation in economic globalization."

Recent efforts to rein in "unhealthy and destabilizing factors" facing China's economy were taking effect especially in boosting agricultural production and prices, and stemming runaway growth in fixed-asset investment, he added.

"After some efforts, these measures are paying off ... China's economy has maintained an even keel."

Beijing has been struggling to bring fixed-asset investment under control with a series of lending restrictions including an interest rate increase last month, the first in nearly a decade.

In the first 10 months of the year, fixed-asset investment soared 29.5 percent to 4.35 trillion yuan (525 billion dollars), while in the the nine months through September investment amounted to 4.51 trillion yuan (531 billion dollars), up 27.7 percent.

Hu did not address the issue of the Chinese yuan, nor widespread international calls urging China to free up the currency from its peg to the dollar.

The United States and Europe have long argued that the yuan's decade-old peg to the dollar means the Chinese currency is seriously undervalued, giving Chinese exporters an unfair advantage in global markets.

But Hu reiterated that China would remain a responsible player in the global economy and make efforts to push forward greater cooperation in global and regional trade.

"China is a large developing country with a strong sense of responsibility," Hu said.

"We are ready to contribute our share in advancing win-win cooperation for sustainable development."

The Chinese leader said the development of poorer nations should be a priority for APEC. Richer member states should make more efforts in ensuring sustainable development among the poorer developing partners, he said.

"The developed countries should pay greater attention to the needs of the poor countries and make real efforts to accelerate their development, thus narrowing the widening North-South gap," Hu said.

"The develop countries should reduce and forgive the debts oweed by the developing countries and provide them with more official assistance with no strings attached," he said.