Violence breaks out all over Baghdad
(Agencies)
Updated: 2004-11-20 22:22
Baghdad exploded in violence Saturday, as insurgents attacked a U.S. patrol and a police station, assassinated four government employees and detonated several bombs. One American soldier was killed and nine were wounded during clashes that also left three Iraqi troops and a police officer dead.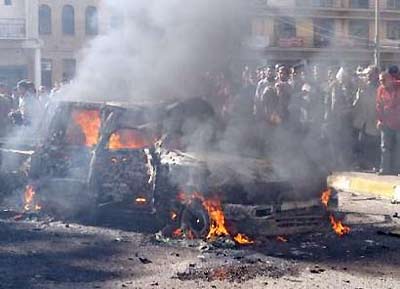 Iraqis gather near the burning wreckage of a car bomb after it exploded in Baghdad, November 20, 2004. Insurgents armed with automatic rifles and rocket-propelled grenades skirmished with U.S. and Iraqi forces in Sunni Muslim areas of Baghdad Saturday and at least three police and seven insurgents were killed. [Reuters]
Some of the heaviest violence came in Azamiyah, a largely Sunni Arab district of Baghdad where a day earlier U.S. troops raided the capital's main Sunni mosque. Shops were in flames, and a U.S. Humvee burned, with the body of what appeared to be its driver inside.
U.S. forces and insurgents also battled in the Sunni Triangle city of Ramadi, where clashes have been seen almost daily. Nine Iraqis were killed and five wounded in Saturday's fighting, hospital officials said.
In northern Iraq, U.S. and Iraqi forces uncovered four decapitated bodies as they continued a campaign to crush militants who rose up last week. American and Iraqi forces detained 30 suspected guerrillas overnight in Mosul, the U.S. military said Saturday.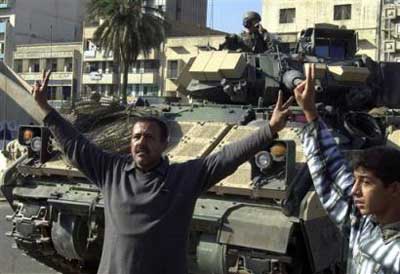 Iraqis chant anti-US and anti-government slogans in front of a US tank after a car bomb exploded killing at least one person in central Baghdad Saturday, Nov. 20, 2004. [AP PHoto]
Meanwhile, Germany and the United States reached a deal for forgiving 80 percent of Iraq's foreign debt, capping a months-long U.S. push to lift the country's debt burden as a boost to its economy as it seeks to rebuild and establish a democractic government.
The deal will be discussed by the Paris Club of creditor nations, which is owed about $42 billion by Iraq. "Our expectation is that it will be accepted," said Joerg Mueller, a spokesman for the German finance minister.
The United States has been pushing for a generous write-off, as much as 95 percent of Iraq's debt. However, other governments, including Germany, have questioned whether a country rich in oil should benefit from huge debt reduction.
The U.S. soldier was killed when his patrol was ambushed in Baghdad early Saturday, coming under a barrage of small arms fire, rocket-propelled grenades and roadside bombs, the military said. The statement did not say where the attack occurred, but it came amid clashes in a string of Baghdad neighborhoods.
Insurgents using rocket-propelled grenades and small arms attacked a police station early Saturday in Azamiyah, in the northern part of the city, killing one policeman, according to police officials.
Clashes spread in Azamiyah before dawn, with a number of U.S. armored vehicles seen in flames. Footage by Associated Press Television News showed a smashed and burning U.S. Humvee, with what appeared to be the remains of a body in the driver's seat.
Smoke rose from burning shops along a commercial street. U.S. helicopters circled overhead and ambulances were driving to the scene of the clashes.
In western Baghdad, heavy fighting broke out Saturday between gunmen and Iraqi National Guards and American troops in the Amiriyah neighborhood, where three National Guardsmen were killed by roadside bombs, said policeman Akram al-Azzawi.
Nearby, a roadside bomb exploded as a U.S. patrol passed in the Khadra area, wounding two U.S. troops, according to policeman Ali Hussein of the Khadra police station. The U.S. military had no immediate confirmation.
In downtown Baghdad, a suicide bomber blew up his vehicle just after noon at an intersection on Saadoun Street, a bustling commercial street. One Iraqi civilian was killed and another wounded in the blast, which sent black smoke rising above the city center and set several cars ablaze.
And in the western part of the city, gunmen in a car chased down a vehicle carrying employees of the Ministry of Public Works on their way to work Saturday, opened fire and killed four of them, a ministry spokesman said. Amal Abdul-Hameed ! an adviser to the ministry in charge of urban planning ! and three employees from her office were killed, said spokesman Jassim Mohammed Salim.
The spasm of violence came a day after Iraqi forces backed by U.S. soldiers raided the Abu Hanifa mosque ! one of the country's most important Sunni mosques ! as worshippers were leaving after Friday prayers in the Azamiyah neighborhood.
The operation appeared to be part of a government crackdown on militant clerics opposed to the U.S.-led attack on Fallujah. Witnesses said at least three people were killed and 40 others arrested.
Congregants at the Abu Hanifa mosque said they heard explosions inside the building, apparently from stun grenades. Later, a reporter saw a computer and books, including a Quran, scattered on the floor of the imam's office near overturned furniture. U.S. soldiers were seen inside the mosque compound.
U.S. and Iraqi forces launched an offensive that they say has secured most of Fallujah, hoping to tame the insurgents' strongest bastion ahead of January elections. But many militants are believed to have fled the city to continue attacks elsewhere ! and the operation risks alienating Iraq's Sunni Arab minority, whose participation in elections is seen as key to legitimacy.
Insurgents have carried out a wave of violence across Iraq coinciding with the Fallujah offensive. Mosul ! Iraq's third-largest city with more than a million residents about 225 miles north of Baghdad ! has been a center of violence.
Officials were trying to identify the four decapitated bodies found Thursday in the city, said Lt. Col. Paul Hastings, a spokesman for Task Force Olympia.
An extremist group, the Ansar al-Sunnah Army, said in Web statement Saturday that it kidnapped and killed two members of a Kurdish political group in Mosul. It posted a video showing two men being shot. The men wore robes with the initials of their group, the Kurdistan Democratic Party, on them. The claim's authenticity could not be verified.
On Friday, a statement posted on an Islamist Web site in the name of Jordanian terror leader Abu Musab al-Zarqawi's group said it had "slaughtered" two Iraqi National Guard officers "in the presence of a big crowd" in Mosul. The claim included no photos or video and could not be verified.
There was no way of knowing immediately whether the decapitated bodies were connected to either claim.
Today's Top News
Top World News

Chinese President Hu Jintao meets Bush




Calcium producer dragged into controversy




Violence breaks out all over Baghdad




Film focuses on back-stage action




Guangzhou snubs design for tallest tower




Law protects HIV carriers