US, Iraqi forces raid Baghdad mosque
(Agencies)
Updated: 2004-11-20 09:25
Iraqi forces backed by American soldiers raided one of the country's most important Sunni mosques as worshippers were leaving after Friday prayers ¡ª part of a crackdown on militant clerics opposed to the U.S.-led attack on Fallujah. Witnesses said at least three people were killed and 40 arrested.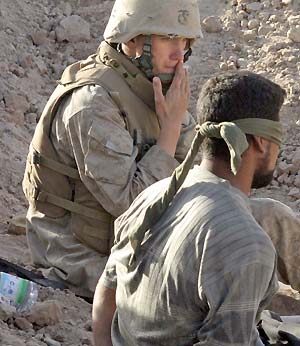 A U.S. Marine smokes cigarette next to a blindfolded detained man in the restive Iraqi city of Falluja November 19, 2004. U.S. Lieutenant-General John Sattler declared on Thursday his forces had "broken the back of the insurgency" in Falluja, but U.S. troops still faced dangers in the city and guerrillas attacked elsewhere in Iraq. [Reuters]
Congregants at the Abu Hanifa mosque said they heard explosions inside the building, apparently from stun grenades. Later, a reporter saw a computer and books, including a Quran, scattered on the floor of the imam's office near overturned furniture. U.S. soldiers were seen inside the mosque compound.
Insurgents said to be reeling from the loss of their base in Fallujah struck back Friday with car bombings and by firing rockets or mortars at the Green Zone, the leafy Baghdad enclave that houses the headquarters of the Iraqi and U.S. leadership here. Six people were killed in one car bombing in Baghdad, police said.
In the northern city of Mosul, where guerrillas launched an uprising last week, Iraqi forces backed by American troops raided a hospital allegedly used by insurgents, detaining three people, U.S. officials said.
The overnight raid in Mosul followed an operation late Thursday in which Iraqi military and police units killed 15 insurgents and captured 10, according to deputy Gov. Khasro Gouran. A car bomb attack Friday on a U.S. patrol in Mosul injured one American soldier, the U.S. military said.
A statement posted on an Islamic Web site in the name of Jordanian terror leader Abu Musab al-Zarqawi's group said it had "slaughtered" two Iraqi National Guard officers "in the presence of a big crowd" in Mosul. The claim included no photos or video and could not be verified.
But The New York Times, on its Web site Friday, quoted a 35-year-old businessman in Mosul who said he witnessed the executions. Senan Shukri told the Times that the two Iraqi soldiers were brought by car to a public square, where they were surrounded and immediately beheaded. The killers then announced that they would also decapitate anyone who removed the bodies, he said.
In Baghdad, American troops were seen securing the outer perimeter of the mosque, located in the Azamiyah district, and sealing it off before Iraqi police entered. At least 10 U.S. armored vehicles were parked at the mosque, along with two vehicles carrying about 40 Iraqi National Guardsmen, witnesses said.
Five people were wounded in addition to the three deaths and roughly 40 arrests, according to members of the congregation. The U.S. military referred questions on the raid to the Iraqi government, which declined comment.
The mosque, built around the tomb of the founder of the Hanafi school of Islamic jurisprudence, has stood for 1250 years. When Hulagu sacked Baghdad in 1257, he used it to stable his horses, but otherwise it has escaped indignities from the many forces that have invaded Baghdad. It is the most important Sunni mosque in Baghdad, and a site of pilgrimage for Muslims worldwide.
American troops have raided the mosque repeatedly since the fall of Baghdad in April 2003.
U.S. troops also raided a Sunni mosque in Qaim, near the Syrian border, a cleric said Friday, calling it retaliation for opposing the Fallujah offensive. Imam Maudafar Abdul Wahab said his mosque was gathering food and supplies for Fallujah, and that the Americans took about $2,000 worth of Iraqi currency meant for mosque repairs.
In Baghdad, a suicide car bomber rammed into a police patrol Friday, killing one policeman and five civilians, police said. A suicide bomber also struck at a police station in Hillah, a mostly Shiite city 60 miles south to the south, but the driver was the only casualty, police said.
U.S. and Iraqi authorities are concerned about a public backlash against the Fallujah offensive among the minority Sunni community, especially as word spreads of the widespread devastation there.
The Iraqi government has warned that Islamic clerics who incite violence will be considered as "participating in terrorism." Some already have been arrested, including members of the Sunni clerical Association of Muslim Scholars.
Few Shiite clerics have condemned the Fallujah operation except for followers of Muqtada al-Sadr, whose militia battled American troops in two major campaigns this year. On Friday, U.S. troops arrested an al-Sadr representative near the holy city of Karbala ¡ª the second arrest of his aides in two days, al-Sadr's office said. Both had spoken out against the Fallujah attack, which began last week.
During the Fallujah offensive a Marine was captured on video fatally shooting a wounded and apparently unarmed man in a mosque. The death is among those under investigation by the U.S. military.
As part of the inquiry, the bodies of four suspected Iraqi insurgents arrived at Dover Air Force Base, Del., Thursday night for autopsies, said a U.S. defense official, speaking on the condition of anonymity.
The offensive against Fallujah, the main insurgent sanctuary about 40 miles west of Baghdad, triggered a spike in insurgent attacks throughout Sunni areas of central and northern Iraq, most notably in Mosul, the country's third-largest city.
U.S. and Iraqi forces began a major military operation Tuesday to wrest control of Mosul after gunmen last week attacked police stations, bridges and political offices in apparent support of Fallujah guerrillas.
On Friday, three of Mosul's five bridges across the Tigris River were reopened to traffic and most of the city was calm, though U.S. forces came under some "indirect fire" that caused no injuries, military spokesman Lt. Col. Paul Hastings said.
During a patrol, American troops found burned election materials inside a Mosul warehouse after a tip by an Iraqi security officer. Efforts are under way to replace the materials for the January elections.
Iraq is to hold national elections by Jan. 31 to elect a 275-member assembly in what is expected to be a major step toward building democracy. The Fallujah offensive was launched in part to pacify major insurgent areas so that elections could be held.
The Islamic extremist Al-Sunnah Army has threatened to attack polling stations and assassinate candidates because democracy is a "Western infidel" institution. And the coordinator of U.S. reconstruction aid acknowledged Friday that the insurgency poses a bigger obstacle to rebuilding Sunni-dominated areas now than six weeks ago.
William Taylor, director of the Iraqi Reconstruction Management Office in the U.S. Embassy in Baghdad, said it would be difficult to hold elections unless the situation improves.
"In the Sunni areas and then up in Mosul it is worse today than it was, and we're having greater difficulties from security," Taylor told reporters at the Pentagon in a video teleconference from Baghdad. "We're worried that in some areas ¡ª again, not all ¡ª in some areas it would now be difficult to have elections."
Taylor said upward of $100 million in U.S. and Iraqi government funds will be spent to rebuild Fallujah. He said that within a week or two he expects to start restoring basic services like electricity, water and sewage.
Today's Top News
Top World News

Calcium producer dragged into controversy




Chile and China launch free trade zone talks




Guangzhou snubs design for tallest tower




Law protects HIV carriers




Arafat's widow retrieves medical records




Jobless Haan reflects China's football crisis