China, Chile launch free trade talks
By Zhao Huanxin (China Daily)
Updated: 2004-11-19 22:31
Sino-Chilean relations entered in a new phase on Thursday (local time), with the two countries announcing the launch of negotiations to establish a free trade agreement.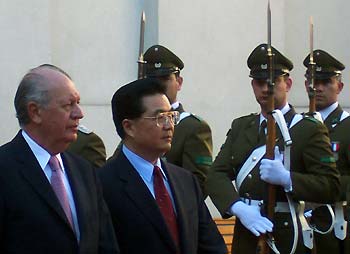 President Hu Jintao (L) and his Chilean counterpart Ricardo Lagos reviews an honor guard during an official welcoming ceremony outside La Moneda palace in Santiago, November 18, 2004. Hu is on an official visit to Chile ahead of the APEC (Asia Pacific Economic Cooperation) summit over the weekend. [newsphoto]

Visiting Chinese President Hu Jintao and his Chilean counterpart Ricardo Lagos Escobar formally proclaimed the start of the talks on a free trade pact after their meeting on Thursday.

"We think this is a very important step," Lagos told a joint press conference. "We have had a good rapport for a long time, and now Chile is the first country in South America to embark on these negotiations with China."

Hu spoke highly of the relations between the two nations, which he said are "sincere friends and important co-operative partners."

Chile was among the first South American countries to establish full diplomatic relations with China in 1970. The two countries decided to establish a "full-range co-operative relationship" in 2001.

Hu flew to the Chilean capital Thursday morning after visits to Brazil and Argentina. He will attend the 12th informal leadership meeting of the Asia-Pacific Economic Co-operation (APEC) over the weekend in Santiago.

As both are committed to economic and social development, co-operation between China and Chile will benefit people in the two countries as well as improve collaborations between East Asia and Latin America, Hu said.

Lagos confirmed Chile has recognized China as a full market economy, and anticipated becoming a bridge for China to expand exchanges and enhance co-operation with Latin American countries.

Hu said Sino-Chilean co-operation, which benefits both sides, has a promising future.

Bilateral trade grew by 37.6 per cent year-on-year to hit US$3.53 billion in 2003. It surged 53.6 per cent to reach US$3.88 billion through September this year, indicated Chinese customs statistics.

Lagos said strengthening the "full-range co-operative partnership" will further improve bilateral relations.

He said the two sides had agreed to expand co-operation in agriculture, mineral resources and infrastructure construction.

In particular, Lagos said his country had made a deal with China regarding copper trade.

Chile is the world-leading exporter of the metal, and China is the largest copper importer, Lagos said.

The two countries also signed six other documents on Thursday, including a memorandum in which China includes Chile on its list of outbound tourist destinations, and protocols on health and medicine co-operation and on the quarantining of poultry meat products.

To further strengthen the full-range co-operative partnership, President Hu proposed the two sides maintain a frequent exchange of top-level personnel, complement each other's advantages, tap trade potential and seek common development.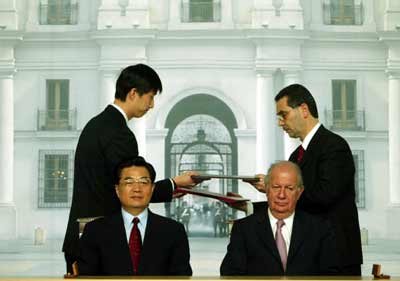 Chinese President Hu Jintao (seated L) and his Chilean counterpart Ricardo Lagos (seated R) sit as aides exchange copies of a bilateral agreement signed by both, in La Moneda Palace in Santiago, November 18, 2004. China and Chile announced the beginning of negotiations leading to a possible free trade agreement between their countries, as leaders from the 21 member countries of the Asia Pacific Economic Cooperation gathered here for their annual meeting. [Reuters]

In addition, China and Chile should step up co-ordination in international affairs, Hu proposed.

He said the two sides have co-operated well in multilateral organizations, such as the United Nations, World Trade Organization and the Organization of American States.

They should further improve dialogue and communication to contribute to the democratization of international relations, he said.

Lagos responded by saying Hu's proposals will vigorously promote the development of Chilea-China relations to benefit both peoples.

Hu is scheduled to meet Chilean parliament leaders and address the APEC CEO summit on Friday (local time).




Today's Top News
Top China News

Chinese President Hu Jintao meets Bush




Calcium producer dragged into controversy




Violence breaks out all over Baghdad




Film focuses on back-stage action




Guangzhou snubs design for tallest tower




Law protects HIV carriers