Knicks nudge Rockets 93-92 at Buzzer

(Agencies)
Updated: 2004-11-19 15:14
Jamal Crawford banked in a 3-pointer at the buzzer to send the New York Knicks to their first road win of the season, 93-92 over the reeling Houston Rockets on Thursday night.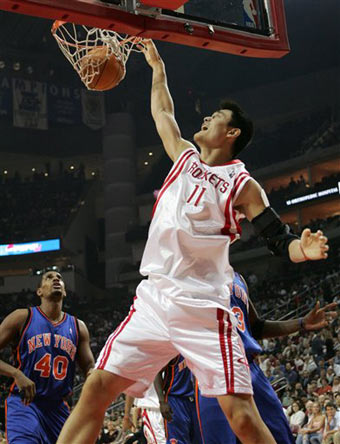 Houston Rockets' Yao Ming (11), of China, finishes a dunk as New York Knicks' Kurt Thomas (40) watches during the first quarter Thursday, Nov. 18, 2004 in Houston. The Knicks win the game 93-92 with a stunning 3-point buzzer-beater by Jamal Crawford. [AP]


Crawford finished with 19 points, going 5-of-11 from the 3-point arc, and Kurt Thomas added 23 points and 14 rebounds to hand the Rockets their fourth loss in five games.

New York, which ends a four-game trip against Dallas on Friday, came back from an 11-point deficit to start the fourth quarter, getting plenty of clutch baskets from Crawford, Thomas and Stephon Marbury down the stretch.

The Knicks opened the quarter by scoring the first 11 points to tie the score at 72, getting back-to-back 3s from Penny Hardaway. Houston regained the lead and was ahead 92-88 with 41.4 seconds left after Maurice Taylor's basket.

But Thomas scored on a jumper with 26.8 seconds left, Houston's Tracy McGrady missed a running jumper with 2.9 seconds left and the Thomas grabbed the rebound to set up the final shot.

After a timeout, Crawford came open to the right of the top of the key, took the inbounds pass from Hardaway and banked in a 3 as time expired. Crawford sprinted to the other end of the court, his teammates chasing him until they caught up with him and mobbed him.

The Rockets players and fans watched in stunned silence as the celebration went on for several minutes.

McGrady led the Rockets with 24 points and Yao Ming added 23 points and 11 rebounds.

Rockets second-year coach Jeff Van Gundy lost against the Knicks for the first time after sweeping his former team by a combined 47 points in two games last season.

Van Gundy appears to have plenty of problems with his new team, which followed up a loss to Atlanta with another embarrassing collapse.

The Rockets, who let the Hawks rally from an 11-point deficit on Tuesday, couldn't stop Marbury from getting into the lane and never could figure out how to keep Thomas from getting open looks at the bucket.

Marbury scored eight of his 18 points in the final period, and a couple of his 10 assists went to Thomas in the game's waning minutes.

Nazr Mohammed chipped in with 17 rebounds and 12 points for the Knicks.




Today's Top News
Top Sports News

Mystery illness outbreak in HK identified




Personnel, railway ministries misuse funds




Arafat's diagnosis may soon be revealed




China, Japan leaders agree to meeting




Harmful chemical found in calcium tablets




Chinese soccer given red card