'Warrior Princess' moves to US center stage
(Agencies)
Updated: 2004-11-19 10:52
Condoleezza Rice has always been a prodigy: college student at 15; Stanford University professor at 26, adviser to the first President Bush at 35, the nation's first female national security adviser.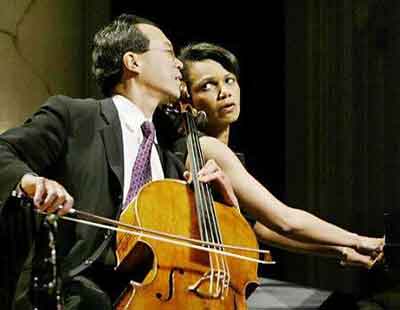 [AP]

Now she faces the greatest challenge of her career. As secretary of state, she must become the global emissary of an administration that has at times alienated allies. She must control a vast, complicated bureaucracy she's been accused of ignoring and undercutting.

There has never been a secretary of sate like Rice, 50, the granddaughter of a poor Alabama cotton farmer. She considered careers as a concert pianist and ice skater. She posed in a glamorous gown for Vogue and performed with cellist Yo-Yo Ma. In her Washington apartment are a Chickering grand piano and a closet full of designer clothes and shoes.

Her bond with President Gorge W. Bush began with their shared passion for sports and working out. In August, she gave Sports Illustrated a detailed preview of the year's college football matchups. Her dream job isn't secretary of state or even secretary of defense, which she considered seeking. She'd love to be commissioner of the National Football League, a job Bush noted Tuesday is beyond his power to give her.

Rice will bring to the State Department unflappable confidence, a solid understanding of Bush's goals and four years' experience tussling with heavyweights Vice President Dick Cheney and Defense Secretary Donald Rumsfeld.

She has clout born of her relationship with Bush, which is perhaps the closest of any president's with a secretary of state since Dwight Eisenhower relied on John Foster Dulles a half-century ago.

Her skills as a manager were often questioned during her tenure at the National Security Council by those who thought she didn't work hard enough to find consensus before taking issues to Bush.

Her relative lack of attention to the threat of terrorism in the early months of the administration was criticized by the 9/11 Commission. And she shared blame for poor planning for the aftermath of the Iraq invasion.

"She'll be managing a much larger and more fractious bureaucracy than she's ever encountered before ... and she'll be dealing with a demoralized department," says Ted Galen Carpenter, a foreign policy analyst at the Cato Institute, a Washington think tank.

Rice's arrival at the State Department should bring greater unanimity to the administration's foreign policy, in contrast to Powell's often contrariant views.

Rice has been something of a mystery on foreign policy, presenting the views of others more than her own. It remains to be seen where she will fit on the spectrum between hawks and pragmatists.

What is clear is that she faces a world that has grown more complicated over the past four years. Fighting continues in Afghanistan and Iraq, and it is by no means certain that Iraq will be able to hold elections in January as planned as the guerrilla war expands.

U.S. foreign policy experts predict that Rice will follow the pattern of former secretaries James Baker and Madeleine Albright and staff the upper ranks of the department with political loyalists.

Washington is a town full of people who sacrifice their personal lives for their jobs. But Rice's devotion to her job and Bush is striking. She has plenty of friends and is loyal to them, always finding time to check in by phone. But for four years, she has largely forfeited her private life in exchange for an intensely close friendship and working relationship with Bush. "She knows what he wants without his even telling her," says Mary Matalin, a former adviser to Cheney.

When the Bushes go to Camp David for the weekend, she's almost always there. When they go to their ranch outside Crawford, Texas, she's there, too. They don't just work together; she's almost a member of his family. Last Saturday, Bush put on a tuxedo and went to the sort of formal gathering he loathes: a 50th birthday party for Rice at the British Embassy.

She was taken into the Bush family circle two decades ago. She was a junior professor at Stanford when Brent Scowcroft visited campus to talk about arms control. She tossed question after question at him. "She wasn't shy," Scowcroft said this year. "Not arrogant or intrusive, just impressive. And I thought, 'I need to get to know her better.' "

He did more than that. He hired her for his staff when he became national security adviser under President George Bush. After that administration ended, Rice went back to Stanford. She became provost, the chief budget and academic officer, in 1993. She worked with former secretary of state George Shultz, another mentor, at the university's Hoover Institution.

As governor of Texas, George W. Bush visited Shultz's home for an informal discussion on foreign policy. Rice was there. They had met during his father's presidency, but the encounter was their first chance to discuss foreign issues. "You could see that the two of them sort of clicked," Shultz recalled. When Bush decided to run for president, she became his tutor. His nickname for her: Guru.

Rice, a former Democrat who switched parties in 1982, calls herself an "all-over-the-map Republican." She adjusts her views as events warrant.

In a speech at the Republican convention in 2000, the pre-9/11 era, she spoke of Bush's belief that "we Americans are at our best when we exercise power without fanfare or arrogance." Yet in the post-9/11 era, she aligned with the hawks over Iraq.

She once told a reporter that she saw her job as translating the president's instincts into policy, and that the process has affected her own outlook on the world. She told The New York Times that she came to appreciate the importance of Bush's purposeful focus on "universal values and freedom." She noted that this was not "the orientation out of which I came."

Her strong advocacy of Bush's foreign policy, however, has sometimes left her caught up in the political wars in Washington, particularly over Iraq. One issue that is likely to come up in her confirmation hearing is whether she played fast and loose with prewar intelligence on Iraq's purported nuclear program to justify the war.

In the 9/11 Commission hearings, Rice was grilled on whether she had paid enough attention to warnings of terrorism in the months leading up to Sept. 11. Rice came away from the hearings largely unscathed, owing much to the steely self-confidence that has marked her rise from academic life into the glare of Washington.

Rice's parents told her she could do anything. Her father, John Rice, was a Presbyterian minister and later a guidance counselor and dean of students at Stillman College. Her mother, Angelena, was a music teacher. When Rice was 10, she enrolled in the Birmingham Southern Conservatory of Music. She skipped the first and seventh grades. In college, she quickly mastered Russian. She considered a law degree.

Rice's family was financially comfortable, but she grew up in the segregated South. The experience shaped her, as Bush said Tuesday.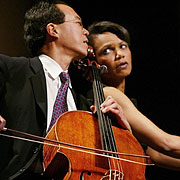 She "saw the promise of America violated by racial discrimination and by the violence that comes from hate," he said in the Roosevelt Room of the White House. "But she was taught ... that human dignity is the gift of God, and that the ideals of America would overcome oppression."
Bush said Rice's late parents "would be filled with pride to see the daughter they raised in Birmingham, Alabama, chosen for the office first held by Thomas Jefferson. Something tells me, however, they would not be surprised."
| | |
| --- | --- |
| | |
| 'Warrior Princess' moves to US center stage | |

| | |
| --- | --- |
| | |
| Kaleidoscope of cute babies | |

| | |
| --- | --- |
| | |
| Guo Jingjing joins TV series | |
Today's Top News
Top Life News

Mystery illness outbreak in HK identified




Personnel, railway ministries misuse funds




Arafat's diagnosis may soon be revealed




China, Japan leaders agree to meeting




Harmful chemical found in calcium tablets




Chinese soccer given red card