Don't blame Haan, CFA says
(Agencies)
Updated: 2004-11-19 10:30
China coach Arie Haan's contract will be terminated, soccer officials said, but insisted he should not shoulder full responsibility for the team's disastrous elimination from World Cup qualifying.
"When the national team is disbanded soon, his contract will be automatically terminated," said Chinese Football Association (CFA) vice president Nan Yong, who gave no inkling of who might replace him.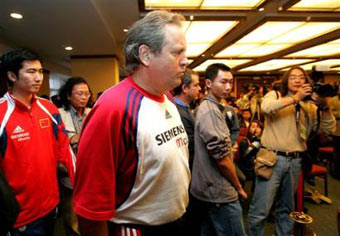 Chinese football coach Arie Haan arrives at a press conference in Guangzhou, in China's southern Guangdong province, Tuesday Nov. 16, 2004. [AP]


"Hiring a foreign coach is like gambling. Nobody can promise the coach will deliver good results when the contract is signed," he told Xinhua news agency.

"Chinese soccer will only develop at the expense of batches of players and coaches."

An emotional Haan, whose contract was based on the team qualifying for the World Cup in 2006 Germany, stepped down after China was dumped from the competition despite thrashing Hong Kong 7-0 in Guangzhou.

Kuwait's 6-1 drubbing of Malaysia left them with an identical goal difference to China of plus 13. But the Gulf side advanced to the final round of qualifying by virtue of having scored one goal more, 15 to China's 14.

"It's easy to blame the head coach after the team's elimination, but we wouldn't do that," said Nan. "He is a hard-working and competent coach and he has ideas and his own ways of doing things."

Yang Yimin, another CFA vice president, confirmed that Haan, a member of the famous 'Total Football' Netherlands teams of the 1970s, would not be given a second chance.

"The Chinese Football Association will strictly follow the terms in its contract with Haan," he said.

"As a coach, Haan is diligent and modest. I have to admit that he made contributions to Chinese soccer, but he failed at last. I feel sorry about that, but we have to implement the contract."

Foreign coaches including German Klaus Schlappner, Briton Bobby Houghton and Serb Bora Milutinovic have all managed the Chinese team.

It qualified for the 2002 World Cup under the guidance of Milutinovic, its only appearance at football's premier competition.




Today's Top News
Top Sports News

Mystery illness outbreak in HK identified




Personnel, railway ministries misuse funds




Arafat's diagnosis may soon be revealed




China, Japan leaders agree to meeting




Harmful chemical found in calcium tablets




Chinese soccer given red card