China, Japan leaders agree to meeting
(Agencies)
Updated: 2004-11-19 09:56
The leaders of China and Japan agreed to a one-on-one meeting on the sidelines of a summit, overcoming a diplomatic impasse between the Asian powers. The breakthrough came as ministers for 21 Pacific Rim economics pledged Thursday work hard for the passage of a global trade treaty.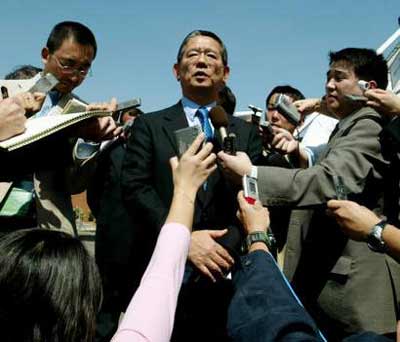 Japanese Foreign Minister Nobutaka Machimura (C) speaks to journalists after a private meeting with his Chinese counterpart, Li Zhaoxing, during a break in a meeting of Foreign and Trade Ministers from the 21 economies belonging to the Asia Pacific Economic Cooperation (APEC), in Santiago, November 18, 2004. [Reuters]
Relations between China and Japan have soured in recent years, fueled partly by lingering disagreements over World War II.
Agreement for the rare session between Japanese Prime Minister Junichiro Koizumi and Chinese President Hu Jintao came after the foreign ministers from both countries got involved in negotiations, said Hatsuhisa Takashima, a press officer at Japan's Foreign Ministry.
The leaders "will seek to further strengthen bilateral ties for the sake of world peace," Takashima told reporters.
Koizumi last met Hu at the last Asia-Pacific Economic Cooperation summit held in Bangkok, Thailand, in October 2003, but has not been to China for a full summit since 2001. A Chinese president has not come to Japan since Jiang Zemin visited in 1998.
Though officials from both countries have recently expressed the desire to repair relations, they were unable for several days to arrange the Chile meeting, with China hinting that Tokyo wasn't sufficiently contrite about its World War II aggression.
Takashima said the foreign ministers finally bridged the impasse, but he didn't provide other details or say when the two would meet.
In other key meetings, President Bush was scheduled to hold one-on-one weekend meetings with the leaders of Canada, China, Japan, South Korea, Indonesia, Russia and Mexico.
Demonstrations erupted for a third straight day against the APEC summit and a planned visit by Bush. Masked university students battled police in the southern city of Coronel, 350 miles south of Santiago, before being dispersed by tear gas and blasts from water cannons. In the Chilean capital, some 20 demonstrators marched peacefully.
Wrapping up two days of talks Thursday ahead of the summit, the ministers promised to push hard for the conclusion of the World Trade Organization's current round of talks. The global trade treaty aims to slash agricultural subsidies and lower tariff barriers in a bid to boost the planet's economy.
The ministers welcomed the revival in July of WTO negotiations that are scheduled to go into high gear next year.
Talks launched three years ago in Doha, Qatar, to create a binding trade treaty for the 147-nation WTO group faltered last year with bickering over agricultural subsidies, but gained ground this year after negotiators managed to create a framework for a new global trade accord.
The declaration of the APEC ministers is important because their collective economic weight represents a huge chunk of the global economy, U.S. Trade Representative Robert Zoellick said.
"When APEC speaks, people listen," he said shortly after the ministers wrapped up their closed-door discussions.
In their communique wrapping up their meetings, the APEC trade ministers said they discussed a proposal suggested by business leaders for a Free Trade Area for the Asia-Pacific region. They said it would be discussed by leaders during the summit, but stopped short of endorsing a formal study.
A free trade zone among APEC economies would form a bloc that would dwarf the proposed Free Trade Area of the Americas currently under negotiation. APEC members account for nearly half the world's trade.
Vaile conceded that negotiating such a deal would "be a very challenging exercise given the diversity of the 21 economies in the APEC."
They also welcomed progress made by Vietnam and Russia in their bids to join the WTO and supported their early accession to the trade body.
Today's Top News
Top China News

Japanese textbook distorts history, stirs fury




Shops called to boycott Japanese goods




ADB: China's economy expected to grow 8.5%




400,000 to relocate for water project




Possible US textile safeguards draw criticism




Shrine visit angers both sides of Straits