Kerry to give dems leftover campaign cash
(Agencies)
Updated: 2004-11-19 09:15
Under friendly fire, Sen. John Kerry likely will donate a substantial portion of his excess presidential campaign cash to help elect Democratic candidates in 2005 and 2006, advisers said Thursday.
Party leaders, including some of Kerry's top campaign aides, said this week they were surprised and angry to learn that he had more than $15 million in accounts from the Democratic primaries. They demanded to know why the money wasn't spent to help Kerry defeat President Bush or to aid congressional candidates.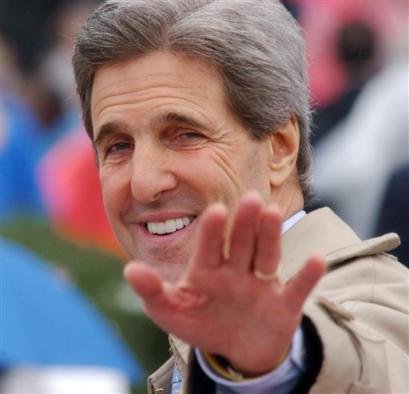 Sen. John Kerry, D-Mass., acknowleges the crowd as he walks to his seat at the William J. Clinton Presidential Center during opening ceremonies in Little Rock, Ark., Thursday, Nov. 18, 2004. The $165 million glass-and-steel center will be the home to Clinton's library collection of more than 80 million presidential items. [AP]

There were no easy answers to those questions, officials close to Kerry acknowledged Thursday, but they sought to assure Democrats in a series of telephone calls that the four-term Massachusetts senator was sharing his political wealth.

They argued that he donated $40.5 million to Democratic causes in 2004, including $3 million each to the party's House and Senate campaign committees. More than $32 million went to the Democratic National Committee, including $9 million targeted to state parties.

DNC spokesman Jano Cabrera said that was the largest contribution the DNC has ever received, and the first from a presidential primary campaign.

"With this donation, the campaign more than fulfilled its commitment to our general election plan," he said.

But the DNC statement did little to mask the acrimony over Kerry's money. Several members of his own campaign staff said the cash should have been spent before the Democratic convention in late July to build political organizations in Ohio and Florida ¡ª or to court Hispanic and black voters in key states.

One member of Kerry's inner circle of campaign aides said Thursday that the failure to spend the money cost the senator victory in a close election.

Another senior campaign aide said the fact that Kerry had $45 million in the primary account in mid-October raises questions about why he didn't opt out of the campaign finance system for the general election ¡ª as he did for the primaries ¡ª to avoid spending caps.

While some officials pointed fingers at campaign manager Mary Beth Cahill, others said Kerry himself knew there was a big surplus in his primary campaign account. They said he wanted to save it in the event of a recount, legal challenges or other unforeseen bills. In the end, they said, Kerry's nest egg will be less than $10 million.

Two advisers who have spoken to Kerry about the money said he likely will donate a substantial amount to Democratic committees and candidates for the 2005 contests and 2006 congressional midterm elections.

"They're doing this now because they're being forced to, not because they want to," said Democratic consultant Donna Brazile, the most vocal critic of Kerry's spending. "They still don't have a defense for why they hung on to the money."

According to the two officials familiar with Kerry's account:

_ He has $16 million left from the primaries.

_ Some $4 million to $5 million of that will be transferred to a legal and compliance fund to help pay for the costs of fighting or resolving 16 Federal Election Commission complaints pending against Kerry. That legal fund already has $8 million.

_ Once the transfer is made and all primary season bills are paid, Kerry will have just shy of $10 million in his primary campaign account.

The rest of the money could be used to mount a bid for the presidency in 2008, but the advisers said that had nothing to do with saving the money.




Today's Top News
Top World News

Personnel, railway ministries misuse funds




Mystery illness outbreak in HK identified




Global forum highlights food safety




Housing prices surge in first 10 months




Arafat's diagnosis may soon be revealed




Warner sues karaoke hall for infringement