Clinton unveils his 'gift to the future'
(Agencies)
Updated: 2004-11-19 09:00
Bill Clinton, America's first baby boomer president, opened his library Thursday with a rock 'n' roll gala that hailed the $165 million glass-and-steel museum as "a gift to the future by a man who always believed in the future."
Despite a steady, bone-chilling rain, nearly 30,000 people joined a celebration that included tributes from President Bush, his father and former President Carter. Rock stars Bono and The Edge of the band U2 performed a three-song set before Clinton spoke to a crowd that included dignitaries and ordinary folk. Poetry and gospel singing added a down-home flavor.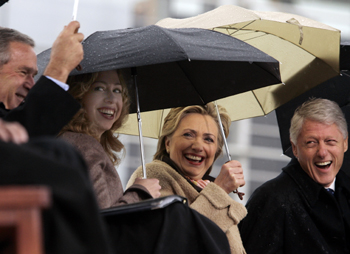 Former U.S. President Bill Clinton (R-L), former first lady Hillary Rodham Clinton, and Chelsea Clinton break into a laugh on stage with U.S. President George W. Bush (L) during the dedication ceremony for the William J. Clinton Presidential Center in Little Rock, November 18, 2004. [Reuter]

"The story that began in a little house on Hervey Street in Hope, Arkansas, inspires people from every background all over America," President Bush said of Clinton's rise from small-town beginnings to the White House.

The library celebrates eight years of peace and prosperity and dismisses Clinton's impeachment as a Republican vendetta. The 27-acre complex contains more than 80 million items, including 20 million e-mail messages ¡ª "Two of them mine!" Clinton said.

The sleek, futuristic William J. Clinton Presidential Center is meant to be a metaphorical "bridge to the 21st century" cantilevered out over the bank of the Arkansas River, a theme of the Clinton presidency.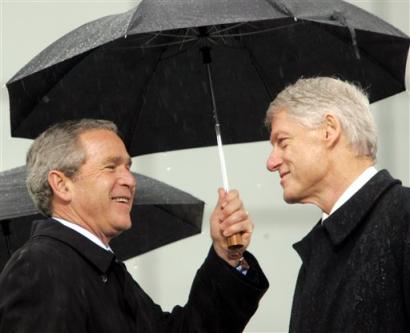 Former President Bill Clinton (right) and President George Bush pass on the stage during dedication ceremonies for the William J. Clinton Presidential Center, Thursday, Nov. 18, 2004, in Little Rock, Ark. [AP]

"What it is to me is a symbol of not only what I tried to do but what I want to do with the rest of my life, building bridges from yesterday to tomorrow, building bridges across racial and religious and ethnic and income and political divides," said Clinton, accompanied by his wife and daughter.

"I want young people to want to see not only what I did with my life but to see what they could do with their lives," he said, "because this is mostly the story of what we the people can do when we work together."

Bush himself called the library "a gift to the future by a man who always believed in the future, and today we thank him for loving and serving America."

U2 lead singer Bono (R) and The Edge wait to perform at the dedication ceremony for the William J. Clinton Presidential Library November 18, 2004 in Little Rock, Arkansas. Thousands gathered in a pouring rain for the event. [Reuters]

A number of celebrities traveled to Little Rock for the opening, including actors Ed Begley Jr., Kevin Spacey, and Robin Williams and Democratic luminaries John Kerry and Al Gore, Clinton's vice president.

Clinton pointed out that during the eight years he and Gore led the country, the nation reduced the national debt and reformed the military while also reducing poverty and making college accessible to more people.

A steady rain pelted the crowd throughout the ceremony, and a soldier stood near the podium bearing an umbrella to protect each speaker from the elements.

Clinton, much thinner as a result of his September heart surgery, chuckled several times as the other ex-presidents recounted stories of past meetings with him, and often slapped his thigh.

Sen. Hillary Rodham Clinton, said the new library "is like my husband: it's open, it's expansive, its welcoming, it's filled with life, and the exhibits tell the story of someone who loves his fellow man, who cares deeply about all of our children, who recognizes our common humanity."

President Bush admired Clinton's talent as a man of the people, telling the story of a voter who praised Clinton's ability to look you in the eye, shake your hand, hold your baby and pet your dog, "all at the same time."

His father, ousted by Clinton in 1992, noted his campaign skill and added, "And, oh, how I hated that." Former president Gerald Ford, at age 91, is limiting his travel and called Clinton several weeks ago to say he could not attend.

Clinton chose the site for the library in the first half of his second term, and construction has transformed a rusty abandoned warehouse district into a sprawling complex that has fueled $1 billion in development in downtown Little Rock.

In the library, a presidential timeline explores Clinton's highlights and headaches ¡ª economic prosperity and peace efforts in Northern Ireland, the Balkans and the Middle East along with his partisan fights with Congress, Whitewater and his impeachment and acquittal over lies told in the Monica Lewinsky affair.

The Lewinsky matter and Whitewater are covered briefly in an alcove dedicated to the "politics of persecution" that also mentions Newt Gingrich's "Contract With America." Library organizers said Clinton wanted the scandals mentioned in the context of a vicious political battle.

A highlight of the museum is the only full-scale replica of the Oval Office in a presidential library, the last major exhibit on the two-story tour.

After the ceremony, John Miles of Hot Springs grabbed a barbecue sandwich in the nearby River Market and said the lousy weather didn't dampen the enthusiasm of him and his wife.

"We stayed there all the time in the rain and enjoyed every minute of it," Miles said. "We're proud that somebody can go from Hope to the White House. We're proud of what he did when he got there. For us he's the fulfillment of the American dream."

Hundreds of people who did not have tickets for the ceremony watched it on several large-screen television mounted in downtown Little Rock. Kate and Charlie Wright of Little Rock huddled under an awning to stay away from the rain as they waited for the program to begin.

Charlie Wright said the couple wanted to be a part of history, just like Clinton. "They talk about legacy," he said. "I don't think it's even begun yet with Clinton. I think he still has more to achieve."




Today's Top News
Top World News

Personnel, railway ministries misuse funds




Mystery illness outbreak in HK identified




Global forum highlights food safety




Housing prices surge in first 10 months




Arafat's diagnosis may soon be revealed




Warner sues karaoke hall for infringement