Yuanmingyuan, need to save face?
By Yuan Wu (China Daily)
Updated: 2004-11-19 08:48
The western part of the Yuanmingyuan, or Old Summer Palace, has been excavated from the dust of ages in an attempt to restore the garden's original beauty.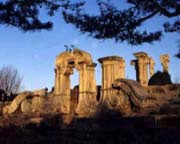 The picture shows today's Yuanmingyuan in Beijing. [file]
Still, whether or not to rebuild all the parts of the ruined construction remains a debate among experts. Some believe the garden should be restored in line with the original design as in the Chinese imperial age, while others say the park can never again look how it did before it was vandalized by foreign invaders in 1860. They hold that the main value of the garden's relics is a lesson for future generations about the humiliation inflicted on the country.
Known as the "Garden of Gardens" for its luxurious palaces, mansions and decor in both Western and Eastern styles, Yuanmingyuan, on the northwestern outskirts of Beijing, was built in 1709 and enriched during five emperors' reign of the Qing Dynasty (1644-1911) until it was burned down by British and French troops in 1860 and damaged more by the allied army of eight powers - Britain, France, Germany, Russia, the United States, Japan, Italy and Austria, in 1900.
The garden used to cover 350 hectares, with a perimeter of 10 kilometres. To restore the old charisma of Yuanmingyuan according to its original scale and style is not an easy job and could mean an astronomical input of money and manpower.
From an architectural and aesthetic perspective, the top concerns of designers and workers in revamping antique architecture are how to show off their original style and withstand natural weathering.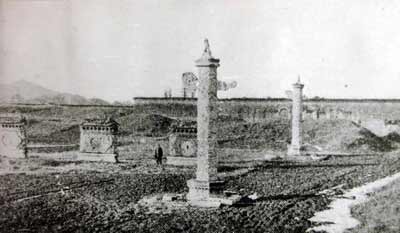 Yuanmingyuan vanishes in 1860. [file]
If current technology is not able to achieve this and Yuanmingyuan is displayed to visitors as a new glazed palace, it is tantamount to destruction. Mistakes like this have already been made in rebuilding traditional residential compounds - siheyuan - in Beijing.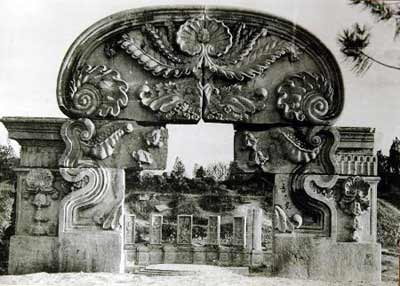 The pictures shows Yuanmingyuan before it was burned down by British and French troops in 1860 during the Second Opium War. [file]
Plans for restoration should be carefully drawn up. It is better to preserve current ruins than build anew. In China, there are more urgent issues than rebuilding the Yuanmingyuan. The country's health care system, education system and infrastructure construction need input to be improved. The interests of the rural population also need to be protected.
Policy-makers should care more about the quality of our daily lives than recovering ancient imperial monuments.
So let it be. Allow visitors their own imagination about what happened there when they wander in this once magnificent garden.
Today's Top News
Top China News

Personnel, railway ministries misuse funds




Mystery illness outbreak in HK identified




Global forum highlights food safety




Housing prices surge in first 10 months




Arafat's diagnosis may soon be revealed




Warner sues karaoke hall for infringement