Mystery illness outbreak in HK identified
By Alfons Chan (China Daily)
Updated: 2004-11-19 00:38
The mystery outbreak of illness at Caritas Medical Centre was caused by the parainfluenza virus, the Centre for Health Protection (CHP) of the Department of Health in Kong Kong confirmed Thursday.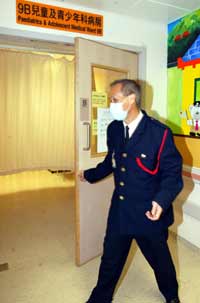 A security staff patrols outsite the affected wards in the Caritas Medical Centre to contain the spread of the virus, November 18, 2004. The mystery outbreak of illness was caused by the parainfluenza virus, local health department confirmed Thursday. [newsphoto]
Another patient at the hospital fell victim to the respiratory disease Thursday, taking the total number of cases -- including those recovered -- to 32, with two still suffering from fever.
The CHP received a report from the University of Hong Kong that three of seven patients from medical centre had tested positive for the virus.
Specimens from all seven patients yielded negative results for other common respiratory diseases.
"Infections caused by the parainfluenza virus are common, especially in infants and small children. Severe illnesses, however, could occur among young children and patients with immunodeficiencies. The incubation period is generally from one to seven days," a spokesman for the centre said.
The spokesman said the virus is spread by respiratory secretions through close contact with the infected or contaminated objects or surfaces.
"Infections can occur when infectious material comes in contact with mucous membranes of the eyes, mouth or nose, and possibly through the inhalation of droplets generated by a sneeze or cough."
The spokesman said enhanced infection control measures implemented in the affected wards in the Caritas Medical Centre are effective to contain the spread of the virus.
"In a hospital setting, the spread of the virus can and should be prevented by strict attention to droplet and contact precautions, such as washing hands, and wearing masks, gowns or gloves," he said.
The centre is still conducting laboratory tests on other specimens, he added.
Meanwhile, a 40-year-old man living in Ap Lei Chau has been confirmed to have contracted Japanese encephalitis, according to the CHP.
It is the fifth case in the territory but the first on Hong Kong Island this year.
The man developed a fever and saw a private doctor on November 1. He was admitted to a private hospital on November 3 and transferred to Queen Mary Hospital on November 5.
He requires mechanical ventilation and is now in serious condition. The patient has not travelled out of Hong Kong recently, which indicates that the infection source is local.
Two members of the household are being monitored but have not shown signs of infection. There are about seven illegal farming sites in the Ap Lai Chau hills, which could have been the breeding ground of the mosquitoes, according to officials.
Today's Top News
Top China News

Mystery illness outbreak in HK identified




Housing prices surge in first 10 months




Arafat's diagnosis may soon be revealed




Personnel, railway ministries misuse funds




China, Japan leaders agree to meeting




Chinese soccer given red card