Chirac, Blair strive for unity after Iraq
(Agencies)
Updated: 2004-11-19 00:03
French President Jacques Chirac agreed to disagree with Prime Minister Tony Blair over Iraq on Thursday but pledged full cooperation, from Africa to the Middle East, when Britain heads the G8 and European Union in 2005.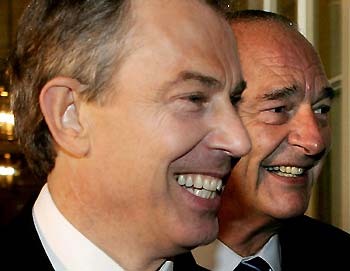 Britain's Prime Minister Tony Blair (L) and French President Jacques Chirac (R) arrive in Downing Street in London, November 18, 2004. Chirac began a visit to Britain on Thursday overshadowed by his withering accusations against Washington and London of endangering the world by invading Iraq. [Reuters]

Since the run-up to war in Iraq, relations between the two European heavyweights have been fractious, sometimes bitter.

But diplomats said the pair's performance in London appeared to show genuine commitment finally to close the split.

Addressing a joint news conference, they stressed common ground over African poverty and climate change -- Blair's stated priorities when Britain presides over the G8 group of leading nations throughout 2005 and the EU bloc in the second half.

Chirac, visiting London to mark the centenary of "Entente Cordiale" -- the end of colonial rivalry between France and Britain -- said Paris would "actively support" those priorities and hailed the "manifold areas where we work hand-in-glove."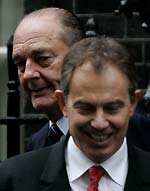 Britain's Prime Minister Tony Blair (R) and French President Jacques Chirac (L) leave Downing Street in London, November 18, 2004. [Reuters]

He added: "Where there is difference of opinion, it should be addressed in a spirit of solidarity not conflict."

The pair shared a common analysis over bringing Israelis and Palestinians together following the death of Yasser Arafat.

Blair has pressed newly re-elected President Bush to make that a personal priority.

"What matters really is all that we have in common in the present and for the future," Chirac said, adding that Africa and climate change were "two of the most important questions we need to address for the future of the world."

Chirac again insisted toppling Saddam Hussein had made the world no safer: "If you see the way things are developing in the world in terms of security and the expansion of terrorism ... you cannot say credibly the situation has significantly improved."

In interviews before his visit, the French leader had gone further, saying Blair's close ties with Bush made it impossible for the prime minister to be an international "honest broker."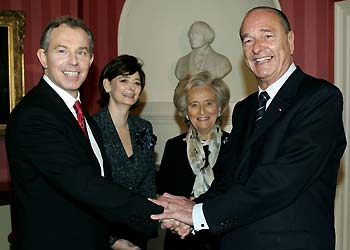 Britain's Prime Minister Tony Blair (L) and French President Jacques Chirac (R) pose for photographs with their wives Cherie Blair (2nd L) and Bernadette Chirac (2nd R) after their arrival inside number 10 Downing Street in London, November 18, 2004. [Reuters]
FRESH START?
But together on Thursday, both men were conciliatory.
"The differences at the time of the conflict were well known but ... both of us want to see a stable and democratic Iraq and will do what we can to ensure that happens," Blair said.
He said they were working closely together on Iran, Afghanistan, the Balkans, Africa and climate change. There was "a real opportunity" to move the Middle East peace process forward if the world was willing to grasp it.
Officials said the pair had rarely seemed so at ease.
Even over Europe, where they have often been at odds over the EU's future direction, there were no divergences.
Blair's ambition of Britain acting as a bridge between Europe and the United States contradicts Chirac's desire to build a stronger European Union to balance U.S. power.
But Chirac said: "The fact that the UK can be a friendly partner between the EU and U.S. is an advantage to Europe."
Britain's EU presidency in 2005 is also expected to press for deregulatory economic reforms which Paris has viewed hesitantly.
Chirac was to be feted by Queen Elizabeth at Windsor Castle later on Thursday and will address students at Oxford University on Friday.
As a guest of the Queen, Chirac was to watch a special staging of hit musical "Les Miserables." The venue, the Waterloo Chamber, has been tactfully renamed the Music Room for the night to avoid any echoes of the 1815 defeat of Napoleon Bonaparte.
Today's Top News
Top World News

Personnel, railway ministries misuse funds




Mystery illness outbreak in HK identified




Global forum highlights food safety




Housing prices surge in first 10 months




Arafat's diagnosis may soon be revealed




Warner sues karaoke hall for infringement