Chirac decries Iraq war before London trip
(Agencies)
Updated: 2004-11-18 15:22
The U.S.-led invasion of Iraq mobilized Islamic extremists and made the world more dangerous, French President Jacques Chirac said, keeping up his vocal opposition to the war on the eve of a visit to London.
"There's no doubt that there has been an increase in terrorism and one of the origins of that has been the situation in Iraq," Chirac told the British Broadcasting Corp. in an interview to be broadcast later Wednesday.
"To a certain extent Saddam Hussein's departure was a positive thing. But it also provoked reactions, such as the mobilization in a number of countries, of men and women of Islam, which has made the world more dangerous," Chirac said, speaking in French which was translated into English by the BBC.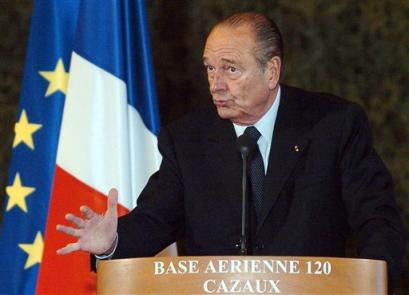 French President Jacques Chirac delivers a speech after his tour of the Cazaux Air Force base near Bordeaux, southwestern France, Tuesday, Nov. 16, 2004. [AP]

Despite Chirac's criticism of the war, officials in Paris say he wants stronger relations with Washington.

The issue will figure prominently in talks Thursday between Chirac and British Prime Minister Tony Blair, who has called for reconciliation between European leaders and the newly re-elected President Bush.

Chirac also said that France and the United States have a 200-year history of "cooperation, friendship and solidarity."

The dispute over Iraq does not "mean that our relationship is in question," he added. "Don't let's confuse a state of continuing friendship, understanding and mutual respect, allied to a trans-Atlantic link, with a differing stance on the specific situation in Iraq."

Chirac added that while France would help Iraq "achieve her sovereignty and hopefully develop her potential," he could not envisage sending troops to the country.

Blair's spokesman said Chirac's views on the war are well known, and insisted differences over Iraq would not stop cooperation on such issues as climate change, alleviating poverty in Africa and pushing forward the Middle East peace process.

"President Chirac's position (on Iraq) does not come as a surprise," the spokesman said on condition of anonymity. "Let's be grown up about this. We have a difference of view but that does not mean we can't work together."

He emphasized that France, Britain and Germany worked closely in reaching a deal with Iran over civil nuclear power. He pointed to France's support in Afghanistan and the role Paris could play in the Middle East peace process.

In Paris, French presidential spokesman Jerome Bonnafont said Chirac and Blair would discuss ways of rebuilding the trans-Atlantic relationship, which he described as "the spine of our security."

He said Chirac planned to give a speech to the International Institute for Strategic Studies in London arguing that "the trans-Atlantic relationship is more necessary than ever."

Bonnafont said the two leaders would work closely on the issue of climate change and join forces to persuade Bush to reverse his opposition to the Kyoto Protocol on global warming.

"It clearly won't be an easy task. But it seems to both the president of the Republic (Chirac) and to Tony Blair to be an issue that merits a very strong political commitment," Bonnafont said.

Chirac will spend two days in London to mark the 100th anniversary of the "Entente Cordiale" ¡ª a historic pact ending centuries of warring and hostility ¡ª and will enjoy the hospitality of Queen Elizabeth II at Windsor Castle.




Today's Top News
Top World News

Seven simply not enough, 2006 World Cup bid ends




Beijing vows to crush independence attempt




Visit strengthens partnership with Argentina




Mystery disease in HK may be viral infection




Russia plans new-generation nuke weapons




Bush wants to get N. Korea nuke talks going