Visit strengthens partnership with Argentina
By Zhao Huanxin (China Daily)
Updated: 2004-11-18 01:31
Argentina and China Wednesday pledged to forge a "strategic partnership."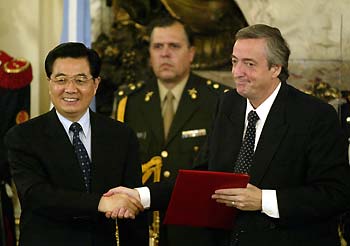 President Hu Jintao (left) shakes hands with Argentinian President Nestor Kirchner after signing co-operation agreements yesterday aimed at increasing bilateral trade and investment at the Casa Rosada presidential palace.[China Daily]


President Hu Jintao Wednesday visited Buenos Aires, the capital of Argentina, in the second leg of a South American tour that includes Brazil, Chile and Cuba.

He was welcomed by President Nesto Kirchner during a solemn ceremony in the presidential square.

Hu's visit comes five months after Kirchner's own trip to China.

The exchange of visits underlines the importance both sides give to the bilateral relationship, Hu said.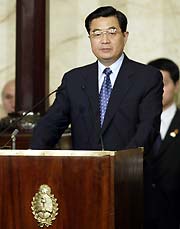 Hu delivers a speech. [Reuters]

"We've reached wide-ranging consensus during our talks," Hu told the press. "This includes establishing and developing a Sino-Argentine strategic partnership."

Before that, relations between the two countries were considered to be a "full-range co-operative partnership."

"The Chinese Government and its people highly value the Sino-Argentine friendship and would like to work with the Argentine side 'hand in hand,' to forge ahead the strategic partnership along a sound and steady path," Hu said.

President Kirchner said his country would make concerted efforts to work together bilaterally and on an international level.

Hu proposed the two sides strengthen their political common ground and deepen political mutual trust by intensifying exchanges among governments, legislative bodies and political parties.

The Chinese president said the two countries had agreed to support each other on issues pertaining to state sovereignty and territorial integrity.

Kirchner reiterated Argentina firmly supports China's stance on the question of Taiwan while Hu expressed thanks to the Argentine Government for adhering to the one-China policy.

Hu congratulated Argentina for being elected as a non-permanent member of the United Nations Security Council for 2005-06.

The Chinese president said China is willing to strengthen consultations and co-ordination with Argentina to give the UN a more prominent role in safeguarding world peace and promoting common development.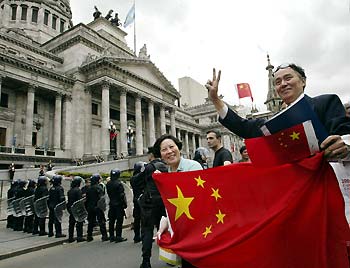 Supporers waiting outside. [Reuters]

Both presidents said the two sides will encourage and support enterprises as well as government departments to vigorously expand co-operative avenues.

In particular, they should throw weight to fields such as agriculture, animal husbandry, industry, telecommunications, energy, mineral resources and infrastructure, Hu said at the press meeting.

Argentina is China's fourth largest trading partner in Latin America. Two-way trade surged by 122 per cent year on year to hit US$3.2 billion in 2003.

In the first nine months this year, China's imports from Argentina -- soybeans, bean oil, crude oil, leather and steel -- reached a new high of US$3.03 billion, upped by 21.1 per cent from the same period last year, indicated the latest customs statistics.

The signing of five agreements followed the presidents' meeting.

The documents include a protocol regarding bilateral co-operation of space technology for peaceful use of outer space; a memorandum facilitating Chinese tourist visits, pacts on co-operation in railway projects and cultural exchanges.

President Hu was scheduled to meet Argentine parliamentary leaders and leave the Argentine capital for the city of Bariloche.