Netcom IPO to increase expansion
By Chen Zhiming (China Daily)
Updated: 2004-11-18 01:57
China Netcom, the country's second largest telecom carrier, has accomplished a successful initial public offering (IPO) in New York and Hong Kong, showing that the stock is a darling of investors.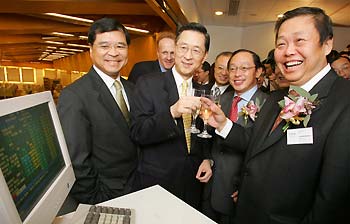 Zhang Chunjiang (right), board chairman of China Netcom, toasts with Paul Chow (second from left), Chief Executive of Hong Kong Stock Exchange, to celebrate China Netcom's successful IPO in Hong Kong. [China Daily]

China Netcom's shares climbed up 10 per cent in their Hong Kong debut yesterday.

The fixed-line operator, the last of the four biggest Chinese carriers to enter the capital market, ended yesterday at HK$9.25, compared with an offering price of HK$8.40. The stock rose as high as HK$9.50 yesterday.

The deal, Asia's biggest telecoms IPO this year, was priced just above the mid-point of a range of HK$7.80 to HK$8.91.

China Netcom became one of the most heavily traded counters by far in Hong Kong, which also helped boost all the telecoms-related shares in the market yesterday.

China Telecom, a rival to China Netcom, jumped 2.75 per cent to HK$2.80 on the back of strong demand for China Netcom, while Hang Seng heavyweight China Mobile gained 0.63 per cent to HK$24.05.

China Netcom's big jump came after its American Depositary Shares (ADSs) met with an enthusiastic welcome on their first trading day in New York on Tuesday, closing 14 per cent higher.

China Netcom's ADSs ended the trading day in New York at US$24.90 from its IPO price of US$21.82. They rose by as much as 19.4 per cent during the session. Each ADS represents 20 common shares.

China Netcom raised US$1.13 billion from its IPO, the third-largest this year from China.

Goldman Sachs, Citigroup and China International Capital Corp were the underwriters of the deal.

Observers and fund managers had expected the stock to rise 5 to 10 per cent on its first day after the IPO attracted heavy demand.

Netcom's IPO attracted orders worth US$16.2 billion from institutional investors and had its retail book 28 times covered.

Investors were also lured by a promised dividend payout of 35 to 40 per cent of its adjusted profit in 2004 and 2005.

"We are happy to see the market have a strong confidence in the Chinese telecom industry," said Edward Tian, executive director and chief operating officer of China Netcom.

China Netcom, the second largest fixed-line operator, is dedicated to becoming an influential regional telecommunications service provider and reaching out to major cities in Asia.

"The timing for China Netcom's IPO is OK given the recovery of the global telecom environment and the nation's sustained telecom growth," said Dai Chunrong, an analyst with China Securities.

She believed that getting listed would contribute a lot to help upgrade China Netcom's management and better compete with its rivals.

According to Zhang Chunjiang, board chairman of China Netcom, about 50 per cent of the raised fund will be used to expand and upgrade existing telecoms network infrastructure.

Approximately 30 per cent of the fund will be used to pay back bank loans and 10 per cent will be used to develop new applications and services such as IP-based telecommunications application services and voice value-added services.

Also, Tian said that China Netcom would cut down network maintenance staff from currently 50 per cent of the total employees to 25 per cent.

Staff would also be transferred to work in the company's sales and marketing department, he said.

It is forecast that China Netcom's 2004 profit will reach 9.15 billion yuan (US$1.1 billion).

The revenue will mainly come from its broadband business, PHS (personal handset system) and value-added telecoms services.

By the end of June, China Netcom had recruited more than 77.6 million fixed-line subscribers and 4.2 million broadband users.




Today's Top News
Top China News

Beijing vows to crush independence attempt




Visit strengthens partnership with Argentina




Mystery disease in Hk may be viral infection




Investment growth in high gear




Netcom IPO to increase expansion




Tighter rules to prevent illegal emigration