Gov't moves to comply with Kyoto
By Qin Chuan and Zhu Baoxia (China Daily)
Updated: 2004-11-17 15:02
The international accord designed to cut emissions of greenhouse gases and eventually slow down the pace of global warming is finally expected to come into effect after a long time of brewing and trade-offs.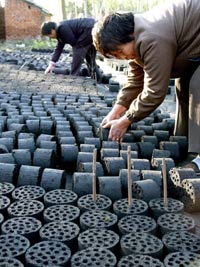 Residents in Anhui Province's Huaibei prepare honeycomb briquet for the winter. As coals still constitute a major protion of China's energy source, new techniques are needed to cut its carbon dioxide emissions. [newsphoto/file]

The Kyoto Protocol becomes effective 90 days after Russian President Vladimir Putin signed on November 5 and handed the document to the United Nations, despite opposition to it from the United States, said Lu Xuedu, an official with the Ministry of Science and Technology.

Successful implementation of the protocol will have a great impact on climate change, while more is said to be in the pipeline to cut greenhouse gas even further.

The protocol was proposed in the Japanese city of Kyoto in 1997.

Developed countries who sign up to it must pledge to cut their emissions by 5.2 per cent, from their 1990 levels, by 2008-12.

Director-general of the Treaty and Law Department of the Ministry of Foreign Affairs Gao Feng said a new round of international talks on the issue will take place next year.

Participants will talk about moves after 2012 when the protocol expires.

Gao, who is also one of the Chinese negotiators on the climate change issue, anticipates that in the new round, developing countries such as China and India will be expected to come under some reduction obligations.

Gao's remarks are echoed by Lu, who has been involved in policy-making on climate change.

There have been arguments as to whether developing countries should face similar obligations, although they insist their carbon dioxide emissions are much lower than developed countries, whose populations make up 24 per cent of the world's but whose emissions make up more than 60 per cent.

Developed countries emit an annual average of 12.22 tons of carbon dioxide per capita, where their poorer counterparts each produce just 1.95 tons.

The United States' per capita emissions are 20.5 tons a year, almost five times than the world's average.

The promotion of the clean development mechanism (CDM) will be another major task in the new round of negotiations, Gao said.

Under CDM, developed countries implement emission-reduction projects in developing countries - such as tree-planting and collecting methane gas - through financial and technical co-operation.

They in return receive emission credits in proportion to the reductions achieved through the projects.

The mechanism can help developed nations reach their reduction targets while transferring techniques and funds to developing countries.

China's actions

China is already taking concrete action to effectively reduce the consumption of energy, said Gao.

As early as 1990, China set up a National Climate Change Co-ordination Committee to look at policy making and scientific research.

The committee is currently composed of 15 government departments and institutions, with the National Development and Reform Commission, Ministry of Science and Technology, State Environmental Protection Administration and China Meteorological Administration as key members.

China signed up to the United Nations Framework Convention on Climate Change in 1992 and announced its ratification of the Kyoto Protocol 10 years later.

Earlier this year, a national office in charge of promoting CDM in China was set up and a regulation on management of clean development projects went into effect on June 30.

In the past decade, the country has expanded its tree-planting and resource-preservation campaigns and carried out family planning to slow down population growth, at the same time reducing emissions, sources with the National Development and Reform Commission said.

There has been much publicity to raise public awareness over climate change issues and advocate public involvement in energy saving and other activities.

Scientific research has been carried out to seek efficient and renewable energy and look for solutions to adapt to an environment that is heating up.

"Both central and local governments have put more importance on sustainable development and stress not only economic growth, but also the impact on the environment and ecology," said Lu.

Vice-Premier Zeng Peiyan recently reiterated that China intends to develop a recycling economy, using the least possible resources to meet the needs of social and economic development.

It is an important way to make sure the economy is sustainable, the vice-premier stressed at a forum about the issue in Shanghai last week.

The vice-premier said the key to a recycling economy was low resource consumption, less pollution, recycling and an effective use of resources.

The main task at the moment, he said, is to carry out clean production - to encourage factories to use clean resources and raw materials, to save water and to recycle resources.

He also urged governments at all levels to establish assessment criteria and scientific mechanisms and enact relative laws and regulations.

International exchanges and co-operation have also been expanded in the past years, Lu said.

Many international organizations and agencies including the World Bank and the Asian Development Bank have projects in China, with countries such as Canada, Britain, Denmark and the Netherlands also taking part in schemes with China.

The so-called C5 project is a case in point.

The two-and-half-year China-Canada Co-operation on Climate Change project helped raise public awareness and improve research into the impact on and adaptation to climate change.

At the end of last month, a regional training workshop for officials, teachers and the media in the Western China area was held in Guiyang, Guizhou Province to assess the C5 research results.

Provinces involved, including Hunan, Yunnan, Guizhou, Sichuan provinces and the Guangxi Zhuang Autonomous Region, pledged to work together in publicity and research.

New efforts

China is currently working on a national report on climate change, Lu said.

He said it would be the first and most authoritative report in China.

It will analyze the facts and figures of the current situation, the trend of change and adaptation measures to climate change in China and specify measures to deal with greenhouse gas emissions, said Lu, who is one of its key writers.

It will also introduce the latest achievements of scientific research in China and suggest action to policy makers and the general public, he said.

The report should be officially inaugurated early next year, when it will serve as a reference for local governments when drafting their socio-economic development plans for the next five years (2006-10).

More measures are being considered to help promote the clean development mechanism (CDM) among Chinese enterprises.

Lu said funding was available to Chinese enterprises from different channels through CDM projects, with which they can upgrade their production technology, and improve their product quality and competitiveness in the international market.

At the same time, businesses could contribute by reducing greenhouse gases through using clean energy and lowering the cost of production by using more efficient and renewable energy and resources.

One obstacle is that many enterprises are still ignorant about or have not fully realized the importance of CDM. At the same time, many overseas organizations and companies have no way of getting in contact with Chinese enterprises who need funds for it.

Lu suggests some intermediate agencies are established as match-makers for fund providers and businesses.

The concept of sustainability must become a part of society's daily awareness.

The final goal is to deal better with climate change consequences and build up a relatively well-off xiaokang society by 2020.




Today's Top News
Top China News

Steel giant may be moved out of Beijing




Beijing may get Yangtze water by 2010




Economic growth on stable upward curve




Overseas Chinese allowed to tranfer RMB




Bush names hawkish Rice top US diplomat




Mystery virus strikes HK children