India begins Kashmir troop pullout
(Agencies)
Updated: 2004-11-17 14:20
India begins to pull some of its troops out of Kashmir on Wednesday, an army official said, coinciding with Prime Minister Manmohan Singh's first trip to the troubled region.
"The process of pullout will start tomorrow," Colonel Anil Shorey, a New Delhi-based military officer told Reuters on Tuesday. "About 20,000 soldiers will be pulled out in a phased manner and systematically."
In a surprising peace move last week Singh said New Delhi would reduce the number of soldiers in its only Muslim-majority state, stationed there to put down a 15-year-old separatist rebellion.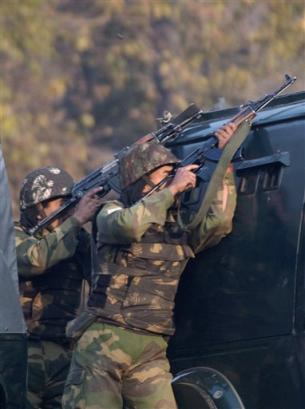 Indian Border Security Force soldiers fire towards militant positions during a gun battle in Srinagar, India, Wednesday, Nov.17, 2004. Hours before Indian Prime Minister Manmohan Singhs visit to Srinagar, the summer capital of India's Jammu-Kashmir state, militants attacked a paramilitary picket injuring two soldiers and a civilian. At least two militants lobbed grenades and fired at soldiers on guard duty outside an office complex located less than a mile away from a sports ground where Singh was to address a public meeting. [AP]

Kashmir is also claimed by arch-rival Pakistan, and has been the cause of two of the three wars between the South Asian neighbors, which are both nuclear-armed. Indian authorities have never said how many troops are posted in Kashmir, but newspapers have put the number in the hundreds of thousands, perhaps up to half a million.

Although the number of troops being pulled out was not high, analysts said it was a positive sign.

"This is a moment of peace in Kashmir Valley," said political commentator Prem Shankar Jha. "I believe Manmohan Singh will grasp the chance, tell the people he is ready to break from the past, and share with them a roadmap for peace."

But a hardline faction of the main separatist All Parties Hurriyat (Freedom) Conference, an alliance of separatist groups, called a strike across Kashmir to mark Singh's visit.

"The strike call was to convey the message that Kashmiris would not compromise their dignity in the face of atrocities by Indian forces," the group said in a statement.

Earlier on Tuesday, India's army chief, General N.C. Vij, said the troop cuts would begin shortly, but gave no details.

"A certain percentage of troops will be taken out of J-K (Jammu and Kashmir)," the Press Trust of India quoted him as saying in the southern city of Bangalore.

Kashmir has bedeviled ties between India and Pakistan for over half a century. New Delhi claims Pakistan supports Muslim insurgents in Kashmir, a charge Islamabad denies.

Nearly 45,000 people have been killed in the rebellion, by official count.

PAKISTAN PM TO VISIT

Singh's trip to Kashmir comes before a rare visit by Pakistani Prime Minister Shaukat Aziz to New Delhi next week when the two sides are expected to discuss President Pervez Musharraf's proposals on Kashmir, including demilitarization.

Although the moves by both Singh and Musharraf have kindled some hope, experts are cautioning against excessive optimism, saying any prospects for peace remain at risk from militants and hard-liners in India, Pakistan and Kashmir.

Underlining the threat, separatist rebels stormed into a house in Kashmir on Monday night and killed six people, including two members of the pro-government Ikhwan group that is helping security forces combat the insurgency, police said.

Former Indian army chief V.P. Malik said he expected the army to remain focused on cracking down on militants and their hideouts across Kashmir despite the troop cuts.

"You can rest assured, the Indian army would have thought through this. They wouldn't be doing it if they thought it would affect counter-insurgency operations," he said.

Kashmiris, who erupted in mass protest this month after an Indian army major was accused of raping a Kashmiri woman and her 10-year-old daughter, want the troop reduction to begin in populous areas.

"Troops in Kashmir are part of the problem, not a solution. The less the number of troops around our homes, the less violence," said school teacher Nasir Bukhari.

Singh, who has called for a healing touch in Kashmir, could offer the release of some of the hundreds of prisoners held for years in jail without trial.

Political analyst Jha said Singh could also signal his government's willingness to allow leaders of the Hurriyat to travel to Pakistan for talks there.

The moderate wing of the Hurriyat, which began unprecedented talks with New Delhi this year, has said the peace process could not really go far unless it held talks with separatists and militants based in Pakistan.




Today's Top News
Top World News

Beijing may get Yangtze water by 2010




Economic growth on stable upward curve




Overseas Chinese allowed to tranfer RMB




Bush names hawkish Rice top US diplomat




Mystery virus strikes HK children




US warned: Be aware of Chen's dirty tricks