Arie Hann ready to take consequence of HK duel
(Xinhua)
Updated: 2004-11-17 10:55
China's Dutch head coach Arie Hann is ready to take whatever the consequence at the eve of the team's do-or-die World Cup qualifying battle against Hong Kong of China.
China's hopes of advancing to the 2006 World Cup finals could disappear on Wednesday if they fail to win by a big margin.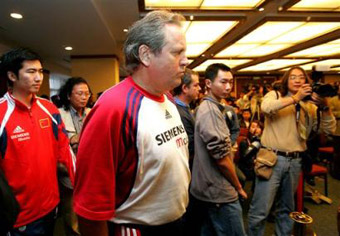 Chinese football coach Arie Haan arrives at a press conference in Guangzhou, in China's southern Guangdong province, Tuesday Nov. 16, 2004. China plays Hong Kong in Guangzhou Wednesday in a match crucial for China's chances of qualifying for the 2006 World Cup. Haan earlier said he would step down if his team is knocked out of World Cup qualifying in the game Wednesday. [AP]


Beleaguered Hann apparently felt the pressure as all the Chinese sports media and soccer fans are closely watching the game.

"It's a wrong time (if we fail to qualify). And in this case, I have to take the consequence," he said at a briefing on Tuesday.

"A loss may destroy the dream at this moment, but can't destroy the way up for Chinese football. You can't expect anything from zero to one hundred without any obstacle.

"And surely it won't be the end of Chinese soccer," he stressed.

That seemingly depressing attitude was contradictory to what heappeared in the past days.

The former Stuttgart and FC Nuremberg coach seemed confident when the team started to train in Guangzhou a couple of days ago.

"The Chinese are more powerful than the Hong Kong players. As long as we can play our level, we will win the match," Haan said.

He also showed the confidence at the briefing as he said the loss in Kuwait should not be the reason for China to lose chance.

"This time we are at home, which makes a big difference," he said.

However, he refused to predict the score and said soccer was a miracle.

"First we have to win and second to know what's happening in the other game that Kuwait played against Malaysia to take action,

"But if we want to win with high score, we need to score at the first half," he said.

A 1-0 defeat in Kuwait last month has left China's qualification in the balance. It must beat Hong Kong by at least two more goals than Kuwait, who lead the group on goal difference and will host winless Malaysia at the same time.

Reports said that Malaysian football officials had already decided to line up a second-string team against the Kuwaitis.

As only one team will qualify from the group with Wednesday's final round of matches to go, the Gulf side are now favourites to advance at the expense of China.

Failure to reach the World Cup in Germany would be a devastating setback for China and would certainly mark the end of Hann's mission in China.

"Of course if we do not qualify then (my) contract is automatically terminated," Haan said.

Mindful of possible match-fixing, the Asian Football Association has already taken the unusual step of warning that they will be monitoring the game.

The dreadful state of China's own league adds to the tension. It has been rocked with corruption scandals this season and has seen its top clubs call for a reform and threaten to pull out.

The main seven clubs called G7 group, including Dalian Shide and Beijing Guoan, remained silent recently as the national team were preparing for the crucial game.

Some experts predict an outburst over the Chinese soccer field if the national team suffers exit from the World Cup.




Today's Top News
Top Sports News

Beijing may get Yangtze water by 2010




Economic growth on stable upward curve




Overseas Chinese allowed to tranfer RMB




Bush names hawkish Rice top US diplomat




Mystery virus strikes HK children




US warned: Be aware of Chen's dirty tricks