World leaders issue praise for Powell
(Agencies)
Updated: 2004-11-16 21:10
World leaders lavished praise on Colin Powell as he stepped down as U.S. secretary of state, hailing his efforts to build international consensus and pledging to work closely with his replacement.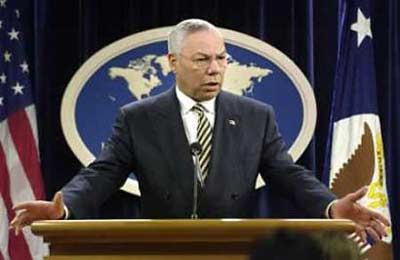 US Secretary of State Colin Powell speaks to the media after resigning from the cabinet of President George W. Bush in Washington, November 15, 2004. Powell, who was viewed as a voice of moderation in an administration dominated by right-wing hawks, is the top administration official to quit since Bush's re-election. [Reuters]

The outpouring reflected Powell's standing as a balanced, multilateralist force in a U.S. administration that many, particularly in Europe and China, regard as too willing to act on its own.

"Mr. Powell showed his understanding of our country and made so many efforts to promote friendship," Japanese Prime Minister Junichiro Koizumi said on Tuesday. "I'd like to express my heartfelt respect for his efforts and achievements."

Koizumi, a steadfast supporter of Washington's policy in Iraq, said that "whoever takes over the position, the importance of the U.S.-Japan relationship will not change."

Chinese Foreign Minister Li Zhaoxing called Powell "a good friend" in comments to Hong Kong reporters on the sidelines of Chinese President Hu Jintao's visit to Brazil. He added that the change in personnel would not change relations with Washington.

"No matter what happens we will continue to care for and support the development of an amicable, cooperative relationship between China and the United States," Li said in comments aired in Hong Kong on Tuesday.

The expressions of respect for Powell were similarly warm elsewhere among those who support the U.S. operation in Iraq and those who are opposed.

British Foreign Secretary Jack Straw, who worked with Powell on the Iraq war, said the former general had made the transition "from being a great soldier to being a great statesman and diplomat."

"He has been in (his job) in perhaps the most difficult and fraught period in terms of the world situation that one can think of outside serious wartime, because of what happened on Sept. 11, 2001," Straw said.

U.N. Secretary-General Kofi Annan, a critic of the U.S. invasion, also called Powell a "good friend" and said he spoke to him after the announcement of his resignation and wished him well.

"I thanked him for the close and productive relationship I have enjoyed with him over the past four years during which we worked together on a wide range of issues of concern to the international community," Annan said in a statement." I have always valued his wise counsel and objective approach."

German Foreign Minister Joschka Fischer, who was visiting New York, told reporters that Powell knew Germany well because of the years he spent there in the U.S. military and said the government had an "excellent" and "friendly" relationship with him.

"I want to thank and wish him the best for the future," said Fischer, whose government opposed the war. "We operated very closely even in the most critical issues."

In France, another ally whose ties with America were badly strained over Iraq, the Foreign Ministry made no immediate comment on Powell's departure.

Many in the country saw Powell in a different light than other American officials, believing the secretary of state agreed with them even when he forcefully made the administration's argument for war.

In the Mideast, officials praised Powell as "fair," "dignified" and a "voice of moderation" in an administration many Arabs see as heavy-handed at best.

Many in the region are angry over the U.S.-led invasion of Iraq and President Bush's failure to make progress toward peace between Palestinians and Israelis.

Nonetheless, Abdul Khaleq Abdulla, an Emirates-based analyst, said Arabs applauded Powell for his efforts.

"He came across as a moderate voice within the administration (and represented) the accepted face of America, the political center," in an administration full of hawks, Abdulla said.

Powell was one of few foreign diplomats to visit Palestinian leader Yasser Arafat in his confinement in his Ramallah compound, only one month after Israel imprisoned Arafat in March 2002.

"This is remembered very well" in the region, Abdulla said.

Palestinian leaders said they hoped Powell's resignation would not dampen Bush's commitment to working for peace between their people and Israel.

"We really do hope that in President Bush's second term every effort will be exacted in order to realize President Bush's vision of a two-state solution," Palestinian Cabinet Minister Saeb Erekat said.





Today's Top News
Top World News

Beijing may get Yangtze water by 2010




Economic growth on stable upward curve




Overseas Chinese allowed to tranfer RMB




Bush names hawkish Rice top US diplomat




Mystery virus strikes HK children




US warned: Be aware of Chen's dirty tricks