Self-ignited American man an FBI informant
(Agencies)
Updated: 2004-11-16 16:40
A man who set himself on fire outside the White House on Monday was a Yemeni federal informant on terrorism upset over how the FBI had managed his case, The Washington Post reported on Tuesday.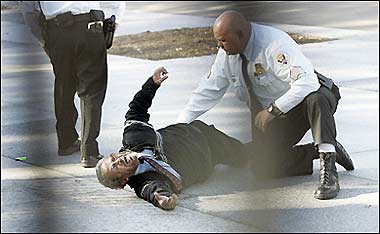 US Secret Service personnel restrain a man after he apparently set fire to his possessions outside the White House. [AFP]
Mohamed Alanssi, who had recently discussed his work as an informant in interviews with The Washington Post, told the newspaper by faxed letter and telephone on Monday he intended to "burn my body at unexpected place," the newspaper reported.
The U.S. Park Police said in a statement that a Middle Eastern male in his early 50's approached the northwest gate of the White House around 2 p.m. with a letter for the president. After a brief conversation with Secret Service officers, the man pulled a lighter from his pocket and ignited his jacket, the statement said.
The Washington Post said Alanssi, 52, was taken to Washington Hospital Center, where he was listed in critical condition with burns over about 30 percent of his body.
Neither the Secret Service nor White House had immediate comment on the incident. The man's name was being withheld pending notification of his family, the Park Police said.
A spokesman for the FBI in Washington was not immediately available for comment on the Post report early on Tuesday.
In interviews with the newspaper, Alanssi, who is from Yemen and also uses the name Mohamed Alhadrami, expressed anguish over not being able to visit his family in Yemen.
He told the newspaper that he suffers from diabetes and heart problems and that his wife suffers from stomach cancer. Alanssi said he could not travel to Yemen because he has no money and because the FBI, which expects him to testify at a terrorism trial in New York, was keeping his Yemeni passport.
"It is my big mistake that I have cooperated with FBI," Alanssi was quoted as saying.
"The FBI have already destroyed my life and my family's life and made us in a very danger position . . . I am not crazy to destroy my life and my family's life to get US$100,000," he said.
Alanssi said he became a major informant for the FBI after the 2001 al Qaeda attacks on the United States. He said he was paid $100,000 in 2003 but had expected much more and had not received the permanent residency status he was promised, the newspaper reported.
"We don't have a policy on revealing who is a cooperator or informing witness," Joe Valiquette, an FBI spokesman in New York, told the Post. The U.S. attorney's office in the eastern district of New York, which is prosecuting the terrorism-related trial in January, also declined comment, the newspaper said.
Today's Top News
Top World News

Powell quits, Rice to be new US Secretary of State




Foreign investment soars in 10 months




Beijing sounds alarm on Taipei intentions




Survey finds 20,000 more HIV carriers




China plans to have 100 eyes in the sky




Self-ignited American man an FBI informant